You have /5 articles left.
Sign up for a free account or log in.

Suffolk County Community College
An overwhelming majority of community colleges saw increased enrollments of Pell Grant recipients last summer, suggesting that the federal government's reinstatement of year-round Pell eligibility last year may be helping to stem overall enrollment declines in the two-year sector.
Just three years after its creation, the Obama administration, with the backing of the U.S. Congress, in 2012 eliminated summer Pell eligibility, meaning the ability for students to access two grants in a year to help pay for courses during the summer. Bipartisan concern about rising costs of year-round Pell -- $2 billion at the peak -- led to its demise.
But Congress and the Trump administration reinstated the program last year, after a strong push by community college leaders. The first year of that eligibility concluded at the end of June.
The American Association of Community Colleges conducted a national survey of its members to gauge the impact of year-round Pell's return. The survey yielded responses from 109 community colleges and statewide responses representing another 77 colleges, for a total of responding institutions that enroll 1.9 million students, or 34 percent of the sector's total enrollment.
The survey's results show year-round Pell has had a major impact. Almost 83 percent of responding colleges reported increases in Pell Grant recipient enrollments this past summer compared to the previous one. And half saw increases of 15 percent or more.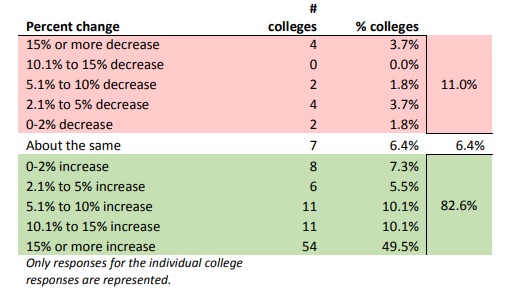 "We are pleased that the survey documents what we have heard from campuses across the country, that the reinstated year-round Pell Grant has had a truly dramatic impact," David Baime, senior vice president for government relations and policy analysis at AACC, said in a written statement. "In particular it appears to have helped students stay continuously enrolled, and accelerating time to degree has always been a prime reason to provide aid 12 months of the year."
Community colleges have been hit hard by enrollment declines in recent years, following the catastrophic enrollment collapse of the for-profit college sector.
Such declines are common in a strong economy, particularly at open-access and career-oriented colleges, as people return to the work force. But the substantial dips at community colleges during the last four years have worried many in the sector.
The National Student Clearinghouse Research Center, for example, found a 2 percent decline at public community colleges this spring compared to the previous spring, and a 3.3 percent drop in 2016.
While AACC cautioned against drawing a causal link between summer Pell's return and enrollment trends, the association said the survey's results show that community college enrollments last summer "improved in a robust way that might not have been anticipated absent the new year-round Pell Grant."
For example, the survey found that 62 percent of responding colleges saw an enrollment bump last summer compared to the previous one. While most reporting increases saw upturns of 5 percent or less, more than 17 percent of responding colleges saw an enrollment increase of at least 10 percent.
Community colleges are using summer Pell eligibility to try to attract students, according to the survey, with 70 percent of responding colleges reporting that they explicitly marketed about the new funding eligibility or otherwise highlighted it.
"AACC continues to advocate aggressively for increased support for the Pell Grant program in addition to year-round eligibility, including increasing the maximum grant, adding eligibility for short-term workforce development programs, providing support for some incarcerated students and in other areas."
Previous research found that for each $1,000 of additional year-round Pell funding, summer enrollment increased by 27 percentage points and associate degree completion grew by 2.2 percentage points.
The study's author, Vivian Liu, a postdoctoral research associate at the Community College Research Center at Columbia University's Teachers College, said she was surprised that the AACC survey didn't find larger enrollment growth. And Liu said the fact that 20 percent of colleges saw a decrease or no enrollment change suggests that students are unaware of summer Pell.
"I would say it is a step toward the right direction but the battle is not over," Liu said in an email. "It's essentially free money. Why aren't more people taking advantage of it? And how can we get more enrollment in the summer?"