You have /5 articles left.
Sign up for a free account or log in.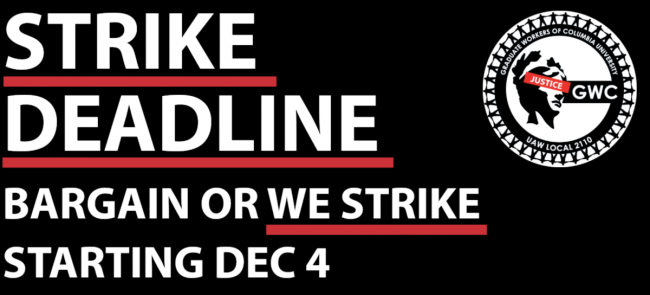 Columbia University spent more than two years resisting a landmark 2016 decision from the National Labor Relations Board saying that its graduate research and teaching assistants are in fact employees entitled to collective bargaining. But on Monday, the university quietly announced that it had reached a tentative framework agreement for contract negotiations with the graduate student union and its postdoctoral fellows' union, which are affiliated with the United Auto Workers.
Lee C. Bollinger, Columbia's president, and John H. Coatsworth, provost, said in a joint statement that the framework is the "product of a dialogue between Columbia and UAW representatives that followed outreach by the university to the union."
The agreement -- which still must be approved by union members -- includes "principles reflecting the respective interests of the parties," Bollinger and Coatsworth said. For Columbia, most important is that any collectively bargained agreement "will not infringe upon the integrity of the university's academic decision-making," reads the statement, and that the university will retain the "exclusive right to manage the institution consistent with our educational and research mission."
The framework includes a timeline for bargaining: it must begin no later than Feb. 26. The agreement also precludes any union strike or other kind of "disruption" to university operations through April 2020.
Bollinger and Coatsworth said the framework preserves their ability to honor a commitment they've cited repeatedly over the past two years: ensuring Columbia "remains a place where every student can achieve the highest levels of intellectual accomplishment and personal fulfillment."
A Columbia spokesperson referred questions about the agreement back to the university's statement. The union did not offer any immediate comment. Graduate students, who went on strike in the spring over the university's refusal to negotiate a contract, were scheduled to strike again starting Dec. 4.
Generally, graduate student unions say that they are not trying to take over management or educational leadership of universities but are trying to win better wages, benefits and grievance rights for their members.
Columbia's graduate students voted overwhelmingly to unionize in late 2016, several months after the NLRB decided in their favor in a widely watched case about whether graduate student assistants on private campuses had the right to unionize. Columbia's postdocs voted to unionized this year; theirs is the first such union on a private campus.
While some institutions have moved forward with contract negotiations with graduate assistants since 2016, others have continued to argue that students are students, not employees. Columbia was one of them, until this week, at least publicly. Its willingness to negotiate with the UAW is especially surprising, given that the Trump-appointed NLRB would likely be less hospitable to graduate student unions in future proceedings than the Obama-era board. For this reason, some unions have begun to seek agreements with their institutions outside NLRB channels.
The mutually agreed-on terms of negotiations, as reported by Columbia, include good faith, no-strike and exclusive representation clauses. As noted in the university's statement, they also say that any contract "must not infringe upon the integrity of Columbia's academic decision-making or Columbia's exclusive right to manage the institution consistent with its educational and research mission." Relatedly, any grievance or arbitration processes must defer to Columbia's right to control academic concerns and issues.
Reflecting protections against sexual harassment and assault that graduate students nationwide increasingly are seeking to build into union contracts, the terms say that unions "can play a constructive role in advocating for or representing survivors of sexual assault and harassment and other forms of discrimination, and may negotiate for additional procedures available to members of the bargaining units," provided they don't undermine existing university policies.
The framework is only valid through Nov. 28. If the union accepts it, Columbia must promptly withdraw its request for review in the postdoctoral case pending before the NLRB and recognize both units. Unlike Georgetown University, for example, which has entered in private negotiations with its American Federation of Teachers-affiliated union, Columbia's negotiations would remain under the purview of the NLRB.
Union Vote at Brown
Late Monday, Brown University and the American Federation of Teachers announced that graduate employees there had voted to unionize with the AFT. The AFT announcement said that more than 60 percent of the graduate students had voted for the union. A statement from Kaitlyn Quaranta, a graduate student in French studies, said, "Hundreds of graduate workers stood up this week and sent a clear message that our labor for the university should not be taken for granted. Winning this election is about more than just improving working conditions for grads at Brown. In voting to unionize, we stood up for labor rights during an incredibly anti-labor administration."
Brown's statement pledged to cooperate in contract negotiations. Provost Richard M. Locke said, "The university's commitment throughout this process has been to minimize polarization, maintain a cohesive community and ensure that eligible graduate assistants could decide for themselves whether or not to unionize. I'm pleased that we were able to provide a fair and orderly process, and I look forward to continuing to collaborate closely with graduate students to enhance graduate education at Brown."