You have /5 articles left.
Sign up for a free account or log in.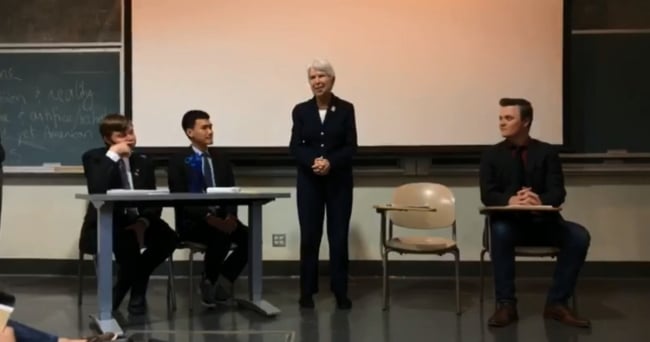 Last year, the University of California, Berkeley, campus literally erupted in flames as a planned speech by conservative provocateur Milo Yiannopoulos devolved into violence: stones and fireworks were hurled at police, windows were shattered, riots turned injurious. Though the destruction then came from off-campus groups, for the next few months, highly public battles around free expression were waged at the birthplace of the Free Speech Movement.
President Trump raised a threat of yanking federal funds over the university's response to Yiannopoulos (he mischaracterized the situation, saying Berkeley had not allowed Yiannopoulos to speak, when in fact the institution did give him permission).
The former Breitbart editor tried to visit the campus again several months after the protests for a "free speech week" -- declaring he would challenge the status quo grip of liberalism on the campus. The event forced the university to shell out about $1 million in security, though the planned events largely fizzled. Ann Coulter, the hot-button author, also sent her online following after the institution after she had been invited to speak there, but perceived a lack of support by administrators for her talk (she ultimately never appeared). Two conservative student groups filed a federal lawsuit against university officials asserting their free speech rights had been infringed.
But more than a year later, the Berkeley campus is seemingly free of such drama. It has hosted controversial right-wing figures such as TurningPoint USA leaders Charlie Kirk and Candace Owens, commentator Heather Mac Donald and talk-radio host Dennis Prager with little incident.
Students and administrators credit the change in part to the intent of the speakers coming to the university: not to rile up the student body, but instead to engage in discussion. The speakers voiced conservative views but did not insult Berkeley students or groups of students, as others had previously.
This follows two shifts on campus. Most recently, the university's free speech policies were revised, after being vetted by a university commission. And new student groups were founded intent on promoting "civil dialogue" in wake of the fiascos with Coulter and Yiannopoulos.
"Given that the university has an unwavering commitment to the First Amendment, and has an unwavering commitment to the right and ability of our student organizations -- regardless of their perspective -- to bring speakers of their choice to campus, it seems as if … we're not a tempting destination for those not interested in engagement, but rather provocation or advancing their brand," Dan Mogulof, university spokesman, said.
Across the country, attempts by alt-right figures to appear on campuses (namely white nationalist Richard Spencer, a leader of the Unite the Right rally in Charlottesville, Va., last year) have largely halted. Spencer stopped his "college tour" earlier this year and has pleaded for money -- $25,000 -- after being sued for his role in Charlottesville.
Yiannopoulos, the main agitator at Berkeley, also had a fall from grace, following his comments apparently condoning relationships between adult men and teen boys, which led to his exit from Breitbart.
But largely, he and Coulter haven't returned to campus because of the new student groups and a shift in leadership among the College Republicans, who last year gave an interview to the San Francisco Chronicle saying its members invited "provocative speakers" intentionally, to attract attention.
In October 2017, members of the College Republicans moved to oust the president of the group, Troy Worden, who had supported Yiannopoulos's "free speech week." Worden is now an intern for The Daily Signal, which is published by the Heritage Foundation. He has still clashed with the Berkeley administration as of just last month, when he wrote a piece for The Daily Signal claiming Berkeley was limiting free speech. Mogulof said it was riddled with inaccuracies and misinterpreted the institution's new policies. The College Republicans did not respond to a request for comment.
The main change in the rules (on an interim basis) is designed to cut down on potential disruptions.
The West Crescent area of the Berkeley campus will essentially serve as a space where large-scale protests can be held at any time. It is now exempt from the institution's major events policy, which requires advance notice to plan events, among other stipulations.
Traditionally, these types of demonstrations were held in the historic Upper and Lower Sproul Plazas. Now, only the upper portion will be used for impromptu bigger events, and the lower part will be subject to the major events policy.
These plazas are close to a number of significant campus buildings, among them Sproul Hall, which houses the registrar, the university's financial aid center, the dean of students and the César Chávez Student Center, where the Disabled Students Program, Gender Equity Resource Center and Student Learning Center are located.
"Either adding or moving free speech zones would relieve the burden on this area and reduce the likelihood that vital services will be interrupted," the free speech commission's report states.
At the same time, new student groups have become active -- and they are promoting different kinds of discussions on campus.
Manu Meel is a student at Berkeley and president of the national branch of BridgeUSA, a group that tries to promote healthy political discourse without ties to party affiliation. It emerged after Yiannopoulos's first speech on the campus, and Meel said that a "cultural shift" occurred there. Initially, BridgeUSA was one of the organizations sponsoring Coulter's visit -- this was an intentional partnership with the College Republicans, to be seen as more moderate -- but Meel said the group pulled out once it was clear Coulter was only intended rabble-rousing.
No longer does the Berkeley administration simply respond to vocal political organizations -- fringe groups on either side of the political spectrum -- but it works with student groups to consider how best to promote free speech, Meel said.
"They were frankly controlled by the circumstances and seen as a reactive, rather than a proactive institution," Meel said.
BridgeUSA, which Meel said is not a partisan group, has arranged a series with the university called "Conversations Across Political Divides," in which two parties with different views on one issue will sit and discuss it. Most recently, his group hosted David French, a senior fellow at the National Review Institute, and Erwin Chemerinsky, professor of law and dean of the Berkeley School of Law, to debate various political topics.
Another, more right-leaning group called the Berkeley Conservative Society has similarly tried to inspire intellectual debate, rather than inflame the campus. It was created in October last year, said its president and founder, Celine Bookin, who splintered off from the College Republicans with the desire to create an organization with a different sort of goal.
Bookin helps organize debates -- just among students -- where they would debate the issues du jour: fiscal policy, health-care reform and more. She said that while the discussions may not have the same draw as a controversial event, they have been successful. Berkeley students are intellectual and want more robust conversations, she said.
"I'm thrilled to help revitalize civil conversation and decency at Berkeley," Bookin said.