You have /5 articles left.
Sign up for a free account or log in.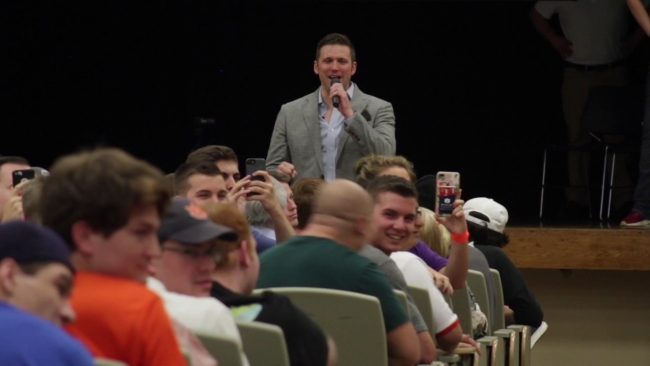 PHILADELPHIA -- Many higher education professionals agree -- the way to counter speech that students find repugnant (but is legally protected) is with sound policy, education and statements from administrators that both condemn offensive speech and defend the right to make it.
These strategies, espoused and repeated many times over at the yearly NASPA: Student Affairs Administrators in Higher Education conference, reflect the tumult around free expression that college leaders across the country have contended with in different forms.
White supremacists seek out campuses to speak and stoke the rage of students. They, along with other controversial speakers, have been shouted down. Fliers championing racism and anti-Semitism have cropped up with frequency. The partisan climate has sometimes split campus conservatives from the rest of the student body. Some administrators haven't even been sure even how to handle political posters (and other decorations) in dormitory windows.
The struggle of college officials -- who want to both make students feel comfortable and safe and uphold their legal obligation -- was best illustrated during a major NASPA panel discussion on free speech. In the last question of the event Tuesday, one attendee, with a catch in her voice, accused the Foundation for Individual Rights in Education, a civil liberties watchdog group in academe and a panel participant, of defending hate speech.
She questioned the balance -- how would higher education uphold its historical mission of defending free expression when students are in pain?
First Amendment battles spur emotions both among administrators and students. Monday, the white nationalist Richard Spencer spoke at Michigan State University. The institution, in an apparent attempt to mitigate the disturbance caused by a Spencer talk, scheduled him during spring break when most students would be away and housed him at the edge of campus in a pavilion used by agricultural students. As one Michigan State employee at the conference described it, "It smells like horse shit."
Still, students protested the event, though college presidents have often told them to avoid these speeches for fear of giving the white nationalists, Islamophobes or provocateurs more attention. Fights erupted outside the venue where Spencer spoke and more than 20 people were arrested, some on felony charges. (In many of the cases where protesters have been arrested at college speaking events, those people have not been affiliated with the institutions hosting the events.)
These controversial speakers can "flame out" or fade from view, said Penny Rue, a panelist and the vice president for campus life at Wake Forest University. She referenced Milo Yiannopoulos, the inflammatory former Breitbart editor who was frequently courted by campus GOP groups to speak but has since retreated somewhat from college appearances, likely related to backlash against his comments defending sexual relationships between adults and teens. Yiannopoulos's first visit to the University of California, Berkeley, last year resulted in riots, but his second, in September, fizzled despite his promises to rattle the institution -- Berkeley spent hundreds of thousands of dollars for security for his second "Free Speech Week" event.
The University of Florida handled Spencer well when he spoke on campus, Rue said, though it was "painful." Florida also shelled out at least $600,000 on police and security, complete with snipers watching over where Spencer addressed the campus.
As is somewhat common, Florida also promoted some campaigns leading up to and during Spencer's talk, pushing the values of the university. The president also made strong statements against Spencer, rejecting his rhetoric, as the panelists pointed out is always allowed. University presidents have progressively been bolder to call out Spencer as a racist -- when he and his followers marched on the University of Virginia campus last year, the precursor to the deadly Charlottesville demonstrations, President Teresa Sullivan at first didn't even mention him or his movement -- the alt-right -- by name. In contrast, at the University of Michigan, where Spencer has tried to speak, the President Mark Schlissel called his speech "sickening" and stressed that legally, the institution couldn't block him.
During the panel discussion, Sigal R. Ben-Porath, a professor of education, political science and philosophy at the University of Pennsylvania, said it is incumbent on institutions to create an inclusive environment before any legal concerns are raised.
Students often feel that college leaders won't act on racism or other slights against minority students because they are more concerned with free speech considerations -- but it's not just one or the other, Ben-Porath said. An institution should encourage students to weigh in on these problems before they occur, she said.
Colleges also can teach students in a nonpunitive way about harassment before an incident occurs, said Traevena Byrd, the general counsel at Towson University.
Sometimes, though, institutions have overstepped when dealing with cases of more individualized harassment. Crafting rules around harassment has proven difficult for the legal arms of some colleges, too.
FIRE hears about cases in which college administrators pledge to "investigate" speech that is allegedly offensive, but still protected, but that act in itself can chill free expression, Samantha Harris, FIRE's vice president of policy research, said.
A lengthy inquiry and being called in for interviews can lead to students not speaking out, she said.
Institutions have been simultaneously blamed for not acting aggressively enough against hurtful speech and suppressing students' First Amendment rights. It can happen over issues as insignificant as dormitory windows -- Ohio State University, for instance, completely banned window decorations.
As was pointed out in a separate NASPA session on First Amendment issues in student housing, some institutions have prohibited window hangings, but related it to fire codes and other safety -- same for whiteboards, a staple on college dorm room doors.
Ohio State's neighbor, Ohio University, put a blanket ban on indoor protests in September, a policy change that resulted in so much backlash it was promptly reconsidered. A spokesman at the time said the Charlottesville riots made them move forward with a policy more quickly.
More from Academic Freedom