SEO Headline (Max 60 characters)
11 Arrested at NYU During Protest Over Speaker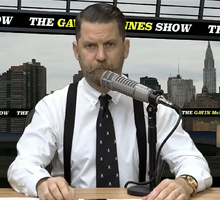 Eleven people were arrested last Thursday after one part of a demonstration at New York University turned violent.
They were protesting the on-campus appearance of Gavin McInnes, a conservative commentator, comedian, actor and co-founder of Vice Media (at right). McInnes describes himself as pro-Trump, pro-West, anti-feminist and anti-Islam. Last December, he started an "anti-racial guilt," anti-feminist group called Proud Boys that advocates for the return of "Western chauvinism." Of the 11 arrested Thursday night, several were these so-called Proud Boys, according to tweets McInnes posted in the days following the event.
The NYU College Republicans had invited McInnes to speak Thursday night, but dozens of dissenters -- including some students, led by a group called NYU Anti-Fascists, and many nonstudents -- greeted his arrival with chants, fighting and pepper spray.
The New York Police Department had sent officers to the scene, where McInnes was pepper sprayed on his way into the building. He later tweeted about the incident. "Thanks for asking if I'm OK guys," he wrote on Twitter. "I was sprayed with pepper spray but being called a Nazi burned way more."
None of those arrested were NYU students, an official with the university said. Most protesters affiliated with NYU were inside the student center where McInnes was speaking and where they held signs and yelled in nonviolent protest. Those who remained outside, where the protests became violent, are believed to be "largely composed of non-NYU protesters," John Beckman, vice president for public affairs at NYU, said in a statement.
On the Facebook event for the demonstration, the NYU Anti-Fascists' organizers wrote that McInnes "has a long track record of using incendiary language to attract media attention and frenzy."
McInnes did end up speaking to students in the student center, according to a video posted to Periscope by a student publication, but he was interrupted repeatedly by a group of student protesters shouting, "Whose campus? Our campus!" and "Shame! Shame! Shame!" McInnes would sometimes ignore them and continue speaking, but occasionally he would turn to them and react: "Why are you repeating the same nonsense over and over?"
After about 20 minutes of this, McInnes took the microphone from an NYU spokesperson who had been trying to calm the crowd and called the spokesperson a "dumb liberal asshole" for thinking the protesters are "rational beings." McInnes then abruptly left the podium. He did not come back.
"To be clear: Mr. McInnes's talk at NYU's student center on Thursday night went forward. … The decision to end the event when he did was his own," Beckman said.
The NYU College Republicans responded to the evening's events in a statement, saying they were "disappointed that many students on this campus are so disrespectful when it comes to hearing opposing speakers … We understand that his presence was controversial but we didn't expect these outburst [sic] from this institution."
The NYU incident occurred just a day after violent protests broke out at the University of California, Berkeley, which was hosting Breitbart writer Milo Yiannopoulos but had to cancel amid violent protests led by people unaffiliated with Berkeley.
Opinions on Inside Higher Ed
Inside Higher Ed's Blog U