You have /5 articles left.
Sign up for a free account or log in.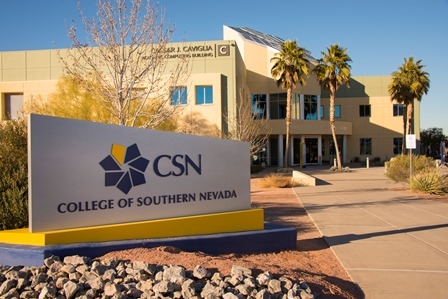 CHICAGO -- Colleges in Nevada have found a strong correlation between the success of students in college-level, introductory math courses and the number of credits they take in their first year of college.
Students who took 15 or more credits completed the math courses at higher rates than their peers who took fewer credits, according to Nevada higher education officials.
The officials presented their findings, based on data from 2013-16, on Wednesday during the national convention of Complete College America. CCA has been a longtime advocate of the 15 to Finish initiative and corequisite remediation, which places students who in the past may have been placed in traditional remedial courses in regular college-level math and English courses instead and provides them with additional academic or social support.
Crystal Abba, vice chancellor for academic and student affairs at the Nevada System of Higher Education, said these college-completion initiatives work best when they are implemented at the same time.
"This is really a testament to 15 to Finish as well," said Linda Heiss, senior director of institutional research at the Nevada System of Higher Education. "The students enrolled in 15 credits the first semester were completing at a much higher rate, but also what made a difference was their initial placement."
At two-year institutions, 62.5 percent of students who took more than 15 credits completed the math course within the first year and a half of college in 2016. Only 27.2 percent of students who took between six and 11 credits passed the math course in the same year, according to state data.
The positive effects of students taking more credit-bearing courses also occurred at the state's four-year institutions. Seventy-nine percent of students who took more than 15 credits in the first semester completed an introductory math course within a year and a half compared to 70.8 percent of students who took between 12 and 14 credits in 2016.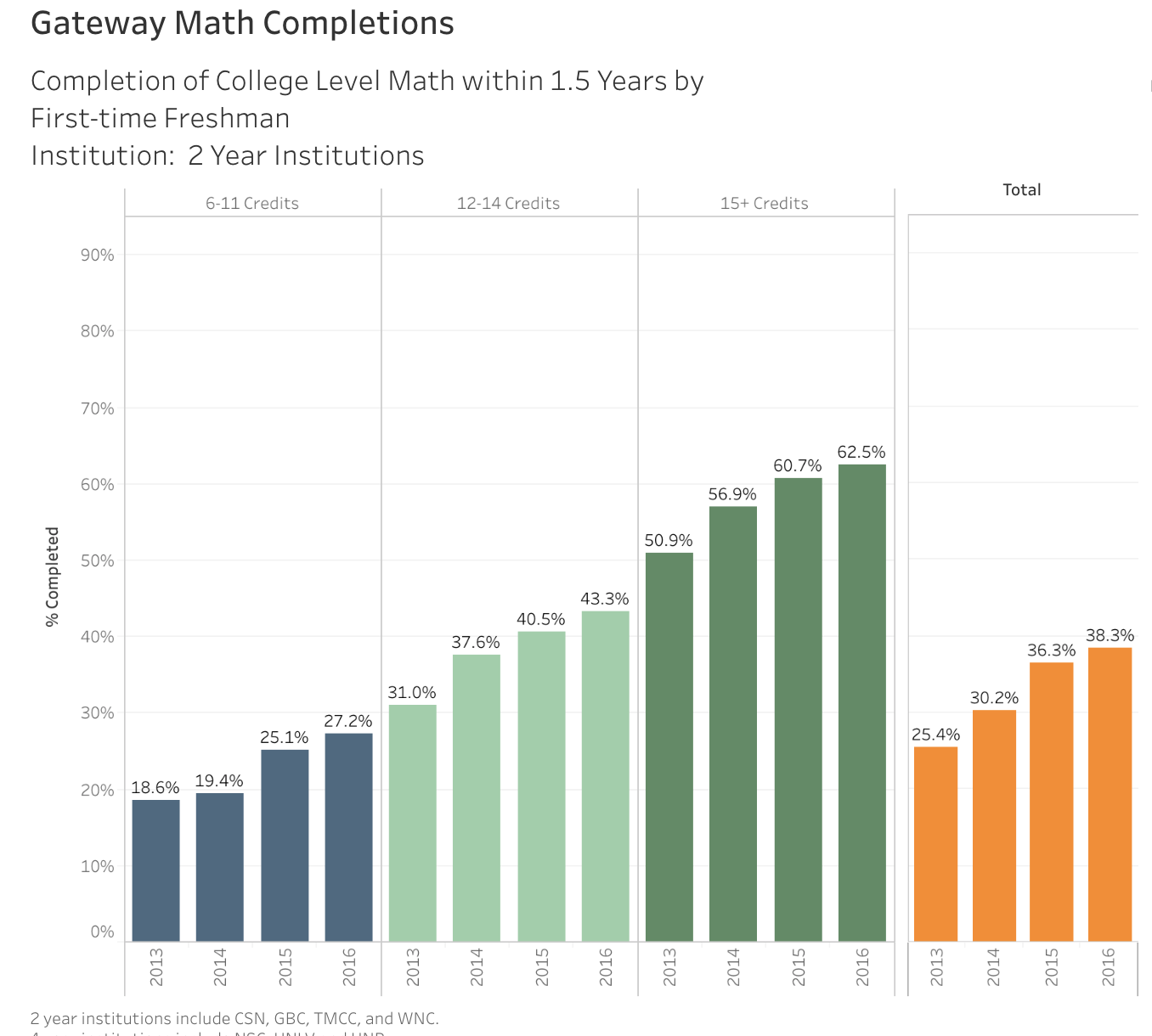 The state adopted a policy in 2015 that required degree-seeking students deemed unprepared for college-level work to complete an introductory English or math course within the first year of enrollment. There are some exceptions to the policy for students enrolled in STEM or other programs. Researchers have found that even students initially placed in remedial math have a better chance of succeeding in college when they take college-level math and are given additional academic support. Those students also subsequently accumulate more credits toward graduation.
Some educators have been critical of the 15 to Finish initiative and warn that it can be overwhelming to students, particularly those enrolled at community colleges, if they have other familial and work responsibilities.
Abba agrees that taking 15 credits a semester isn't for everyone, but she said there are ways to help those students through flexible course scheduling options and by providing them additional financial aid that may eliminate the need to work and attend college part-time.
She added, however, that the data also show that these students can handle taking a college-level math class and the additional course load.
Still, challenges remain for the colleges. Students who take remedial courses are dropping out at high rates and not making it to the college-level math course, said Theo Meek, director of advising at the University of Nevada, Reno.
And too many students are not enrolling in any math course in their first year. At the College of Southern Nevada, a community college and the state's largest public institution, nearly 68 percent of first-time, degree-seeking students did not enroll in math during the first year of college, according to the state.
"We're finding in Nevada that corequisite remediation works," Meeks said. "Getting them completed or onto the gateway course if they're in remedial is another significant problem."