You have /5 articles left.
Sign up for a free account or log in.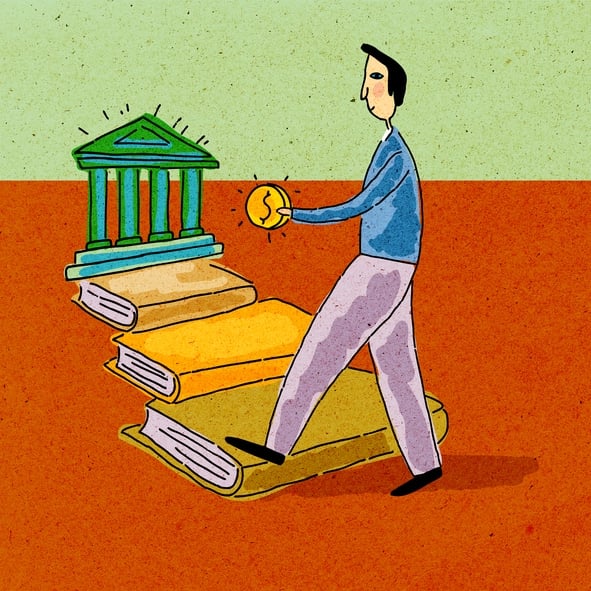 There is little disagreement that the more courses students take each semester, the more likely they are to graduate on time, but much debate has centered on how to encourage students in that direction.
In California, the Legislature's recently passed budget is offering one of the largest incentives seen across the country. Qualified community college students can receive a grant of up to $4,000 a year if they take 15 units or more.
The new program, known as the Student Success Completion Grant, is an expansion of two existing programs, which awarded qualified students $1,000 a year for enrolling in 12 or more credits each semester and $2,000 a year if they took more than 15 credits each semester.
Like the two previous programs, the new completion grant is available to qualified students who receive one of two types of Cal Grants, the state's financial aid award. These awards help students cover nontuition costs like books, transportation and other living expenses.
The expanded incentive to encourage students to take more credits effectively attempts to eliminate the need for these students to work. Currently, most of the state's two-year system students are attending part-time, with 21 percent of students going full-time and taking between 12 and 14 credits and 8 percent taking 15 or more, according to state data.
In California, 38 percent of full-time students complete a certificate, degree or transfer, whereas 12 percent of part-time students do so, so they're three times more likely to complete if they go full-time, said Kevin Cook, associate center director at the Public Policy Institute of California.
Although the grant is an increase in money to students, there are still many two-year students who don't receive enough of it. For instance, last year the system served about 2.3 million students, but only 112,000 of them qualified for the type of Cal Grants that go to low-income and older students, according to a system representative. Cal Grants generally target recent high school graduates.
"We know the data is fairly incontrovertible," said Jonathan Lightman, executive director of the Faculty Association of California Community Colleges. "If you go full-time, your chances for success as measured by degree or certificate completion go up. No one disputes that, but for whom is the community college is the question."
Lightman said the system would be better served by examining and investing in the needs of the adult population and those students who have no choice but to go part-time because of work and family responsibilities. About 21 percent of students over age 25 took between 12 and 14 credits last year, while 17 percent took more than 15 credits and the rest took fewer credits. "You're spending more money on a very limited percentage of the population," Lightman said. "If you say the community college is open to the community, then you have to figure out the strategies to meet people where they're at. We're not going to get people in an older demographic -- the [25-year-old plus] -- to go full-time."
In recent years, financial incentives that encourage students to attend full-time have become more common as research and analysis of such programs has more often shown positive impacts.
For instance, in Indiana, 38.5 percent of the state's college students graduate from the same institution within four years with a bachelor's degree or two years with an associate degree or certificate -- a 13.9 percentage point increase over the past five years, according to a 2018 Indiana Commission for Higher Education completion report. Indiana has had a 15 to Finish initiative that requires students to take at least 30 credits a year to maintain state aid since 2013.
In Nevada, the state covers a portion of the full cost of attendance, up to $5,500, for low-income students if they enroll in at least 15 credit hours.
Meanwhile, Congress is considering incentivizing faster completion in the PROSPER Act, which would offer students $300 more in federal aid once they cross the 15-credit-hour threshold.
"There is support on both sides of the aisle to get students through as quickly as possible," said Justin Draeger, president and chief executive officer of the National Association of Student Financial Aid Administrators, adding that the dissension comes from how to do it. For instance, Democrats voted against the $300 incentive while Republicans supported it.
"Using carrots as an incentive instead of sticks is the preferred way of incentivizing, and we're OK and supportive of the PROSPER Act's attempt to get students to complete on time," Draeger said, adding that they wouldn't support any financial penalty against students who don't take more credits.
Penalizing students for not taking more credits was one of the reasons why a completion incentive in Tennessee failed to pass the state's Legislature in April. The completion bill would have required students in the state's free community college program and state lottery scholarship program to lose up to $250 a semester or $500 a year if they failed to complete 30 credit hours a year.
Claude Presnell, president of the Tennessee Independent Colleges and Universities Association, said he and his members opposed the incentive because it punished students.
"We're all about completion, but we want to do it in a way that incentivizes students in a positive way and gives credit to students taking rigorous course work," he said.
Students already must maintain a 3.0 GPA for the lottery scholarship, but a biology, chemistry or fine arts major who is taking a recommended 12 credit hours a semester -- because the course load is rigorous -- could lose $500 for not reaching the 30-annual-credits threshold, Presnell said.
Instead, Presnell said a more positive approach would have been to encourage students to go full-time and award them $500 to take the additional courses in the summer that would help them reach the 30-credit threshold. A similar policy debuted at Alamo Colleges in Texas two years ago -- it awarded students up to six free credit hours if they earned a total of 24 credits in the fall and spring semesters.
"If you're in fine arts, you can't take 30 studio hours in a year without killing yourself, so let's do completion with some flexibility," he said.