You have /5 articles left.
Sign up for a free account or log in.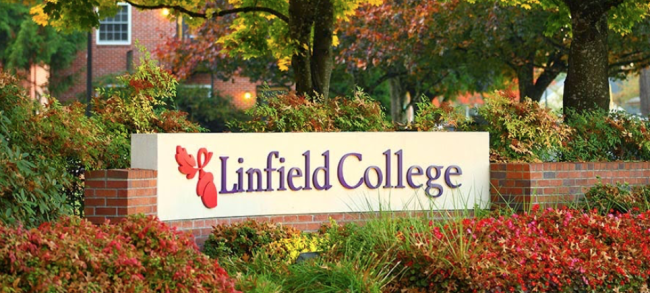 Linfield College is planning to cut faculty members as it rethinks how it does business in a time of declining enrollment.
But some faculty members at the Oregon institution worry the process and timeline for the initiative thus far suggest disaster.
"There is a financial crisis in the sense that the budget is unbalanced. But it is going to be balanced by sending 25 tenured and tenure-track faculty to the chopping block?" said a professor of humanities who did not want to be named, for fear of losing his job. "Are there lots of other measures that could be taken to make up the deficit? Yes."
Linfield maintains that it has not yet decided how many faculty members have to go, even though the Faculty Executive Committee reported that that figure was mentioned during a private meeting with President Miles K. Davis. But the college recently confirmed that it will cut faculty positions through an academic prioritization process. The college has relatively few non-tenure-line positions, so it's likely that those cut will be tenured or tenure track.
The announcement comes as the faculty resist participating in a culling process -- one faculty leaders have said they were initially asked to complete within a week. 
Linfield also says that it already has done all it can to shave costs, except for laying off professors.
"This is a pivotal time in our history, as in higher education overall," Davis wrote in a campus memo explaining that Linfield is 92 percent tuition- and fee-dependent and that enrollment has fallen from 1,600 students to 1,240 in recent years. Over the past four years in particular, he said, Linfield has eliminated administrative and staff positions, frozen hiring, kept general salaries flat, reduced retirement benefits and capital spending, offered early retirements, and increased tuition. 
"Unfortunately," said Davis, a former business dean who started at Linfield in July, such steps "do not fully address the underlying shift in enrollment patterns at Linfield College. We now find ourselves at a point where we must both meet present challenges and position Linfield for growth."
The college has even made one-time transactions, such as the sale of property, Davis added. But Davis's letter does not note that Linfield purchased a 20-acre new campus in Portland for its nursing program in the fall for $14.5 million. The University of Western States, the property's former owner, plans to lease back the campus until 2020 as it looks for a new location.
Linfield's most popular major is nursing, and the 72-seat-per-semester program is full in its current home at Portland's Legacy Good Samaritan Medical Center.
But faculty members say that the college's financial rhetoric doesn't square with such a big purchase. They also point out that Linfield's nursing reputation -- at least for majors who begin their undergraduate studies at Linfield -- is grounded in strong general academics for the first two years. Nursing applicants must have taken at least eight semester credits of lab science courses, for example, and the program markets itself as rich in both skills- and values-based training. For many professors, the values part of the equation speaks to the liberal arts.
"This is not the sign of a campus moving toward financial exigency," said Reshmi Dutt-Ballerstadt, professor of English. Noting that the college's Board of Trustees also recently approved an extra $5 million annual expenditure for growth, Dutt-Ballerstadt asked, "Why don't we enhance the programs we already have?"
That November board resolution recommends preserving Linfield's "core strengths, including the heart of its liberal arts education," and focusing "available resources on those programs and disciplines that are most likely to be able to grow in enrollment."
Linfield's endowment was about $114 million in 2017. Its operating budget was $62.5 million in 2017-18.
Professors also point out that the nursing campus transaction was made without talking to the faculty. That's not unusual for an institution buying real estate -- especially as Davis called the deal a "once-in-a-century opportunity." But the lack of consultation fits into what professors see as a larger abandonment of shared governance.
Members of the Faculty Executive Committee, for example, wrote in a December email to professors that they had met with Davis and been told 20 to 25 faculty positions would be eliminated to reduce the budget deficit by about $2.8 million, accounting for most of the approximately $3 million projected deficit. Davis said he was open to closing entire departments or laying off individual professors, according to the faculty account of the meeting. And he allegedly said on Dec. 7 that the cuts would need to be made by Dec. 15 to satisfy Faculty Handbook requirements about reappointment notifications.
"That was the first we had ever heard of this deadline," the faculty email said. "Faculty were asked two main questions: 1. Do the faculty want to participate in choosing the 20-25 positions to be eliminated? 2. Do the faculty want an extension on helping make these decisions until January? Note that faculty would have to request this extension, violating the language of our handbook."
The faculty representatives said that they were given an afternoon to decide and voted to extend the deadline. Davis called off the Dec. 15 timeline and said that a committee would be formed within a week.
"We now have a choice if we want to populate the committee, participate in the process, and thereby violate our own handbook … or simply refuse to participate until further budgetary options have been considered," the faculty leaders said. "It is clear that if faculty do not participate in this process, decisions on cuts will be made unilaterally by the administration."
The executive committee chair did not respond to requests for comment.
But other professors said that the faculty has decided it won't participate in a retrenchment committee. The faculty is planning an on-campus retreat for later this month to discuss the challenges facing small colleges and what other institutions have done to address them.
Susan Agre-Kippenhan, provost, has urged faculty participation and said that the institution is being as transparent as possible. She said in a December interview that "we'd love to have a faculty that can be part of discussions about restructuring. Our hope is that faculty will share really good ideas about what that means."
Asked about faculty concerns about the future of the liberal arts, Agre-Kippenhan said the comprehensive institution is "committed at heart."
Davis said in his most recent email to the faculty that Linfield would proceed with faculty cuts through an academic prioritization process. On faculty participation, he said, "We seek to involve the faculty not only because it is the fair and ethical thing to do, but because it would produce better decisions with us working together."
At minimum, Davis added, "shared governance requires the involvement of faculty in matters that impact the curriculum. I would extend that to include the idea that shared governance comes with shared responsibility and accountability when tough decisions have to be made regarding academic programs."
Sharon Bailey Glasco, associate professor of history and president of Linfield's American Association of University Professors advocacy chapter, did not respond to a request for comment. But she and the chapter's vice president wrote in open letter last week that as Linfield "navigates its current enrollment challenges, we believe that it is critical to prioritize students. Our goal should be to continue to offer them an excellent education provided by the highest quality faculty members. For this to happen, we need to abide by the principles of shared governance, protect academic freedom and tenure, and defend our liberal arts core."
Going forward, the letter says, "we encourage everyone in our community to continue to ask questions, seek facts, and listen to diverse perspectives. Seek evidence for claims made, and be careful to not buy into divisive rhetoric. We all need to work together to solve our current challenges and build an even brighter future for Linfield."
The faculty member who did not want to be named said Linfield's moves so far remind him of the College of St. Rose's in 2015. The administration there eliminated 23 tenured and tenure-track faculty members outside its shared governance channels and without declaring financial exigency and was censured by the national AAUP.
According to widely followed AAUP standards that are included in Linfield's Faculty Handbook, tenured faculty members in good standing only may be terminated due to true financial exigency or faculty-backed curricular changes. At Linfield, those changes would have to be approved by the Faculty Assembly's Curriculum Committee.
A petition of support for Linfield's faculty has been signed by scores of professors on other campuses.