You have /5 articles left.
Sign up for a free account or log in.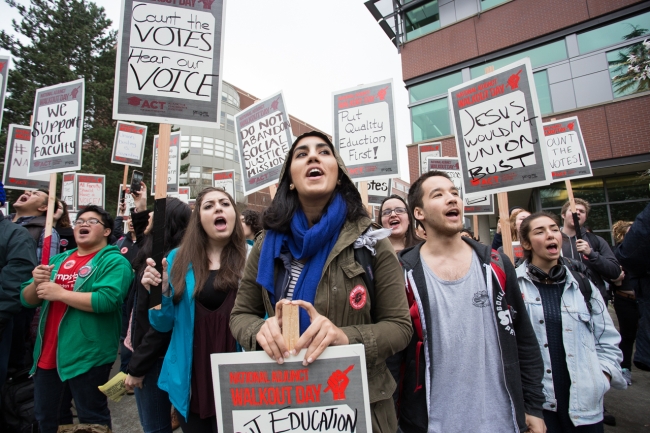 Could non-tenure-track faculty unions at private institutions be in trouble? The powerful U.S. Circuit Court of Appeals in Washington this week sent a major 2014 decision in favor of these unions back to the National Labor Relations Board for review.
The circuit court simultaneously upheld much of that NLRB decision in its recent unanimous vote, in a case involving art and design instructors at University of Southern California. But sending a precedent so favorable to adjunct unions back to a board that now includes less union-friendly Trump appointees puts the future of such unions at some risk.
The circuit court also arguably made it easier for adjuncts to be considered managers at their institutions, and therefore not entitled to collective bargaining rights.
In the meantime, adjuncts at USC's Roski School of Art and Design, who voted to form a union affiliated with Service Employees International Union over three years ago, say they're angry that the university continues to refuse to collectively bargain with them while the legal challenges remain.
"It's unconscionable that USC continues to mount a wildly expensive and frivolous legal campaign aimed at silencing the collective voice of non-tenure-track faculty," the local SEIU chapter said in a statement Wednesday. Since the union election the university "has used every trick in the book to ignore their collective will."
The 2014 decision from the NLRB in favor of adjuncts who wanted to unionize at Pacific Lutheran University was surprisingly broad in scope. It didn't just reject the university's claim that it was exempt from board oversight merely because it is a religious institution. It also established a new set of standards for evaluating whether faculty members are managerial, at institutions secular or religious.
Which professors are managers and which are not is so important because a long-standing legal precedent against tenured and tenure-track faculty unions at private institutions -- the 1980 U.S. Supreme Court ruling NLRB v. Yeshiva University -- holds that tenure-line professors are managers and therefore not entitled to collective bargaining. Union rights at public colleges are determined by state laws.
Instead of going by a professor's title, the 2014 NLRB ruling included new standards for evaluating whether faculty members actually have enough power to be managers. The board rejected Pacific Lutheran's claim that its full-time, non-tenure-track professors were managers.
Professors' authority must "prove actual," not just be written in a handbook or otherwise nominal, the board said. It noted that "colleges and universities are increasingly run by administrators." And a symptom of that, it said, is the increasing reliance on adjuncts.
Specifically, evaluating whether faculty members have managerial authority means looking at faculty control of academic programs, enrollment management policies, finances, academic policies and personnel policies and decisions -- with greater weight being given to the first three, the board said.
Experts have called that caveat significant, because many private colleges defer to the faculty on the curriculum but not on enrollment or finances.
In its ongoing case against the Roski faculty union, USC argued that those full-time and part-time, non-tenure-track faculty members are managers under Yeshiva. The NLRB initially applied the Pacific Lutheran standards to the case. It determined that USC was wrong, and that these instructors did not exercise sufficient control or shape policy enough to be considered managers.
After the successful Roski union election -- and a failed union election within USC's Dana and David Dornsife College of Letters, Arts and Sciences -- the university appealed to the federal court.
In assessing USC's arguments against the Roski union, the circuit court largely upheld what it called Pacific Lutheran's "high bar" for determining effective control. Otherwise, reads the court's opinion, written by Judge David S. Tatel, there's a risk of "interpreting the managerial exception so broadly that it chips away" at worker protections in the National Labor Relations Act.
It also -- in the words of William Herbert, executive director of the Center for the Study of Collective Bargaining in Higher Education and the Professions at Hunter College of the City University of New York -- "reaffirmed that the burden of proof to demonstrate managerial status is on the institution."
So far, so good for adjunct unions.
The appellate court disagreed with the NLRB on a key point, however -- one that the new NLRB will get to review.
The 2015-era NLRB found in Pacific Lutheran that a faculty subgroup seeking union recognition exercises effective control over a decision-making area through participation in a committee only when that subgroup constitutes a majority of the committee. So, say, non-tenure-track professors would be found to exercise control over the curriculum -- and therefore potentially be considered managers not entitled to collective bargaining -- only if they constituted the majority of a curricular committee.
The circuit court found that majority status rule problematic in a number of ways. That logic reflects a belief that a minority subgroup, even acting collectively, is unable to exercise managerial authority within a larger group, for example, the circuit said. (USC argued that the rule "simply disregard[s]" the contributions that minority faculty subgroups can make to university governance.)
Moreover, the circuit court said, Yeshiva drew an important distinction between corporate "pyramidal" hierarchies and college and university faculty "bodies." That decision drew not on "aggregation of the power delegated to a series of individuals or a mosaic of subgroups" but rather "on the role played by the faculty as a body."
Collegiality is also a key component to university work, according to Yeshiva. And so the Pacific Lutheran majority status rule "ignores the possibility that faculty subgroups, despite holding different status within the university, may share common interests and therefore effectively participate together as a body on some or all of the issues relevant to managerial status," Tatel wrote in his opinion.
Majority rule also poses logical challenges in that the makeup of a particular committee will necessarily change from year to year, he wrote.
Joseph Ambash, a managing partner with Fisher Phillips in Boston who has successfully represented university interests in union cases before the NLRB, in a legal notice advised institutions to familiarize themselves with the case. (Graduate students at private institutions, too, have expressed concern that the Trump-era NLRB might reverse a separate, 2016 decision in their favor.)
By rejecting the board's subgroup majority status rule, he said, quoting the opinion, the appeals court "dispensed with the board's reliance on 'crude headcounts' and held that the proper test is for the board to assess whether the faculty members at issue are 'structurally included within a collegial faculty body to which the university has delegated managerial authority.'"
The decision "represents a meaningful change in the way in which the board and the courts will review the appropriateness of faculty units moving forward," Ambash said. Still, "it may still be very difficult to prove that adjuncts, contingent and nontenured faculty are within the managerial exception."
Like the SEIU, the American Federation of Teachers has helped organize non-tenure-track faculty members at private institutions.
Randi Weingarten, AFT's president, said via email that while this decision "is a setback," it's "by no means a death knell for non-tenure-track organizing."
The court of appeals has "regrettably put its thumb on the scale to make it harder for adjunct and nontenured faculty who participate in university committees to organize," she said. The effect isn't a reversal of Pacific Lutheran, but it does tilt the baseline more in favor of administrators. "Ironically," Weingarten added, "the most marginalized faculty who try to win more of a say in university fora could find themselves denied the right to join together in a union."
The AFT will stand watch "over any administration who might use this ruling as a pretext to prevent faculty joining together to bargain for a better life," she said.
USC has previously been accused of casting unionization as a threat to participation in shared governance: the Dornsife arts and science adjuncts narrowly voted down a union in 2016, with some alleging administrative interference in the election. The NLRB decided that a second election could proceed. But the union pulled its petition.
Carol Mauch Amir, senior vice president for legal affairs and professionalism at USC, said in a statement that the appellate decision "is a win for shared faculty governance" in that it echoed Yeshiva in holding that "'traditions of collegiality' distinguish governance in a university from the management of a factory." She added, "The court held that the NLRB is not free simply to apply industrial models to higher education, but must accommodate the way shared faculty governance actually works." ​
Provost Michael Quick said that USC "defends the principle that tenured and untenured faculty are partners in shared governance. The recent court decision affirms that principle."