You have /5 articles left.
Sign up for a free account or log in.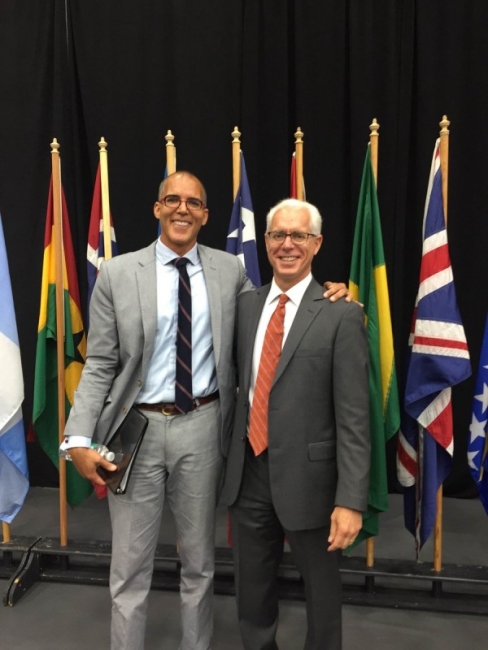 College commencement speakers that rouse a campus are usually controversial. They're accused of being too political. They have unpopular views. They make remarks their audience perceive as insensitive.
At Macalester College, a small, private liberal arts institution in St. Paul, the speaker scheduled to give the commencement speech this year has generated no such controversy. He's simply a familiar face to the students who will be earning their diplomas this May.
James Forman Jr., the J. Skelly Wright Professor of Law at Yale University, already addressed the Class of 2019 four years ago when they were freshmen and he was their convocation speaker. A news release from the college indicated he spoke about racial injustice, which is in line with his teaching and writing.
Then and now, Forman was chosen as a speaker because of the breadth and depth of his scholarship and research -- and his life's work -- focused on important social and economic issues with which the country continues to grapple.
His return to Macalester this year represents an educational and circular moment for the students -- an academic who college administrators said inspired the students at the beginning of their college journey can continue to influence them as they make their way in the world.
"James Forman Jr. is an original thinker, a driving force, an architect and an inspiration," Brian Rosenberg, Macalester's president, said in a statement. "He is a person who shows us the inequalities that exist in our society, bringing to light uncomfortable issues that have to be addressed. We need people like James Forman Jr. to help us see what we might not want to see. We're fortunate to have him as our commencement speaker this year."
Forman was previously a law clerk for Judge William Norris of the U.S. Court of Appeals for the Ninth Circuit and then Justice Sandra Day O'Connor on the Supreme Court. After his clerkships, he joined the Public Defender Service in Washington, D.C., which provides legal assistance to impoverished city residents, and represented juveniles and adults charged with crimes, according to his official bio. He also co-founded the Maya Angelou Public Charter School, an alternative school for dropouts and youth in Washington who had previously been arrested, as a way to address "the lack of education and job training opportunities for his clients." The school was eventually expanded and moved inside the city's juvenile prison.
Forman also taught at Georgetown Law School before joining the faculty at Yale Law School.
He said that during his first talk to Macalester students in 2015, he spoke about the country's disproportionate numbers of black men and women in prison and the United States' approach to crime. He also challenged students to think about "the approach to their work over the next four years."
"I spoke about being there for one another, taking the time to reach out to someone if you see that they're struggling," Forman said. "College can be so stressful. You can be so stressed that you forget to reach out to people who are under greater stress, particularly involved in justice movements. We can try to take care of ourselves, too."
Forman was also working on a book that year about the attitudes of black men and women toward crime in an age of mass incarceration. That book, Locking Up Our Own: Crime and Punishment in Black America, was included on the New York Times's 10 best books of 2017 and was awarded the 2018 Pulitzer Prize for general nonfiction. He said his commencement speech would likely repeat some of the themes he spoke about in his convocation speech -- and those raised in his book -- although he hasn't yet written it. Forman said he's always conscious that in an audience, especially one made up of students, there will be those who understand the concept of social justice a little better and will hear their opinions being affirmed. For students who are still trying to better understand these issues, what they hear may open up a new world to them, he said.
"I'm conscious as I prepare to think about what's happened in my life and their lives over the past four years, what's happened over the past four years, I hope it will feel meaningful to the students, to faculty and for myself," Forman said.
Forman attended a mostly black public high school with limited resources in Atlanta before going to Brown University. He has spoken about how he felt intimidated by his more privileged college classmates but pushed on and succeeded with help and encouragement from his mother.
Donna A. Lee, vice president for student affairs at Macalester, said in a statement to Inside Higher Ed that Forman's life story was particularly compelling and that his academic work tackles some of the most challenging social issues of the day, which in turn pushed students to create "positive social change."
"His message to the Class of 2019 during opening convocation in fall 2015 fueled a passion for service and advocacy; his return to speak at their commencement four years later will serve as a powerful bookend to a journey of learning, activism and engagement and launch the next generation of change agents into the world," Lee said in her statement.