You have /5 articles left.
Sign up for a free account or log in.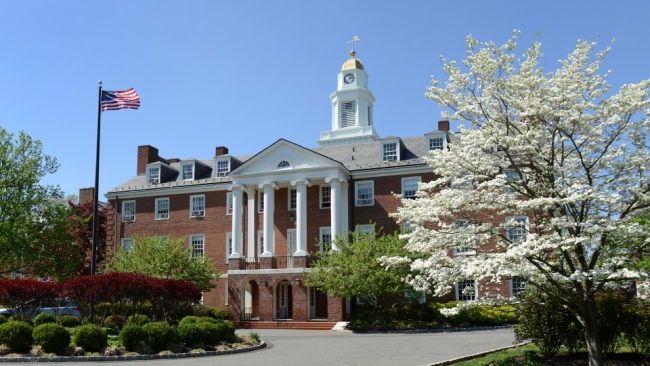 Rider University has dropped a controversial plan to sell Westminster Choir College to a for-profit company based in China and instead is resuscitating efforts to relocate the choir college.
The decisions, announced Monday, put Rider back where it was at the end of 2016, when students and alumni fought against the idea of relocating Westminster from its own campus in Princeton, N.J., to Rider's main campus seven miles away in Lawrenceville, N.J. Rider's administration responded a few months later by taking the unusual step of trying to sell the nonprofit choir college. The sale efforts sparked another round of intense opposition after Rider revealed plans in February 2018 to sell Westminster along with its facilities, campus, programs and endowment for $40 million to Beijing Kaiwen Education Technology Co.
"Throughout this process, we have continually sought to preserve and enhance Westminster's legacy as a world-class institution, and we made every effort to maintain the college in Princeton," said Gregory G. Dell'Omo, Rider's president, in a statement. "Given the enormous complexity of the transaction, it became increasingly clear that partnering with an outside entity, even one as well-intentioned as Kaiwen, was not feasible on a viable timeline."
With the sale scrapped, Rider now plans to operate Westminster in Princeton for the upcoming academic year and then move Westminster to the university's Lawrenceville campus by September 2020. Operating two separate campuses so close together isn't financially prudent, according to university leaders.
"The board and the administration appreciate the special connection that Westminster has to Princeton, which is why we went to extraordinary lengths to seek a future based in that community," said Robert S. Schimek, Rider's Board of Trustees chair, in a statement. "Now that it is clear that transferring Westminster Choir College to an external partner is not possible, it is our continuing responsibility to enact a plan that serves the best interests of the entire university. It is not financially feasible to allow Westminster to continue on its present course as a separate, fully operational campus seven miles apart from Rider's Lawrenceville campus."
The university's change of plans did not appease those who opposed the sale. They vowed to continue fighting against relocating the choir college from its longtime home in Princeton, arguing that the Lawrenceville campus does not have the facilities necessary to support the choir college. A move by next year would be rushed, they said. Further, they argued it would violate the terms of agreements under which Westminster's campus was donated to the choir college and under which Westminster merged into Rider in the early 1990s, reiterating some arguments made in lawsuits that have been filed against the university.
"Basically, we're still in a position where Rider's actions would severely damage Westminster," said Bruce Afran, a lawyer representing one group suing Rider, the Westminster Foundation. "It would be destructive of Westminster's academic mission to dismember it and move it to Lawrenceville. No court is going to allow this."
Afran is preparing filings that will have faculty members joining existing lawsuits against Rider's plans for the choir college.
Rider described new relocation plans as going "beyond the consolidation option" proposed in 2016. The new plan would take the Westminster College of the Arts -- which is made up of Westminster Choir College in Princeton plus the School of Fine and Performing Arts in Lawrenceville and the multilocation Westminster Conservatory -- and expand them, according to a university spokeswoman. The Westminster College of the Arts would be re-envisioned to create "a world-class arts program."
The new plan also calls for examining the possibility of Rider and Westminster retaining a footprint on the Princeton campus that would in part be reserved for the conservatory.
"The plan has the potential to realize the goal of a strong and thriving Westminster College of the Arts that builds on both existing and proposed programs and facilities and most effectively serves 21st-century students," Marshall Onofrio, dean of the Westminster College of the Arts, said in a statement. "It is my hope that students, faculty, staff and alumni will unite around this opportunity and participate in creating a new chapter in Westminster Choir College's illustrious history."
Faculty members were not uniting behind the plan Monday, however. Rider's faculty union, which represents Westminster Choir College faculty members, has been opposed to the university's sale plans. Faculty members have also said the way the administration handled the Westminster situation is indicative of a broader lack of consultation and shared governance.
Still, faculty members weren't surprised to see sale plans dropped, said Jeffrey Halpern, an associate professor of sociology at Rider and the contract administrator for Rider's American Association of University Professors chapter. They believed the energy driving the sale dropped after New Jersey's attorney general earlier this year voiced significant reservations, making the sale's completion by a June 30 deadline unlikely. Then they saw an announcement on a Chinese news website Saturday indicating the sale was dead.
The consolidation plans generated new concern, though. Halpern criticized them as an example of Rider's administration deciding what to do before ever offering an idea up for discussion.
He called instead for students, faculty, alumni, donors, administrators and the Board of Trustees to come together to discuss Westminster's future.
"This should be a year where everybody takes a step back and really thinks about an open-ended agenda of what's possible and what's not possible," Halpern said. "You're never going to have a resolution that everybody thinks is perfect, but you're certainly not going to get close if the board talks to itself and a few administrators and then announces a new plan -- and particularly a plan that, on its face, seems impossible."
Westminster requires specialized equipment and a certain amount of space, Halpern said. The choir college needs space for pianos, organs and performances that isn't available in Lawrenceville on short notice, or even in one year. Existing performance spaces in Lawrenceville are already heavily utilized by theater and dance programs and wouldn't be able to accommodate additional performances currently located in Princeton.
"Our concern is that this is just another way of destroying the program," Halpern said. "So you say this is going to be a music school that doesn't do performances? In which case, what are you saving?"
Rider's pivot away from sale plans had at least one positive in faculty members' eyes. The university rescinded layoff notices that had gone out to about 35 full-time Westminster faculty members, according to Halpern.
Even after the sale's collapse, Kaiwen and Rider aren't fully breaking off contact. They've formalized an agreement under which the two institutions can work together on academic and artistic efforts for three years. Details have yet to be determined but are set to include Westminster faculty members traveling to Kaiwen academies and Kaiwen faculty members and students coming to New Jersey.