You have /5 articles left.
Sign up for a free account or log in.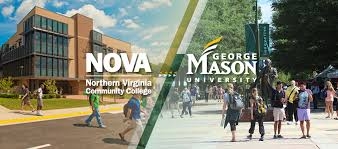 Virginia's largest community college and a prominent public research university have co-partnered with an educational management and student support service provider to improve academic outcomes for transfer students.
The partnership between Northern Virginia Community College, George Mason University and InsideTrack, a company that helps higher ed institutions increase student enrollment and graduation rates, is part of a larger strategy to improve and streamline the process for students who want to transfer from NOVA, as the community college is often called, to George Mason.
The two institutions are already part of a collaborative program begun last year, called ADVANCE, which guides NOVA students through the transfer process and helps them integrate at George Mason. Administrators from both institutions say the affiliation with InsideTrack will help them scale up the program as the number of participating students grows. The total number of students in the program will have doubled to nearly 700 when the new academic year begins next Monday. Administrators expect that pace to continue during each academic year.
George Mason's total undergraduate enrollment for the 2018-2019 academic year was 25,508, according to the Office of Institutional Effectiveness and Planning. The total included 6,717 new undergraduates and nearly half of them, 3,006, were transfer students, although not all of them were from the ADVANCE program.
The partnership with InsideTrack will help enhance and expand the program to provide students with "consistent, personalized support throughout their time at both institutions," according to an announcement by the three parties.
InsideTrack will provide training on academic coaching, tailored for specific student demographics, to staff at both institutions and will also coach a subset of students to tailor the methodology and model best practices. The company also will be working with institutional leaders to develop the infrastructure to build a sustainable professional coaching system.
"Improving collaboration between two- and four-year institutions is one of the most powerful levers available to improve college completion and enhance social and economic mobility," Rose Pascarell, vice president for university life at George Mason, said in the announcement. "It is also why we are working with InsideTrack, to ensure that students who begin their journey at NOVA and complete it at Mason enjoy consistent, holistic support that adapts to their evolving needs."
The partnership with InsideTrack is a three-year agreement. Pascarell said the costs would not be passed on to students and that student services would instead be shifted internally at both institutions. (She said in an interview Monday that she would provide numbers about the actual costs but did not produce any figures.)
"This is not just an add-on but a shift in the way we provide services to students to be more responsive to their needs," she said.
The move comes at a time when the demographics are changing on American college campuses, particularly at community colleges, and more first-generation students are enrolling along with more students from low-income households and immigrant families.
These students tend to struggle more in college and face barriers that keep them from completing their studies and graduating or from going on to earn a degree at a four-year college. College administrators are increasingly looking for ways to help these students succeed, including by making the often bureaucratic, complicated and time-consuming transfer process easier to manage and accomplish.
"Having that partnership with InsideTrack gives us more flexibility and helps us be able to serve more students more quickly," Keri Bowman, director of academic planning and advising at NOVA, said in an interview.
"I think in general our students, and particularly at NOVA, tend to be less experienced with college, may be first-generation students and have some access issues," she said. "We want them to learn the business of college, how to do NOVA and do college in general, and also have them transfer more smoothly."
Pascarell said InsideTrack was chosen because it was among the first of such companies "to apply a coaching methodology" to the services it provides.
"They're helping us define the methodology and helping us build it out … so that we're able to respond to a student population that will grow in the thousands in the next couple of years," she said.
Pascarell noted that course selection advising, academic coaching, resource referral and support services for transfer students are separate functions on most college campuses and are provided in different departments. And those services are usually incomplete, she added.
"We're trying to create what I believe is a new, comprehensive coaching and advising model where students are really connected with the same folks throughout their transfer process … and students are advised and coached by the same people," she said.
"It's really clear to me that students don't separate their needs by function. That's not how they see us or seek out the supports they need," she said. "We noticed that students would find their homes within a certain department or with a certain adviser," and they would try to get all their needs met through that department or person. "This is our attempt to be more responsive to students, to create a set of supports from the point of when they transfer from the community college to transition and integration here."
Dave Jarrat, InsideTrack's senior vice president for engagement and growth, said the new partnership reflects a larger trend.
"There are a lot of institutions moving from a more transactional approach toward a more development-coaching approach to student support," he said. "I do think we'll be seeing more of this for reasons of demographics and for reasons of costs."
Jarrat said his company would help NOVA and George Mason break down silos between admissions, student affairs and faculty advising departments.
"There are different organizational cultures and history being brought to this," he said. "We have a lot of experience helping organizations change and persist in that change" and helping them "develop a sustainable approach to provide what students need, particularly the first-generation or low-income student."
Davis Jenkins, a senior research scholar at the Community College Research Center at Columbia University's Teachers College, and an expert on transfers, is generally supportive of efforts to help students. He counts NOVA and George Mason's transfer collaboration as among a handful nationwide that appear to be doing a good job. (He said, though, that the partnership with InsideTrack "looks like an interesting, boutiquey type of effort.")
"I think what you're seeing at George Mason and NOVA, in general, is what is happening across the country," he said. "They're creating this guided pathway for transfer students and monitoring their progress. The trend is a good thing."
But it's not occurring on a large enough scale, he added.
"There's no question that even with the efforts they have made, that advising at community colleges is grossly inadequate for transfer students and very complicated," he said, speaking generally about transfer programs. "But in fairness to both four-year and two-year colleges, the resources for advising are very thin, especially at community colleges."
Jenkins's research has found that, in general, only 15 percent of transfer students end up earning a bachelor's degree, and among low-income students, it's just 10 percent. What's more, many transfer students end up earning excess credits that are not transferable to four-year colleges but that cost them precious time and money, delaying them from completing their studies and earning associate degrees and preventing them from transferring to four-year colleges.
"People are not going to pay for this inefficiency, and that's why community colleges are hurting and enrollment is declining," he said.
"The vast majority of transfer students think they're going to get a bachelor's degree" but don't, he said. "When I talk to transfer students, I just want to cry -- the barriers that they face on both sides are so bad."
Jenkins said part of the problem is that four-year colleges, especially regional colleges, are heavily oriented toward providing support services to freshmen.
"They have weeklong orientation programs for their freshmen, and they tell transfer students, 'OK, you can register online,'" he said. "They're going to lose these students if they don't create these strong pathways."
He said colleges should align their programs to help students get good jobs or transfer to four-year colleges with declared and defined majors. He said colleges should also reorganize their academic programs around schools and meta-majors.
Still, he acknowledges, "It's enormously complicated."