You have /5 articles left.
Sign up for a free account or log in.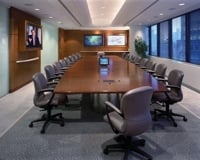 In recent years one of the greatest points of contention between faculty members and their institutions' governing boards has been over the board's arguably most important function: the search for and the selection of a president to lead the institution.
Throughout higher education, campus stakeholders are increasingly disapproving of and speaking publicly about searches conducted by their institution. One of the more frequent complaints is the growing tendency of governing boards to conduct a "secret search." In these cases, those involved in the process keep the names of any potential candidates under wraps until an appointee is announced, or in other, similar cases, boards announce a sole finalist who will meet with campus leaders and get to know the institution before being officially appointed.
However, as these instances and the faculty outrage that often comes with them become more frequent, some more recent searches where multiple candidates have been announced before the board votes have not been without significant controversy.
Judith Wilde, chief operating officer and professor in the Schar School of Policy and Government at George Mason University, has conducted research on executive searches at universities. She points to the increasing inclination of governing boards to hire an executive search firm as the cause for the uptick in secret searches. Research conducted by Wilde found that in 51 percent of the instances studied, confidentiality was the search firm's policy.
"We think these have appeared within the last 10 years, and most especially in the past five years. Much of the cause is the search firms themselves," Wilde said. "They tell universities that the only way to get 'the best' president is to have a confidential or secret search. Along with this, those who serve on boards have little experience in conducting searches. So, having a search firm step in to tell them exactly how this should be done, and that they'll lead the efforts, is very appealing."
Oftentimes, representatives of executive search firms argue that the only way to recruit talented candidates for the presidency is by holding a secret search, due to the fact that many candidates wouldn't allow themselves to face public scrutiny before a selection. Wilde said there has been no research supporting that claim.
"The secret search is a recent phenomenon, really seen only in the past five to 10 years -- at most -- so we weren't looking for them," Wilde said. "I will say that what little we've seen, we see no reason to believe that this leads to better presidents. Think of this -- until just recently, all presidential searches were open. To state that secret searches yield better presidents is to imply that all previous presidents were not good. That just doesn't make sense."
Jan Greenwood is a veteran search consultant and partner and president of Greenwood/Asher & Associates Inc. She said the practice of keeping private the names of finalists in presidential searches began in the early '90s, when a president of a research university lost his job after he advised his alma mater about an open presidency.
"He was fired for looking at the other position, which technically he wasn't pursuing," Greenwood said. "He was doing his alma mater a favor."
Other similar outings and firings have occurred, she said, including to provosts and deans. In addition to making job candidates nervous, she said publicizing the names of finalists can jeopardize gifts to colleges, as donors have pulled back on a pledge when they hear the president is looking for another job. Likewise, if a public university president is up for another job, it can be harder for the institution to secure state funding.
"That hurts the university. And presidents don't want to hurt the university," said Greenwood.
Campuses Left With Questions
Frank LoMonte, the director of the University of Florida's Brechner Center for Freedom of Information, said that in many cases where states have legal requirements to reveal finalists before selecting a president, the selection of a sole finalist meets the letter of the law but not the spirit.
"Unfortunately it seems that the prevailing structure these days is that the law specifies up to three or up to four finalists," LoMonte said. "The growing practice has been to default to one finalist. Even though you would certainly read the intent of legislation like that to suggest that the public should see multiple finalists, that's not the way trustees and search firms are applying it. They're gaming those laws to achieve the maximum secrecy."
In Colorado, conservative former congressman Mark Kennedy was chosen as the sole finalist in the state system's presidential search. Kennedy's voting record on issues such as gay marriage became a contentious issue with many students and faculty, who called upon the Board of Regents to consider another candidate. The regents ended up selecting Kennedy, who had formerly served as president at the University of North Dakota, despite the outrage.
LoMonte said instances like this in which boards leave only one option often make stakeholders feel as though they were left out of the process, and they can sow distrust.
"If the community believes that your presidency was foisted on them by a bunch of remote business executives and headhunters, they are going to start off with skepticism and distrust," LoMonte said. "Surely it's better to find out early that the person you've identified was a mismatch with the campus culture."
Other searches have ended with secrecy recently -- at Georgia Tech, the former president of George Mason University was announced as the sole finalist. At the University of Texas El Paso, the sole finalist to replace the esteemed president drew sharp criticisms from stakeholders.
Michael Poliakoff, president of the American Council of Trustees and Alumni, said secrecy often benefits the potential candidates for the search and the search firm but is not beneficial to the institution itself.
"A process like this is very often going to be toxic for campus morale," Poliakoff said. "It can also be rather toxic for board morale. Boards are too often distancing themselves from the engagement and the accountability for the choice. I think the utilization of search firms -- practices that come out of the corporate world -- has influenced the way boards think. They have tended to defer to the professionals rather than being integrally involved in every step of the search process. I think there has been a cultural shift that is not serving higher education well."
Greenwood, however, said search firms themselves benefit from a search being open. A known candidate is vetted in a more public manner, by the news media and people on campus. And that scrutiny can help protect a search firm by preventing a bad hire or from not getting necessary background information on a job candidate to the hiring committee.
Open Search, Same Outrage
So far in 2019, there have been some high-profile examples of searches in which multiple finalists were revealed to the public that have ended in similarly divisive situations.
Most notably at the University of South Carolina, a candidate was chosen out of a group of four despite the fact there was highly public condemnation of the candidate from the students and the faculty. However, LoMonte said that the protests and outrage are exactly what an open search gives community members an opportunity to do.
"I mean, that's democracy -- that's exactly what democracy is supposed to look like," LoMonte said. "You pick somebody unacceptable and the community loudly tells you to go pick somebody else. That's exactly how the process ought to be working."
However, South Carolina statistics professor Bethany Bell -- a critic of the South Carolina search process -- said even their open search left much to be desired. Each candidate was on campus for only one day, and the times of the Q&A sessions with candidates were announced very late and during a time frame when many students would be preparing for finals.
"Yes, there was an open forum for each candidate," Bell said. "But was it as open as it could have been? Absolutely not."
Bell also said it was rumored there was an unnamed female semifinalist for the position who had said she would withdraw if her name was made public. The final four candidates were all male.
Another open search, at Miami Dade College, led to faculty feeling like they had the rug pulled out from under them, as the college's Board of Trustees opted to open a new search after already publicly announcing four candidates.
Wilde pointed to both the searches at Colorado and at South Carolina as examples of why it's vital that faculty feel bought in to the process -- or else the process can quickly unravel.
"Probably the most important is lack of trust/support on the part of faculty, staff, students and the larger community," Wilde said. "[Secret] searches also go against the most basic tenet of the university: shared governance."
-- Paul Fain contributed to this article.