You have /5 articles left.
Sign up for a free account or log in.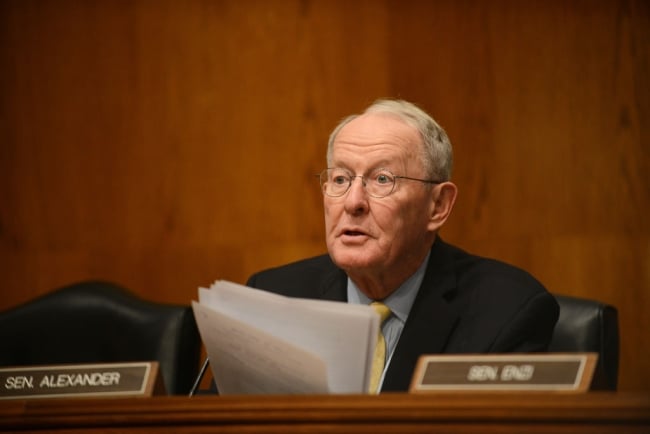 WASHINGTON -- Efforts to renew more than $255 million in annual funding for minority-serving institutions appear to be on the rocks after Senator Lamar Alexander, a Tennessee Republican, blocked legislation Thursday that would provide a short-term extension of the money.
Alexander, chairman of the Senate education committee, objected to unanimous passage of the legislation, known as the FUTURE Act, and proposed in its place a long-term extension of Title III, Part F, funding along with a package of bipartisan higher ed bills.
The proposals he named included popular proposals to streamline the Free Application for Federal Student Aid and lift restrictions on Pell Grants for some incarcerated students, and more contentious ideas such as expanding Pell eligibility for short-term career education programs. He also proposed expanding Pell Grant eligibility for a quarter million new college students and boosting the value of the maximum award -- ideas that would typically be supported by Democrats. But critics said the plan falls well short of dealing with the most serious challenges in higher education, including accountability and affordability.
Inside Higher Ed reported earlier this week on Alexander's plans to tie the funding for minority-serving institutions to a broader package of higher ed proposals. Now the prospects for extending the funding before a Sept. 30 deadline look dim.
The move illustrates the urgency Alexander feels to pass major higher education legislation before he retires after next year. Efforts to reach a bipartisan deal for a reauthorization of the Higher Education Act have been stalled for months. And the piecemeal approach outlined by Alexander would allow him to accomplish some top priorities.
"I've been talking with Senator [Patty] Murray [the senior Democrat on the education committee] about reauthorizing and updating the Higher Education Act for several years," Alexander said on the Senate floor Thursday. "While we continue to work on a larger package, Congress should pass a smaller bill such as the one I just described."
The offer was met with frustration by congressional Democrats, who called for a clean passage of the FUTURE Act.
Murray, a Washington State Democrat and the top Democrat on the Senate education committee, called Alexander's proposal disappointing and argued that the chamber should follow the House's lead by voting on the bill without attaching other proposals.
"There is no reason at all to delay it a minute longer in the Senate," she said.
Senator Doug Jones, an Alabama Democrat who co-sponsored the FUTURE Act along with South Carolina GOP senator Tim Scott, requested passage of the bill on unanimous consent. That process requires that no senator object to the legislation, so Alexander's objection creates a serious hurdle for supporters.
Jones said it was especially disappointing the bill couldn't be passed on its own merit after it was approved on a voice vote in the House.
"These schools just want to be able to focus on their mission, and we need to give them the certainty they need to be able to do so," he said.
The money at stake backs STEM-related education at minority-serving institutions. Supporters say that's important for increasing diversity in science and engineering professions. Unlike other Title III money, the funding is mandatory, meaning Congress doesn't have to appropriate it each year and colleges have more certainty when they set their budgets.
Of the $255 million in Title III, Part F, money, about $85 million goes specifically to historically black colleges. Those groups have been among the biggest advocates of passing the FUTURE Act. Michael L. Lomax, president and CEO of the United Negro College Fund, called for lawmakers to immediately pass the bill, which he called a "no-brainer" for both parties.
"Then, I want to sit down with Republicans and Democrats in both chambers and help everyone hammer out long-term solutions in higher education, including for HBCUs," he said in a statement. "I have spent over 50 years of my life in higher education, and I know the importance of the HEA. However, first things first -- pass the FUTURE Act."
Jon Fansmith, director of government and public affairs at the American Council on Education, said it's not clear, though, if the funding will be approved before the deadline later this month.
"Probably the thing that's frustrating as an organization in favor of getting the FUTURE Act passed is there's not a clear path forward," he said.
Fansmith said college groups aren't likely to push for passage of the package Alexander outlined, either, in part because they haven't yet seen any legislative language.
"Beyond that, it seems a little difficult to understand why the FUTURE Act needs to be held up to achieve the other goals," he said. "The FUTURE Act could be passed today in the Senate."
The package of higher ed bills Alexander put together drew from a range of priorities with bipartisan support in the Senate, although they didn't match the demands of Democrats or higher ed advocates in each case.
There is broad support for simplifying the FAFSA, and the Tennessee senator called for cutting the application from 108 questions to between 17 and 30. Just last year Alexander and Murray worked together to pass the FAFSA Act, legislation that would allow applicants to answer more than 20 questions automatically by allowing the IRS to share family income information with the Department of Education.
There's also growing momentum behind repealing a 1994 ban on federal aid to incarcerated students. Advocates were visiting congressional offices this week to push for support for reinstating Pell Grants in prisons. That goal has even received an endorsement from the White House.
Alexander's proposal, however, would restore grant aid only for incarcerated students who are eligible for parole.
He also called for passing legislation called the JOBS Act that would allow students to use Pell Grants for credential programs as short as eight weeks. Community college associations and business groups in Washington want to see that bill passed. Some consumer advocates and higher ed scholars, though, have questioned the return on some short-term credentials.
Although Alexander has previously mentioned the College Transparency Act among bipartisan bills he envisioned including in a reauthorization of the Higher Education Act, he didn't include the plan for a federal student-level data system in the package he outlined Thursday.
A piecemeal approach to updating the Higher Education Act would be welcomed by groups eager to see any progress on priorities like a streamlined FAFSA. But it could remove incentives for lawmakers to address thornier issues, like college accountability or campus sexual misconduct, that have created roadblocks for a comprehensive deal.
Julie Peller, executive director of Higher Learning Advocates, said the group supports many of the measures Alexander discussed. But passing narrow legislation on those priorities could come at the cost of discussions in Congress on more difficult challenges.
"Reauthorization packages are much like putting together a complex puzzle. However, a small package like this takes critical pieces out of the puzzle," she said.
Ben Miller, vice president for postsecondary education at the Center for American Progress, said the package outlined by Alexander "falls short of the big changes necessary."
"It's past time for Congress to tackle the big challenges head-on by passing a state-federal partnership, enhanced accountability measures, improved access to data and greater protections for student loan borrowers," he said in a statement.