You have /5 articles left.
Sign up for a free account or log in.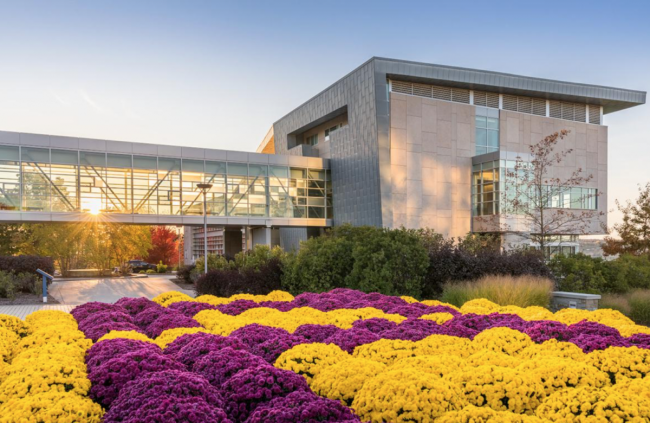 Ithaca College/Andrew Frasz
Ithaca College will cut its full-time faculty count by 130, from 547 total, by 2022. The college admits the number is big but says its plans are an acceleration of a five-year strategic vision that would have otherwise been executed by 2024.
"There is no joy in this," said La Jerne T. Cornish, provost. "It is painful and it is necessary. If Ithaca is going to thrive and continue to serve generations of students, we've got to address our issues right now, without delay."
Ithaca's enrollment numbers are down this semester due to COVID-19, by about 15 percent year over year, as the college expected they would be. Yet while the pandemic is an "accelerant" of Ithaca's problems, it is not the root cause, Cornish said. Instead -- in a story that will be familiar to many institutions -- Ithaca's enrollment declined by more than 700 students over 10 years, pre-pandemic, while full-time faculty positions increased by over 50.
Ithaca has determined that 5,000 students -- down from a peak of about 6,000 -- is a sustainable size, citing changes in demographics and a generally challenging enrollment environment. It wants to bring its student-faculty ratio to 12 to one, from about 10 to one currently. Ithaca's five-year strategic plan, called Ithaca Forever, describes a "visionary, nimble and sustainable" future for the comprehensive, liberal arts-influenced college and its professional schools.
Cornish, who previously dealt with academic cuts at Goucher College as associate provost there, said it would have benefited Ithaca to be paying attention to the numbers all along, rightsizing its faculty by less drastic measures.
"We need to engage in a process of academic prioritization all the time, it's never one-and-done," she said. "In an ideal world, someone at Ithaca College would have noticed the decrease in students and increase in faculty and adjustments could have been made when it started to happen."
If there's any lesson for academe in what's happening at Ithaca, Cornish said, it's that "often we wait until it's too late do things would should be doing all along."
At Ithaca, at least, she said, the academic prioritization process "will continue long after this so that we'll never be in this position again. We should never be in the position where we have to eliminate 130 FTE," or full-time-equivalent positions. Cornish said it's important to remember that 130 is not necessarily the number of professors who will be cut. But the final number will in all likelihood approach 130.
Several faculty members contacted for this story declined comment or said it was too early in the process to know what to say.
It's possible that entire academic programs will be cut as Ithaca carries out its academic review and prioritization process to know where to cut faculty jobs. That's what happened at Goucher, which in 2018 said it was phasing out majors and minors in math, music, physics, religion, Russian and elementary and special education, along with majors in studio art and theater and several other programs.
Ithaca cut 167 staff positions in the spring to try to balance its COVID-19-impacted budget.
Regarding the faculty cuts, Cornish said the academic review of programs will happen by midyear, with faculty participation. Ultimately say as to who gets cut, where, lies with her and other administrators. Affected faculty members on one-year contracts will be notified by March 1. Tenured faculty members, if any are eliminated, will be notified after that.
Moody's recently downgraded Ithaca's financial outlook to negative from stable. At the same time, it affirmed the college's A2 rating on $108 million in outstanding revenue bonds.
Dave Maley, college spokesperson, quoting Moody's, said the A2 rating underscored Ithaca's "healthy flexible reserves and liquidity and low debt burden as well as management's willingness to adjust expenses to reduced revenues, all of which support its good strategic positioning."
While Ithaca's outlook was revised, Maley said, Moody's also revised its outlook for higher education overall from stable to negative this year "as a result of predicted widespread instability due to the coronavirus pandemic. So if there is such a thing as being in good company …"