You have /5 articles left.
Sign up for a free account or log in.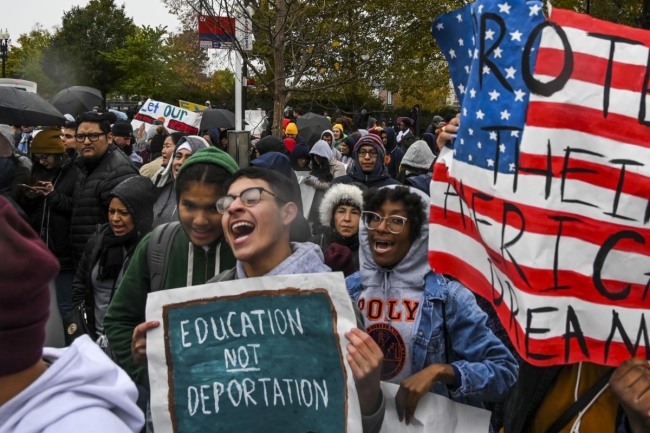 The Washington Post via Getty Images
Joe Biden's victory promises a reprieve for the hundreds of thousands of young undocumented immigrants known as Dreamers who have benefited from the Deferred Action for Childhood Arrivals program. President Trump tried to end DACA, a program established by former president Obama in 2012 to provide certain young immigrants who were brought to the U.S. as children protection against deportation and the ability to legally work.
Biden has pledged to reinstate DACA, and The Washington Post reported he's planning on signing an executive order to that effect immediately after taking office on Jan. 20. Early on the morning of Election Day, at 12:28 a.m., he tweeted his support of Dreamers: "Dreamers are Americans -- and it's time we make it official."
Trump first tried to end the DACA program in 2017, but his decision was blocked by multiple federal courts. The Supreme Court ruled in June that the Trump administration had acted "arbitrarily and capriciously" in ending the program and said the decision to end it must be vacated.
The Supreme Court ruling left the door open for the Trump administration to end DACA in the future, however, so long as officials provided a reasoned explanation and went through notice and comment procedures. In July -- in an action the American Civil Liberties Union characterized as being in defiance of the Supreme Court -- the Trump administration moved to curb DACA pending a promised full review of the program. The administration said it would not consider any applications for DACA from new applicants and that it would cut the term for individuals seeking renewal to one year instead of the usual two, effectively doubling the cost to students of applying.
In addition to promising to reinstate DACA, Biden has pledged to make Dreamers newly eligible for federal student loans and Pell Grants. He also includes Dreamers in his proposal to make two years of community college tuition-free.
"They are Americans now. They should be treated as Americans now," Biden said in response to a question about his plans for DACA during a CNN town hall in November 2019. "I've met hundreds and hundreds and hundreds of DACA students. What they don't get, what this outfit doesn't get, can you imagine you're 9 years old and Mom is going to take you across the line, across the border illegally, and you go, 'no, Mom, leave me here. Leave me, I'm going to stay.' Come on, man. What are we talking about? We're going to send these children back to places they don't have any idea about, many of them don't speak the language anymore? It's bizarre. They are Americans now; they should be treated that way and we should find a pathway for citizenship for the rest of the folk."
College and university leaders have been vocal in supporting DACA and a path to citizenship for Dreamers. A report issued in April estimated that undocumented immigrant students make up about 2 percent of all students enrolled in U.S. higher education. Of these estimated 454,000 students, researchers estimated a little less than half -- 216,000 -- are eligible for DACA.
Thousands of students who aged into eligibility for the DACA program -- applicants have to be at least 15 years old -- have not been able to apply since the Trump administration stopped accepting new applications for the program in September 2017. The Migration Policy Institute estimated in June there were at that point about 66,000 young people who have aged into DACA eligibility since 2017.
A reinstatement of DACA would provide immediate relief to new would-be applicants for the program. But advocates for undocumented students emphasize DACA is a stopgap solution and what's really needed is a pathway to permanent residency or citizenship.
Congress would have to act for that to happen. Various versions of a DREAM Act that would provide a pathway to permanent residency for Dreamers have been introduced in Congress since 2001 but have always fallen short of garnering the necessary votes.
The Democrat-controlled House of Representatives passed a bill that would grant a path to permanent residency for Dreamers in 2019, but the Republican-controlled Senate has yet to take it up. A bipartisan group of senators led by Lindsey Graham, Republican of South Carolina, and Dick Durbin, Democrat of Illinois, introduced a Dream Act in the Republican-controlled Senate in 2019, but no action has been taken on the bill.
Whether Republicans will retain control of the Senate during the first two years of Biden's presidency remains to be seen, to be determined by the outcomes of two runoff elections in Georgia.
A Fox News poll in 2017 found that 83 percent of people support a legal pathway to citizenship for undocumented immigrants who were brought to the U.S. as children.
"There is broader bipartisan support for creating a pathway to legal residency and citizenship for Dreamers," said Miriam Feldblum, the executive director of the Presidents' Alliance on Higher Education and Immigration, an association of college leaders that advocates for welcoming immigration policies for undocumented and international students.
"I think that is hopeful," said Feldblum. She added that the Trump White House "was a significant deterrent any time one got closer to compromise."
Michael A. Olivas, a professor emeritus of law at the University of Houston and author of a book chronicling the legislative and political history of DACA and the DREAM Act, added that getting Stephen Miller, Trump's hard-line immigration adviser, out of the White House "is going to clear a lot of the brush that's in the way."
"Until there is either a DREAM Act, which was advanced by the House, by the way, or there is comprehensive immigration reform, these kids cannot rest easily," Olivas said.