You have /5 articles left.
Sign up for a free account or log in.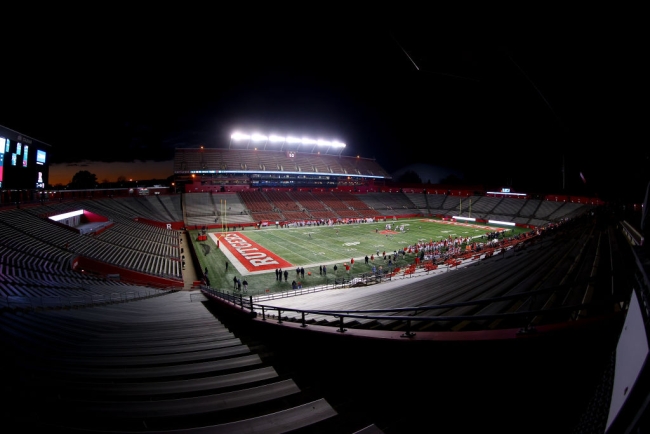 Icon Sportswire/Contributor via Getty Images
Mark Killingsworth, a professor of economics at Rutgers University New Brunswick since 1978, has had a front-row seat to "utterly and completely reckless" sports spending decisions that he says threaten the university's academic mission.
Killingsworth described a history of repeated broken promises by new administrators at the public New Jersey institution to balance the budget of its athletics department, which has $121.5 million in internal debt as of this year. University leaders have funneled a significant amount of general funds and fees from the student body into the Scarlet Knights' largely unsuccessful sports teams for about a decade, as ticket sales and donations for athletic operations dwindled, according to financial information submitted to the National Collegiate Athletic Association and published in a USA Today database.
"The attitude seems to be that we have this little piggy bank over here with the academic program, and since we don't seem to be selling tickets or getting contributions, let's tap the piggy bank," Killingsworth said. "It's like Vietnam, really -- there's just no end in sight."
Killingsworth and leaders of the university's faculty union, Rutgers AAUP-AFT, say such funding could be used to enhance academic programs and research or to avoid laying off additional staff members after nearly 1,000 were let go across the university's three campuses due to budget shortfalls related to the coronavirus pandemic. Todd Wolfson, president of Rutgers AAUP-AFT, said the union estimates that dining hall workers and adjunct professors -- employees who are more likely to be lower paid and people of color -- have suffered the brunt of the economic fallout. The union estimates that in addition to the laid-off workers, about 300 adjunct professors did not have their teaching contracts renewed for fall 2020, Wolfson said.
Wolfson considers it "malpractice" that cuts to university personnel are occurring as the athletics department racks up debt.
"There's always been distrust among both students and faculty, the other unions, and others on campus in how the university has allocated money to athletics," he said. But the pandemic has laid bare Rutgers's "misplaced priorities" as a public institution.
Killingsworth noted that the university has an obligation to the state's residents to be fiscally responsible. Nearly a quarter of the university's budget for 2021 is funded by the state, according to the Office of University Finance and Administration. But the state appropriations have fallen significantly in the past two decades as tuition and fees rose. In 2000, 43.5 percent of Rutgers's budget was funded by the state, according to budgetary information published on the university website.
Dory Devlin, a spokesperson for Rutgers, said that athletics makes up 2 percent of the university's annual budget and the department's deficit is not a primary factor in the pandemic-related shortfalls.
"To suggest that the athletics budget is at the heart of our budget shortfall ignores the COVID-related shortfalls we are confronting that are in the range of hundreds of millions of dollars," Devlin wrote in an email.
The athletics department has borrowed between $20 and $40 million annually since the 2007-08 academic year from general university funds and student fees from its three campuses in New Jersey, according to a Rutgers AAUP-AFT analysis based on annual financial information submitted by public institutions to the NCAA. Rutgers allocated the most general university funds and student fees to athletics of any other public university in the Big Ten Conference in 2019, according to a USA Today database of athletic department spending. Rutgers was ranked 12th among 227 NCAA Division I athletics departments for its use of university and student funds, the database said.
Rutgers leaders have long promised that the university's Division I sports program would become financially self-sufficient, Killingsworth said. In 2014, the university joined the Big Ten, which is considered the most academically prestigious and research-focused "Power Five" league, with hopes that Rutgers would be competitive against football and men's basketball powerhouses in the conference such as Pennsylvania State University, the University of Michigan and Ohio State University.
The increased advertising and exposure in national media "allows us to showcase the full breadth of Rutgers University and its mission," Robert Barchi, the former president of Rutgers, said in a 2015 letter to the University Senate, responding to faculty leaders' concerns about the athletics budget deficit that was growing at the time. "Big Ten membership provides a clear path to our goal of financial neutrality in athletics within the next seven years."
Barchi assured the senate that the athletics department would not only become self-sufficient but also profitable.
"We are well on our way to our goal of reaching not only a point of budget neutrality, but also a point where athletics becomes a net financial supporter of our academic programs, as it is for many Big Ten schools," he wrote.
Those predictions proved wrong.
Rutgers Athletics ranked last in overall winning percentage during its first four years in the conference, according to a report by College Sports Solutions, or CSS, an intercollegiate athletics consulting company that conducted a wide-ranging review of the Rutgers athletics department in 2018. The report painted a bleak picture of the university's athletic standing and future, stating that the university underestimated the investment Rutgers would need to make in athletics facilities to match those made by other Big Ten institutions.
CSS interviewed various stakeholders, including athletics and university staff members, athletes, coaches and a Big Ten representative, one of whom said, "It is unrealistic to expect athletics to be self-sufficient by 2021."
As the economic fallout of the coronavirus pandemic became more apparent, faculty leaders grew more concerned and sought more detailed information about how the university was allocating money toward athletics, Wolfson said. The union received some financial information through a public records request and discovered a significant and "unexplained" $76.1 million increase in the athletics department's internal debt, from about $45.4 million in 2019 to about $121.5 million in 2020, according to documents provided to Rutgers AAUP-AFT by the university's Office of Debt Management and Capital Finance.
The documents lacked detailed explanations from the university about the source of the debt. Killingsworth said the union believes most of the money was reallocated from university funds budgeted for other institutional goals. Rutgers AAUP-AFT sued the university in July for failing to provide detailed information about the athletics department's debt, disclosures that it argued are required under the Open Public Records Act, or OPRA, which applies to government institutions in New Jersey. The lawsuit argues that the union has a right to the information and that Rutgers should be compelled to provide it.
A judge for the Middlesex County Superior Court agreed and last month ordered Rutgers to make additional documents available to the union, including those related to $80.1 million in improvements to the university's football stadium and a $30.8 million investment in the RWJBarnabas Health Athletics Performance Center, a sports medicine and athletics practice facility that opened in September 2019. The university submitted the court-ordered documents required under OPRA to the union on Nov. 20, and "additional documents are forthcoming," Devlin, the Rutgers spokesperson, said in an email.
Devlin said officials were not available for interviews, but she noted that Rutgers suspended "virtually all" of its capital construction projects, including those for athletics, in response to the pandemic. The university remains confident that athletics will begin to generate revenue for the university as it receives higher payouts from the Big Ten, Devlin said. She did not address questions about rising student fees or about the use of general university funds for athletics loans rather than academic programs.
Wolfson said faculty members are reviewing the additional documents and will use the new information to guide discussions with the university administrators about spending priorities. He said the court order was a win over all for students, faculty members and staff who have been demanding transparency from college leaders about investments in athletics.
"There's 73,000 people at Rutgers, and we have a lot at stake here, more than the higher-up administrators who come in and stay at Rutgers for a couple years," Wolfson said. "We need to have a serious role in deciding where money goes and why it goes and center the core mission of the university, which is service, teaching and higher learning."
He added that the student body is "very aware" that part of their campus fees are being used to support athletics. Nearly 31,500 students signed a petition in July for the university to reduce the fee, which for full-time undergraduates on the New Brunswick campus amounts to $1,350 each semester. There are additional costs depending on which individual school or college a student attends of up to $243, according to an explanation of tuition and fee assessments by the university's Student Accounting, Billing and Cashier Services. The petition was started when undergraduates learned their courses would be delivered mostly online and that they would not have access to campus facilities and resources due to the pandemic, said Shreya Patel, a senior who started the petition.
The amount of student fees allocated to Rutgers Athletics has been increasing for nearly two decades and is consistently higher than the fees charged by most other institutions in the Big Ten, with the exception of the University of Maryland, according to the Rutgers AAUP-AFT analysis. Student fees made up $12.1 million of athletic department revenue in 2019, the USA Today database said.
University administrators ultimately approved a 15 percent fee reduction for the 2020-21 academic year, which for each full-time undergraduate student equates to about $300 in savings for the year, a July message from President Jonathan Holloway said. But Patel said students shouldn't be paying for any athletics, which should not be a priority "especially during a pandemic."
"General university funds should be allocated to improve our educational experience at the university, not towards a football team that doesn't even seem to be performing well," Patel said in an email. "During the pandemic, it should be crucial that these funds are being allocated towards student and faculty support, but we can clearly see that wasn't properly done."
Patel said Rutgers sports teams did not factor in her decision to enroll at Rutgers and she's not invested in their success. Nicholas LaBelle, president of the Rutgers University Student Assembly, said the group has been pushing for a student voting seat on the university's Board of Governors, so students can be better informed about, and have influence over, how Rutgers spends its money.
"Regardless of what fee it is, students deserve to be in the room," he said. "We're paying these fees but have no authoritative view on spending, which is concerning."
LaBelle said he sees some positive aspects that athletics provides to the student experience on campus, and if students want to continue having that, "there has to be some acknowledgment of cost." He also understands that funding athletics allows the university to provide some athletes with financial aid and opportunities to play their sport professionally.
University athletics department officials and the athletes themselves have not weighed in on the spending controversy. Hasim Phillips, an athletics department spokesperson, declined to comment, as did Ryan Cassidy, a football player and president of the Rutgers Student Athlete Advisory Committee.
"That's always been a debate among the academic versus athletic part of the community; academics are why we're a school, but athletics have the unique ability to promote our academic prowess," LaBelle said. "Through athletics we can grow as an institution."
Nick Schlereth, a recreation and sport management professor at Coastal Carolina University who studies spending on college athletics, agreed that strong athletic programs can help institutions grow and improve their brand reputation nationally.
Rutgers knows "they can be athletically competitive, but have to spend to get there," including new facilities to attract top high school recruits and paying more for higher-tier coaches, Schlereth said.
Recent spending by Rutgers includes the 2019 rehiring of Greg Schiano as football coach. He was given an eight-year, $4 million annual contract that also promised him new football facilities, NJ.com reported. Construction work continued this year on the new Rodkin Academic Success Center, which will also house the soccer and lacrosse programs and provide support services for athletes. The center will cost $50 million more than what was initially donated to build it, the Rutgers AAUP-AFT analysis said.
It's unclear whether these investments will pay off, Schlereth said.
"The same $20 million that you gave to football could've built a full building of classrooms to admit more students and bring in more tuition revenue," he said. "You're paying for perceived success, in my opinion. Are you ever going to fully blow out Ohio State? I don't know … I don't know if there's any thought to financial projections."