You have /5 articles left.
Sign up for a free account or log in.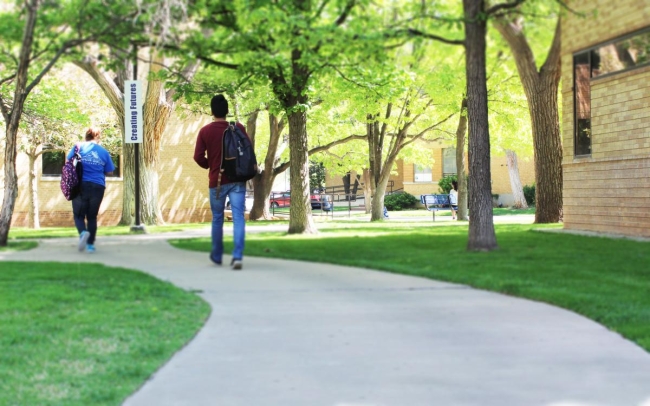 Courtesy of Amarillo College
As colleges across the country suspend or scrap athletics programs amid the pandemic, the only community college in Amarillo, Tex., wants to create one.
The public, two-year college plans to debut a new athletics program in 2022 that will include three sports: men's baseball, women's volleyball and men's and women's cross-country. The athletics program will hopefully drive enrollment for the college by capturing a group of potential students who had previously left the area in pursuit of intercollegiate athletics, said Paul Proffer, a member of the Amarillo College Board of Regents who spearheaded the athletics plan.
"We have a lot of local talent in several sports, including some of those that we chose -- volleyball, baseball, cross-country -- that every year have to pack up and go to college somewhere else," Proffer said. "We are one of the largest cities in the country without any [college] athletics in our city. There is a vacuum here."
Teams will compete in the Western Junior College Athletic Conference, which is part of the National Junior College Athletic Association. Student athletes will play against colleges in the Florida Panhandle, central Texas and New Mexico, Proffer said.
The college will submit its application for the conference before the next academic year. The conference requires a one-year probation during which teams can't participate in postseason play or awards for student athletes, Proffer said. He suspects the policy prevents colleges from repeatedly signing up and later dropping out of the conference.
The athletics program's initial budget will likely be about $700,000, but the final number is still being hammered out, Proffer said. That money will cover administrative costs for the program, an athletic director, physical therapy, coaches, insurance, travel and other expenses. The program was designed to be budget neutral. Revenue generated from advertising, ticket and merchandise sales, as well as increased enrollment and subsequently adjusted state funding, will ideally balance out the program's expenses, said Joe Wyatt, a spokesperson for Amarillo.
The estimated athletics budget will make up less than 1 percent of Amarillo's overall operating budget. This year, the college's operating budget was about $73 million, according to Wyatt.
Next spring or summer, Amarillo will hire a part-time athletic director, a part-time trainer and full-time coaches for each sport. The coaching jobs aren't listed yet, but Proffer said there's been overwhelming interest in the jobs.
"I've heard much talk about coaches wanting the job from as far as Kansas, the Dallas area, the local states around here -- I've had people contact me and say, 'I know someone who wants this job,'" he said. "There is a lot of interest in this job, and I think it's because of the size of this city and not having another community college to compete with in this city."
This isn't Amarillo's first shot at an athletics program. The college had intercollegiate sports on and off since it first opened in 1929, including football, baseball, tennis, golf, basketball, track and field, and boxing, according to Wyatt. The Board of Regents discontinued athletics in the mid-1980s due to budgetary constraints.
Proffer knows the athletics program isn't going to be a financial boon for the college. It's virtually impossible for the institution to bring in large amounts of revenue from its sports the way big public four-year colleges sometimes do. But the program will probably bring in more students.
Amarillo conducted a survey of student athletes in the area that played baseball and women's basketball and ran cross-country. About 87 percent of surveyed students said they would consider Amarillo College if it had intercollegiate sports. By comparison, the college regularly enrolls more than 60 percent of college-going students from four large high schools in the Amarillo Independent School District.
The new athletics program is an enrollment play, said Welch Suggs, associate professor of sports media at the University of Georgia. Oftentimes, community colleges and small institutions introduce athletics in order to drive up enrollment.
As many as one-third to one-half of students at small private colleges participate in intercollegiate athletics, according to a 2018 report by the Council on Independent Colleges that Suggs co-authored.
"Year to year, athletic programs at smaller colleges and universities are the source not of scandal or massive celebration, but rather of stability in student recruitment and retention. They have become a core aspect of independent colleges' strategic positioning, and they can play a significant role in maintaining institutional health and viability," the report said.
Amarillo is a public institution, but the enrollment incentive still applies, Suggs said. He remembered talking to a community college athletics director several years ago about the effects of recruiting one athlete.
"When he recruited a football player, he usually also would get the player's girlfriend and his best friend," Suggs said. "So I think all that applies here."
Community college enrollment has historically increased during periods of economic decline, but the pandemic is proving to be a different case. This fall, community college enrollments are down 9.5 percent nationally, according to recent data from the National Student Clearinghouse Research Center.
Amarillo College's enrollment has fluctuated over the past decade. This fall, the college enrolled 3,010 full-time undergraduate students, down from 3,236 during fall 2018. A decade ago, in the fall of 2010, the college enrolled more than 4,000 undergraduate students, according to data from the National Center for Education Statistics.
The new program is expected to attract about 75 new students. The college will offer some athletics scholarships that cover tuition and books.
Using athletics to bolster enrollment isn't a worthwhile bet for every college. Many colleges have suspended or cut sports teams during the pandemic, citing the programs' poor financial sustainability and pandemic-driven budget constraints.
But universities axing sports don't need the programs to draw students, Suggs said.
"They don't need to use sports to drive enrollment," Suggs said of institutions that have announced plans to cut some athletic programs at the end of the athletic year, like the University of Iowa, the University of Minnesota and Stanford University.
Clemson University is dropping its men's track, field and cross-country teams. But it will retain its powerhouse football program, which currently draws even more attention than usual because of a top quarterback talent.
"Clemson just dropped their track program, but they're going to replace all of those students tomorrow by people coming in to watch Trevor Lawrence play football," Suggs said.