You have /5 articles left.
Sign up for a free account or log in.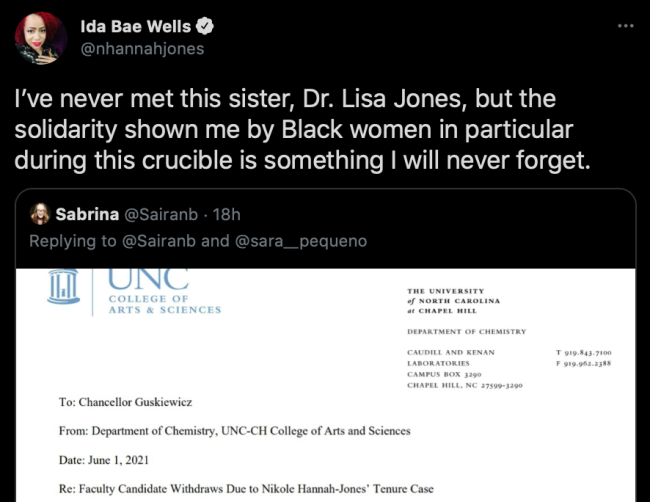 Whether or not Nikole Hannah-Jones joins the faculty at the University of North Carolina at Chapel Hill may soon be answered: today is the deadline she set for the university's Board of Trustees to grant her the tenure she was initially offered or face legal action.
Either way, the university may have already lost out on another coveted recruit: Lisa Jones, an associate professor of pharmaceutical sciences whom Chapel Hill's chemistry department has long sought to woo away from her current job at the University of Maryland at Baltimore, says she's not interested in working somewhere that spurned Hannah-Jones.
According to Chapel Hill's chemistry department, Jones wrote to withdraw her faculty candidacy, calling the recent news that the board had deferred Hannah-Jones's tenure, despite faculty and administrative backing, "disheartening."
"It does not seem in line with a school that says it is interested in diversity," Jones wrote of the board's action. "Although I know this decision may not reflect the view of the school's faculty, I will say that I cannot see myself accepting a position at a university where this decision stands. I appreciate all of the effort you have put into trying to recruit me but for me this is hard to overlook."
Chapel Hill's chemistry department wrote to the university's chancellor, Kevin Guskiewicz, about Jones's withdrawal in a letter that has since been circulated online, saying the "dire repercussions" of the Hannah-Jones case are "impacting our ability to recruit and attract a diverse and talented faculty person." The department said it worked hard for two years to recruit Jones, a Black chemist who is "renowned for her work in structural proteomics by leveraging tools in biochemistry, analytical chemistry and biophysics."
Jones's letter of withdrawal is a "reflection of what our nation's minority scholars will be saying about the University of North Carolina-Chapel Hill as they search for job opportunities or consider if this university is still the right fit."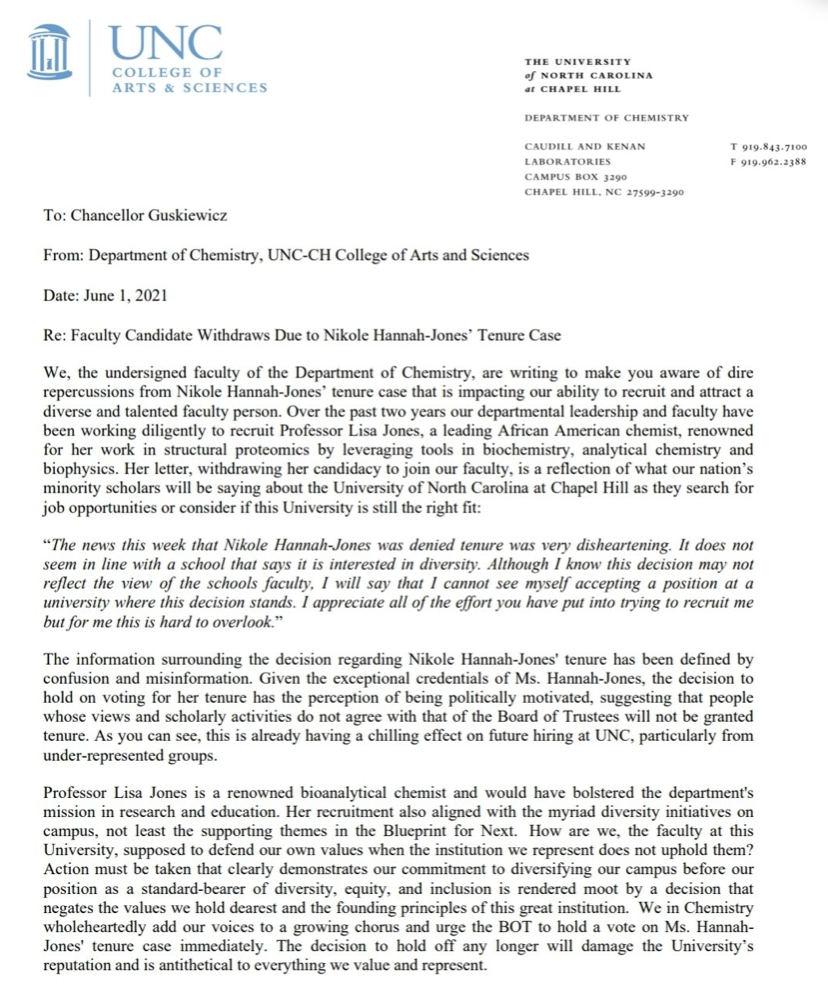 Hannah-Jones retweeted a copy of the department's letter to Guskiewicz, writing, "I've never met this sister, Dr. Lisa Jones, but the solidarity shown me by Black women in particular during this crucible is something I will never forget."
Jones declined an interview request but shared a statement saying that she'd come to wonder if UNC Chapel Hill would be "conducive to the achievement of my academic aspirations, which include promoting diversity, equity and inclusion. While I have never met Ms. Hannah-Jones, as a faculty member of color, I stand in solidarity with her and could not in good conscience accept a position at UNC. This situation is indicative of a broader issue within academia where faculty of color face several obstacles and are less likely to gain tenure."
In closing its letter, the chemistry department urged the board to hold a vote on Hannah-Jones's tenure case immediately, or further compromise "everything we value and represent."
Chapel Hill's Faculty Executive Committee sent a similar request to the board last week, but Mimi Chapman, committee chair and Frank A. Daniels Distinguished Professor for Human Service Policy Information, said Thursday that she hasn't heard anything from the trustees. Meanwhile, Chapman said she's heard from many faculty members united in their outrage about the Hannah-Jones tenure deferral and in concern about their own programs' ability to recruit and even retain talented faculty members going forward.
"All you can do is infer from their actions, and they do not seem to have the faintest idea about the impact of their actions on a public research university," Chapman said of trustees. "We are one of the top five research and public institutions in the country. Just think about the pandemic -- we had people here working on the vaccine, people working on therapeutics before other people were in other places. So for them to imagine that you attract that kind of talent in the midst of this kind of scandal -- what do they think? Do they think people in medicine don't care about what happens in journalism? That's not how we are as a community."
Chapman continued, "You can't have the things that they champion about our university without accepting all of it. It all works together, we're part of a whole. That's what a university means."
Thus far, Chapman said, she wasn't aware of another specific withdrawn faculty candidacy, beyond Jones's. But given the long faculty hiring cycle, she said it was possible the Hannah-Jones case could affect recruitment and retention next year, or even longer term. Chapel Hill, where faculty salaries are relatively low compared to private peer institutions, is always at risk of "poaching," she added.
The university said it had no updates Thursday evening about the board's intentions for Hannah-Jones's tenure dossier. That dossier, which the board declined to vote on earlier this year, reportedly for political reasons, is now back with the board.
Hannah-Jones, a Pulitzer Prize winner and MacArthur Foundation "genius" grantee, co-led The New York Times Magazine's "1619 Project" re-examining the role of race and racism in the nation's history. It was widely praised among readers, journalists and academics but became a lightning rod among many political conservatives who continue to allege that it promotes false, unpatriotic narratives about what the U.S. is as a nation.
The Assembly reported that the board experienced some high-placed lobbying against Hannah-Jones's appointment, in the form of the Hussman School of Journalism and Media's biggest donor, school namesake and Arkansas media mogul Walter Hussman Jr.
"I worry about the controversy of tying the UNC journalism school to the 1619 project," Hussman reportedly wrote in a now-ironic December message to Guskiewicz and at least one board member. "I find myself more in agreement with Pulitzer prize winning historians like James McPherson and Gordon Wood than I do Nikole Hannah-Jones."
Hussman reportedly wrote in another email to administrators that he didn't like Hannah-Jones's contention that Black Americans fought the civil rights battle largely alone, as "long before" Hannah-Jones won her Pulitzer, "courageous white southerners risking their lives standing up for the rights of blacks were winning Pulitzer prizes, too."
Hussman has since said that he did not think he was pressuring Chapel Hill to act a certain way regarding Hannah-Jones, who was ultimately offered a five-year contract without tenure as the Knight Chair in Race and Investigative Journalism.
But that's apparently how it felt, at least to Susan King, dean of the journalism school. She told The Assembly that "I felt worried enough about Walter's repeated questions challenging our hiring of Nikole Hannah-Jones as Knight Chair and his subsequent call to at least one other donor that I asked for help from others in the administration."
Last week, Hannah-Jones and her legal team gave the trustees until today to vote on her case or face litigation. "I am obligated to fight back against a wave of anti-democratic suppression that seeks to prohibit the free exchange of ideas, silence Black voices and chill free speech," she said at the time.
If Hannah-Jones does get tenured and join Chapel Hill, she'd be just one of 32 tenured Black women professors out of 1,384 tenured professors total, according to federal data from 2019, the most recent year for which these figures are available.
Julian Vasquez Heilig, dean of the University of Kentucky's College of Education, whose ongoing research shows there was little to no change in faculty diversity from 2013 to 2017, especially at large research institutions and despite many initiatives to this end, said he wasn't surprised Jones had cold feet about Chapel Hill now.
"There's a real chilling effect because this community of scholars is small, especially within disciplines," he said. Even when questionable treatment of a scholar of color doesn't make national headlines, he said, news still travels through the graduate and fellowship cohorts and various affinity groups that function as what Heilig called "formal and informal information networks."
At Chapel Hill, he said, "they were will willing to give [Hannah-Jones] a five-year contract but they weren't willing to let her do that work in a secure, independent way," with the academic freedom that tenure ensures. "This is a long-standing problem that higher education has for faculty of color and women, and we struggle with racial, ethnic and gender diversity. Just look at the numbers."