You have /5 articles left.
Sign up for a free account or log in.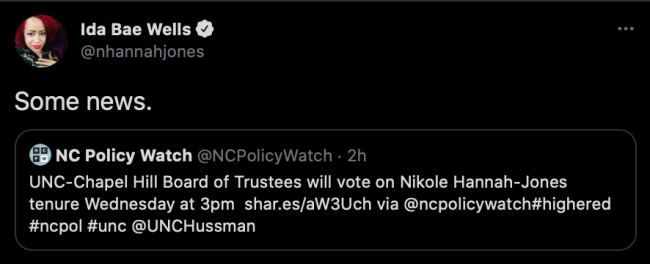 Nikole Hannah-Jones/Twitter
The Board of Trustees for the University of North Carolina at Chapel Hill will hold a special meeting Wednesday, reportedly to vote on tenure for journalist Nikole Hannah-Jones.
The board's Monday announcement about a special meeting included no details about the agenda. But quoting two unnamed trustees, NC Policy Watch reported that the board will hold a vote on tenure for Hannah-Jones.
Lamar Richards, Chapel Hill's student body president and therefore an ex officio trustee, petitioned the board last week to hold a special meeting to discuss the Hannah-Jones case. He would have needed five other board members to make similar requests to force such a meeting, but it's unclear if that's why the meeting was scheduled. The board chair can call a special meeting at any time.
In a 180 from its previous stance on the Hannah-Jones case, the board is reportedly eager to hold a vote before Thursday. That's when six trustees, including board chair Richard Stevens, will cycle off the board and a group of new trustees will join.
Before this week, the board's stance on the Hannah-Jones case was to say little to nothing publicly. Many faculty members had been hoping that the new board iteration would take up Hannah-Jones's case at its first scheduled meeting on July 14.
Why the board's sudden interest in Hannah-Jones's tenure bid? Faculty members on Monday floated some theories on background, including that the board is hoping Hannah-Jones will ultimately decide to teach elsewhere, and that it can grant her tenure only to repair some of the damage it's done. Another scenario is one in which the trustees who most oppose Hannah-Jones's tenure vote can block her bid while they still have a chance. These are only guesses. Hannah-Jones hasn't said whether she will teach at Chapel Hill, just that she won't be joining the faculty on July 1, as planned, and that she wouldn't do so at all without tenure.
Hannah-Jones's legal team disclosed last week that she'd been offered a UNC faculty job with the promise of tenure and a scheduled start date in January of this year, only to see the board decline to vote on her tenure case twice. She accepted a non-tenure-track job in February before she understood why the board acted as it did.
Again, publicly, the board has said little as to why it declined to vote on Hannah-Jones's tenure, just that sometimes members have questions about professors who come from nontraditional academic backgrounds. Yet it's been widely suspected and even confirmed, via trustees speaking anonymously, that the board is more concerned about what Hannah-Jones writes than what's on her résumé.
Hannah-Jones isn't a typical academic in the sense that she doesn't have a terminal degree, but she has a master's degree in journalism from Chapel Hill and has received just about every major honor in her field. Moreover, all previous appointees to the Knight Chair that Hannah-Jones was set to hold were granted tenure immediately, and they didn't come from traditional academic backgrounds, either; journalism is a field in which expertise is built from practical experience.
The more likely explanation for the board's actions is that Hannah-Jones's "1619 Project," published by The New York Times Magazine, has become a political football and Exhibit A in some of the raging debates about the role of critical race theory in public education. Whereas Hannah-Jones says "1619" sought to recenter the role of Black Americans in U.S. history, many conservatives, including former president Trump, say it's unpatriotic and too focused on racism.
Within North Carolina, in particular, the Carolina Partnership for Reform called Hannah-Jones "an activist reporter -- not a teacher." The James G. Martin Center for Academic Renewal asked, "given Hannah-Jones's questionable credentials, how did she get hired at North Carolina's flagship research university? The most likely explanation is that unaccountable faculty and administrators made the executive decision to hire her without any involvement by the university's Board of Trustees."
The Martin Center argued that trustees have the right to intervene in tenure cases, and that's true -- technically. But in virtually every other tenure case it's ever considered, the board has honored the recommendations of the many expert faculty and administrative reviewers ahead of it. The board's deferral of Hannah-Jones's faculty- and administration-backed tenure case was therefore a major departure from how things work at Chapel Hill and across academe.
A major donor to the journalism school at UNC also lobbied against Hannah-Jones's appointment, suggesting her work was too controversial. But historians at UNC and elsewhere have countered that Hannah-Jones managed to challenge the assumptions of an entire field. Fellow journalists have pointed out that Hannah-Jones, whose Twitter alias is Ida "Bae" Wells, is part of a long line of Black journalists who are activists by necessity, pushing the nation to become a truer democracy.
The last month has seen numerous protests and other demonstrations of support for Hannah-Jones, including a Friday rally during which students spoke of their frustrations about the racial climate on campus and held signs with such slogans as, "1619 … 2021. Same Struggle" and "I can give you 1,619 reasons why Hannah-Jones should be tenured."
Several hundred faculty members have already signed on to a draft letter to Stevens, the board chair, saying, "The board's denial by inaction constitutes a reversal of a proper, extensively documented and considered proposed appointment by the university and its faculty, a reversal with no offered justification and without any apparent grounds."
This "intrusion of the board into decisions properly the purview of the faculty puts at risk the bedrock assumptions of academic freedom and free intellectual inquiry and integrity," the letter says. "These assumptions are the base for the long, superb reputation of UNC-Chapel Hill and of the pre-eminence of US colleges and universities worldwide. It cannot stand."