You have /5 articles left.
Sign up for a free account or log in.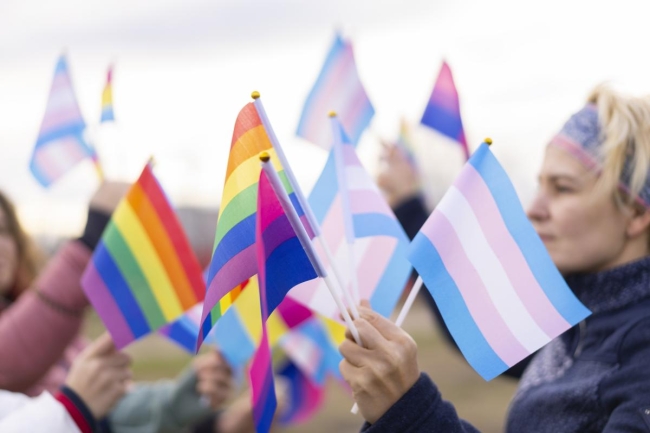 Vladimir Vladimirov/Getty Images
The Office for Civil Rights at the Department of Education made a clarification last month that many were anticipating -- LGBTQ+ students are protected by Title IX of the Education Amendments of 1972, meaning students cannot be discriminated against based on their sexual orientation or gender identity at institutions receiving federal funds. While the notice of interpretation aligns with the approach that many colleges and universities were already taking, it signals that OCR is open for business on these issues, and it is ready to hold institutions accountable.
The department based its interpretation on the Supreme Court's 2020 decision in Bostock v. Clayton County, which said it's impossible to discriminate against a person based on their gender identity or sexual orientation without discriminating against them based on sex, which is prohibited by Title IX.
The Obama administration issued guidelines in 2016 that said Title IX prohibited discrimination based on gender identity, including transgender status, but the Trump administration withdrew those guidelines less than a year later. That sent a message that OCR wouldn't be processing many of the complaints made by LGBTQ+ students, said Paul Castillo, counsel and student rights' strategist at Lambda Legal, a civil rights organization focused on LGBTQ+ individuals.
"A large number of civil rights organizations, like Lambda Legal, had an influx of calls because of the message that the prior administration sent of not equally enforcing Title IX with respect to LGBTQ students," Castillo said. "This clarification is an important message."
Specifically, it makes clear that OCR will investigate allegations made by LGBTQ+ students of harassment, discriminatory discipline, unequal access to educational opportunities and other civil rights violations at their colleges and universities.
"We are happy and pleased and think this is important to do," said Shane Windmeyer, founder and executive director of Campus Pride. "Largely, what Biden has been doing in the first few months of his presidency is replacing and repairing the damage Trump has done to LGBTQ people with actions like this to be more inclusive and take us back to where we were and the progress we were making."
Administrations don't typically go back on interpretations, so what the Trump administration did was unusual. Castillo noted that he believes the Obama and Biden clarifications of Title IX are the correct interpretations of the law, based on the federal court decisions that have been made about it.
Since issuing its notice on June 16, the department has released a resource guide in conjunction with the Department of Justice's Civil Rights Division reiterating its position and providing examples of the types of cases that would be under OCR jurisdiction. Though the majority of the examples describe incidents in primary and secondary schools, LGBTQ+ students face discrimination in many aspects of their postsecondary experience, said Castillo.
Title IX complaints of LGBTQ+ discrimination are likely to fall under three main areas: facilities access, how students are addressed by their chosen names and pronouns, and athletics participation, particularly for women, said Brett Sokolow, executive director of the Association of Title IX Administrators. LGBTQ+ college students may also face discrimination in terms of housing, harassment, sexual assault and violence, and access to university-provided medical services.
"There should be an across-the-board review of all education program activities," Castillo said. "LGBTQ students -- particularly LGBTQ students of color -- have disproportionately experienced harassment and discrimination and don't often receive the critical supports that they should for their educational success."
After the Obama administration guidelines were issued, Campus Pride began to receive a surge in calls from institutions -- both two- and four-year colleges, especially in more conservative and rural areas -- that wanted to know how they could best serve their transgender students and make their campuses more equitable, said Windmeyer. Those approaches established by institutions weren't necessarily rescinded when the Trump administration reversed the department's position, so Sokolow expects the latest clarification will most likely lead to a broadening of protections that are already in place.
"They'll begin to develop best practices rather than a baseline of compliance practices, which I think is largely where we are now," Sokolow said. "By putting this issue firmly in the responsibility set of Title IX coordinators, you'll have someone who is going to be in charge of carrying through on what the law requires and making sure that's applied across the board at all departments of the institution."
So, not only should there be the option to use a gender-neutral, single-stall bathroom in residence halls, but students should also have that option available in academic buildings. In addition to having policies that recognize chosen names and pronouns, institutions should consider how that applies to their student information systems. LGBTQ+ students need to have access to the same sort of supportive measures when they face harassment, discrimination or assault -- like changes to housing assignments or class schedules, tutoring or counseling services -- that are offered to victims of any other sort of sex discrimination.
"These are all the types of things that these types of clarifications help impact in a positive manner on campuses," Windmeyer said.
Sokolow expects the notice will change how Title IX coordinators approach their jobs, giving them greater clarity and allowing them to feel more assertive in how they protect LGBTQ+ students. It also may encourage some coordinators to go out on a limb and see how far they can push protections.
"I think that's inevitable when new protections are contemplated by the law -- where are the boundaries?" Sokolow said. "A super-interesting question in higher education is what happens when you have a faculty member intentionally misgendering a student in the classroom. Is that a Title IX violation? Is it a freedom of speech issue? Is it an academic freedom issue?"
Some of these questions are likely to be contemplated by the courts. Litigation typically follows OCR guidance, and Sokolow expects this will be no exception in the upcoming academic year. The Association of Title IX Administrators, or ATIXA, intends to watch the courts closely to see whether the guidelines are supported or challenged in the judiciary.
In the meantime, institutions should evaluate their policies and procedures to ensure complaints by LGBTQ+ students are handled in the same fashion that they would handle any other student making a Title IX complaint, said Castillo. They should also examine their nondiscrimination policies to make sure that sexual orientation and gender identity are expressly a part of them.
Training will be critical, not just for Title IX coordinators but for all university employees, said Sokolow, so that all members of the campus community understand how the rules work. ATIXA has already modified its training with best practices that reflect the department's updated stance.
But the back-and-forth on policies between presidential administrations isn't enough to create an environment of inclusion, Windmeyer said, adding that Congress needs to pass legislation like the Equality Act, which would provide nondiscrimination protections for LGBTQ+ people -- including in education -- that are consistent.
"It depends on the administration how things are enforced and how things are interpreted," Windmeyer said. "It's like a tennis match, where you're going from one player to another. It's not the way that you protect young people."