You have /5 articles left.
Sign up for a free account or log in.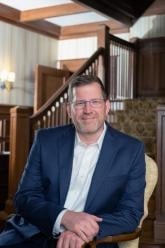 Courtesy of Albion College
Mathew Johnson, president of Albion College in Michigan, resigned on Christmas Eve amid a sea of controversy. For months, the president faced dozens of calls for his removal from students, alumni, employees and Albion city residents.
Each group had its own bone to pick with the former president. Faculty members were unhappy with the lack of shared governance processes under his leadership and with how he treated employees. Albion city residents grew frustrated with Johnson's meddling in local school board proceedings.
In a September petition, students and alumni lobbed a handful of accusations at Johnson, including that he bullied staff members, hired employees of color only for superficial reasons and illegally kept two goats on campus. The college disputed the petition's claims.
Throughout the turmoil, the Board of Trustees publicly supported the president and did so again in response to his resignation.
"Mathew joined Albion College during one of the most tumultuous periods of the past century," Michael J. Harrington, chair of the board, said in a statement. "Despite the overwhelming challenges of COVID-19, he was able to achieve significant academic and financial accomplishments during his tenure."
Johnson, who stepped into the presidency in July 2020, resigned to move into "an expanded role to lead a global initiative in partnership with the Carnegie Foundation," according to a college statement. The foundation announced in November that the Carnegie Classification system would move to Albion from Indiana University at Bloomington.
The board appointed Joseph Calvaruso, a trustee and Albion alum, to serve as interim president while it conducts a national search for Johnson's replacement. Faculty and staff members, as well as alumni, one student and some Albion residents, will join the search committee.
In recent weeks, public scrutiny of Johnson's behavior intensified. A week before he resigned, Hazel Lias, an Albion resident, accused Johnson of accosting her at a college basketball game. Lias wanted a T-shirt and approached Johnson for one.
"Johnson pointed his finger in my face and told me to control my friend," Lias said in a statement. "I had no idea what he was talking about. At that point, he threw the T-shirt at my chest. I was startled and deeply concerned by his tone and his intimidating body language." 
"To be clear, Johnson did not physically hit me," Lias continued. "But I did feel threatened by his behavior and anger that he was directing towards me as he was pointing his finger in my face."
The college declined to comment on the incident between Lias and Johnson.
Lias said that she later met with Johnson and another college official, and that Johnson apologized to her at that time. She also said that two college officials came to her house to help her draft a statement about the incident.
"I had them tear it up, because what they wanted to say did not acknowledge that it was totally inappropriate for Johnson to treat any woman in such a disrespectful and threatening way," Lias wrote. "There was no intention of holding Johnson accountable for his bullying behavior."
Lias has not asked for a further response from the college, Calvaruso said during a faculty meeting Wednesday, according to a video clip of the meeting obtained by Inside Higher Ed. Regardless, the board has retained Springstead Bartish Borgula & Lynch, a law firm focused on criminal defense, to independently investigate the incident. The investigation was scheduled to begin after the first of the year, Calvaruso said.
Calvaruso also told faculty members that Johnson had moved out of his campus residence and "will not be returning to Albion or the Albion campus."
Faculty members convened the emergency Dec. 29 meeting to issue a statement denouncing Johnson's behavior but decided to wait to vote on the statement until after Jan. 12, when S&P will publish its bond rating for the college, according to two people familiar with the meeting who wished to remain anonymous for fear of retribution. Additional turmoil prior to that date could jeopardize the bond rating, the sources said.
Faculty members have been upset with the Johnson administration for some time. A recent faculty survey obtained by Inside Higher Ed revealed a tense, bordering on antagonistic, relationship between Johnson's administration and the faculty. The survey queried 76 faculty members, which represents just over half of the full faculty at Albion.
About half the respondents said they did not feel that professional interactions between the administration, faculty and staff have been appropriate. A number of survey respondents noted in their comments that morale was low and that employees feared the president.
"Dr. Johnson has created a completely toxic work environment dominated by fear of reprisal," one survey respondent wrote. "Staff across the college have left specifically because of him."
More than half of the respondents—54 percent—said they did not believe the administration understands or respects faculty governance. An even greater share of faculty members, 65.3 percent, said they did not feel free to communicate their views with the administration. Seven in 10 respondents said they did not believe the administration maintained a good relationship with the Albion community.
"This is among the most surprising outcomes from the new administration. I can't buy a coffee or meal in Albion without hearing heartbreaking stories from the community," one respondent wrote. "There is a long history of distrust of the College and our current administration's leadership style appears to be entrenching that view."
Calvaruso will conduct a listening tour this month and meet with faculty members, staff members, students and Albion residents to "listen to their concerns and their hopes for the college's future," according to a college spokesperson.
In a message to Albion employees and students, Calvaruso likened the feeling on campus to the Vietnam War era, when Albion students also protested.
"The College has faced significant challenges during this time," he wrote. "I walk through the quad and feel the tension. I've received phone calls from alumni, faculty and friends in the community who have shared their concerns. After nearly two years of the pandemic, we are all exhausted—and the end is not yet in sight. But just as our ship righted itself while I was a student, so it will again now."
(This story has been updated.)