You have /5 articles left.
Sign up for a free account or log in.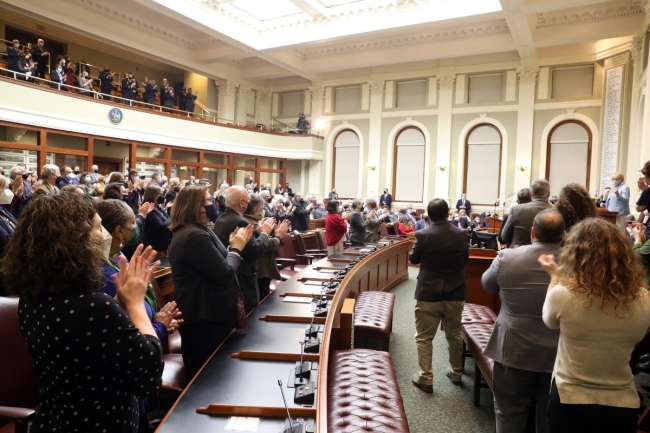 Portland Press Herald/Contributor/Getty Images
Community college leaders in Maine are fielding a surge of calls, emails and applications from prospective students following the launch of a free community college program targeted at students in the state who graduated high school during the pandemic.
"We're just overwhelmed with work right now because of this program, but it's wonderful work," said Joseph Cassidy, president of Southern Maine Community College. "And people are happy to see that they're meeting students and they're getting them into the pipeline."
He said so many students are calling, emailing and applying through the college's website that admissions and advising staff are struggling to keep up.
"Our people are exhausted and working really hard, but it's really positive," Cassidy said.
The program, which goes into effect this summer as students apply for the fall, will cover two years of tuition at Maine community colleges for anyone who graduated or is scheduled to graduate high school in 2020, 2021, 2022 or 2023, including current community college students and students who earned a GED. Tuition and fees at state's seven community colleges costs $3,700 on average. The program will cover any costs not covered by state and federal financial aid or other scholarships. Participants must be full-time students in an associate degree or one-year credential program and live in Maine while enrolled to qualify.
Governor Janet Mills, who initially proposed the program, signed a supplemental state budget in April that included $20 million in one-time funding to create the program. The funds become available next month.
"With the strong bipartisan support of the Legislature, we are ensuring that high school students whose aspirations for higher education were impacted by the pandemic have the opportunity to get a tuition free education and enter Maine's workforce with a reliable, good-paying, and in-demand job," Mills said in a press release. An estimated 8,000 people in the state could be eligible for the program, according to the release.
Doug Ross, co-founder of the Campaign for Free College Tuition, said statewide free college programs have grown in popularity since the pandemic. For example, Michigan launched Futures for Frontliners, a free college program for people working in face-to-face jobs during the pandemic, and Michigan Reconnect, a similar program for older adults without degrees in 2021. He believes free college programs are proliferating because industries are facing acute employee shortages and states have more funding to start these programs due to federal COVID-19 relief money.
The pandemic "lent some additional energy to the tuition-free movement," said Ross, who's also partner at the Diploma Equity Project and served as senior adviser for prosperity under Michigan governor Gretchen Whitmer. The combination of an influx of funding and the need for skilled workers "has sort of been a wind at the back of this movement."
David Daigler, president of the Maine Community College System, said the pandemic has been "incredibly uneven and unfair," widening financial disparities between low-income and higher-income families nationally and in the state. He believes the state program can help close those gaps as low-income students earn degrees, and ultimately, higher wages.
Low-income high school graduates in the state are increasingly taking jobs instead of going straight to college, a trend exacerbated by the pandemic, but "a student needs skills, training, education" in order to "to get traction in this economy," he said.
"They can go out and get an … $18-an-hour job pushing coffee across the counter at Dunkin Donuts, but they are not going to get the skills they need to move themselves ahead," Daigler said. "And the 18-year-old who decides to do that and doesn't get any education or any technical skills is going to be a 28-year-old who has no place to go in the economy."
"If this opens the door and gets those students engaged and thinking about college, it'll be the best thing for Maine, the best thing for our economy," he added.
If the surge in interest is any indication, that message is apparently getting out.
"The volume of communication that we're getting from the families of recent graduates and this year's graduates has really, really spiked," Cassidy said. "We're seeing lots of students come forward and say, 'You know, I was going to work this year, I was going to do a gap year,' but they decided with this investment from the state, they're going to take advantage of it."
The increase in applications is a welcome change of pace for Southern Maine Community College and others that have experienced enrollment declines. Enrollment at Southern Maine fell at least 15 percent between fall 2020 and fall 2022.
Cassidy considers the program "an incredible opportunity for families in Maine," but he hopes and expects the program to also improve enrollment.
"We're in the business of working with great students, young and old, and the more of them that are here, the happier we are," he said.
Andrew Morong, associate dean of enrollment management at Central Maine Community College, said the number of new students who have registered at the college and put down deposits rose about 20 percent compared to this time last year. Demand for campus tours shot up since the program was announced, and hundreds of people came to information sessions about the program. He's hopeful the college can soon return to its peak enrollment of approximately 3,200 students in fall 2019.
"I think this free college scholarship is, no pun intended, the shot in the arm that we needed," he said.
Daigler believes getting these high school graduates into college will have ripple effects on the state's economy. Nationally, and especially in Maine, workers are aging out of the labor force at high rates. The median age in Maine, almost 45 years old, is higher than any other state in the nation, according to the U.S. Census Bureau. He noted that some community college leaders and state lawmakers are focusing funding and attention on re-enrolling older adults who left college without earning degrees, which he also views as critical, but he wants to ensure this generation of high school students whose lives were disrupted by the pandemic don't get lost from the trained workforce pipeline.
"There are more people aging out of the workforce than are coming into the workforce," he said. "So, if we lose the high school senior and they don't get those skills earlier in their career, the entire economy loses. The sooner we can get that 18-year-old into our classroom, the sooner we can turn them into a productive member of the workforce."
He noted that failing to enroll these high school graduates can also have long-term consequences for students from low-income families.
"And if they don't get training, they don't get education, they don't get a skill that helps lift them out of poverty, their next generation will be stuck in that same cycle of poverty," Daigler said.
He and other community college leaders hope the one-time tuition program convinces state lawmakers that Maine would benefit from a broader and permanent free college program.
"If it's wildly successful, I think there's a meaningful policy conversation to have with the Legislature," he said. "We'll have a demonstration … that hopefully says this has value and this is why we should continue it."