You have /5 articles left.
Sign up for a free account or log in.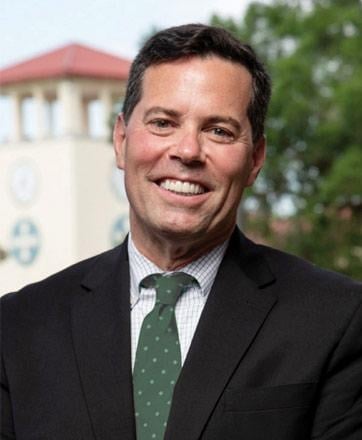 Saint Leo University's website still lists Jeffrey D. Senese as its president and refers to him as a "courageous leader." But as the long holiday weekend began last Friday, it quietly posted a news release that announced Senese's immediate departure and introduced his replacement.
The news release introducing Edward Dadez as Saint Leo's 11th president says nothing about Senese other than that he had resigned. University officials declined to comment beyond the statement, and Senese, Saint Leo's president since 2018, said via electronic communication that he could not comment.
But the swift and sudden turnover at the top follows other recent turbulence at the university, including a failed merger with Marymount California University, the May departure of the university's chief business officer and a dramatic enrollment decline in recent years.
Saint Leo is a small Roman Catholic university in Saint Leo, Fla. It went online more than 20 years ago, to try to maintain its prominent role educating military service members at remote learning centers. In 1997, it struck what was then an unusual deal with Bisk Education, an early player in what is now known as the online program management market. It later brought all of the instructional design, marketing, recruiting and other services in-house—an early institution to do so.
Like many an early pioneer in online education, though—see the struggles of places like the now-closed Marylhurst University—Saint Leo has had trouble keeping its enrollments up as bigger, better-branded public universities expanded their online efforts and major national players like Southern New Hampshire University and Western Governors University became magnets for adult learners.
The number of fully online learners at Saint Leo tumbled from more than 15,000 in 2015 to about 7,000 in 2018 and 6,350 in 2020, according to the latest available figures from the Education Department's Integrated Postsecondary Education Data System. The university's overall unduplicated head count enrollment fell from 27,289 in 2015 to 22,018 in 2018 and 18,191 in 2020, while its full-time-equivalent enrollment fell from nearly 15,000 in 2015 to 10,000 in 2020.
Under Senese, who was hired as provost in 2017 and promoted to president the following year, the university undertook several ambitious efforts to expand its operations. In 2019, it struck an arrangement with Notre Dame de Namur University, another Catholic university, to help it market and run its online M.P.A. program. (Notre Dame de Namur has struggled financially and in 2021 became a primarily graduate and undergraduate completion institution.) (Note: This article has been updated from an earlier version to correct facts about this relationship.)
Nearly a year ago, Saint Leo announced plans to merge with Marymount California University, another financially ailing Roman Catholic institution. But the Southern Association of Colleges and Schools' Commission on Colleges blocked the merger in December, leading the parties to abandon the deal and Marymount California to close.
Also, in May, John Nisbet, Saint Leo's chief financial officer, who joined the university in 2018 and whose responsibilities included creating a five-year plan, departed—also with little comment from the university. Nisbet's LinkedIn profile today identifies him as a consultant and business owner.
Dadez, the new president, is a Saint Leo alumnus who earlier served as the university provost, an education professor and vice president who supported "the university's regional education centers, online learning program, student affairs, and campus operations."
"I am excited to work alongside students, faculty, staff, and alumni to strengthen the university experience and to help make it possible for more students to pursue their educational and professional goals," Dadez said in the news release.