You have /5 articles left.
Sign up for a free account or log in.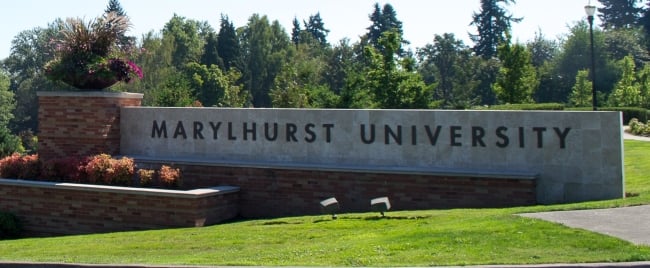 Marylhurst University's closure resulted from:
(a) Enrollment declines attributable mainly to changes in the job market.
(b) Increased competition from bigger, more visible players in the online and adult-serving markets.
(c) Poor decisions by university leaders, including bets on unlikely projects.
(d) All of the above.
Marylhurst, an independent institution near Portland, Ore., announced this month that it would close after 125 years, with its leaders saying they preferred it to die with dignity than limp on. The Board of Trustees plans to return the campus to the religious order that founded the college.
As is common when colleges close, faculty members, students and some alumni have objected to the decision and are urging the university's leaders to reconsider. They have questioned, among other things, how a university that was ahead of its time in its focus on adult students and its embrace of innovative approaches to learning lost its way.
The answer, unsurprisingly, is complex (and almost certainly "all of the above").
One fact is simple: the university stopped enrolling enough students to make its high-touch business model work. But why has as much to do with external forces -- an economic recovery and intensified competition from bigger-name players in the online and adult-learning spaces -- as with faculty concerns that administrators weren't transparent and creative enough in exploring possible solutions to Marylhurst's problems.
"Institutions like Marylhurst can't keep up with … the marketing machine that many online programs have tapped into."
-- Jesse Stommel
Some elements of the Marylhurst story -- susceptibility to intensifying competition from better-resourced players and overdependence on one online program -- may sound familiar. The university in these ways has much in common with another struggling pioneer in online education, Excelsior College, which "Inside Digital Learning" profiled this month.
Exploring All Options
The announcement of Marylhurst's closure brought an outpouring of dismay from current and former students and employees, who described an institution that catered to working adults and others for whom a traditional college education would not work. "The flexibility that Marylhurst offered this 20-year-plus Oregon state employee was critical in my academic success," wrote one alumnus. "I don't think I would have had the energy to make a traditional college work. I fear that Marylhurst's departure is going to slowly erode viable options for so many like myself, and, sadly, this ultimately means a loss of hope."
More than 80 percent of Marylhurst's students were 25 or older, and roughly the same proportion studied partially or fully online. The university also was a pioneer in using prior learning assessment to help students with some college-level education finish their degrees, long before competency-based education became a buzzword.
A group of faculty members -- anonymously, they said, because of feared retaliation from Marylhurst's leaders -- issued a statement disputing university leaders' assertions that they had "considered all options" for sustaining the institution, noting that the board had dismissed a request from professors for a two-week delay to allow them to craft an alternative plan.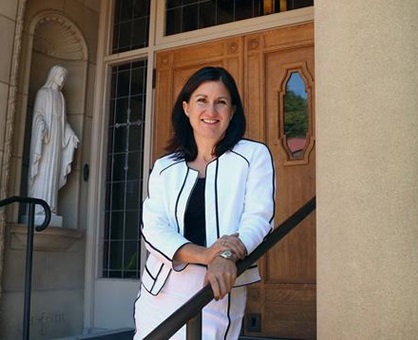 Professors said they needed more time because campus leaders had failed to involve them sufficiently in discussions about the financial situation, declining to share a full budget plan and being less than fully transparent about how vulnerable Marylhurst was. In fact, it wasn't until May 9 -- a week before the board voted to shut down the institution -- that President Melody Rose first uttered the word "closure," one employee asserted. "That was the first time that we understood that she was moving us toward closure."
In an interview Tuesday, Rose challenged that narrative. Marylhurst's enrollment has been in decline since early this decade, when the boom that many colleges (especially those that educate large numbers of working adults) experienced during the joblessness of the Great Recession began to ebb.
Rose said she held quarterly open meetings since becoming president in 2014 at which she and her cabinet members shared budget and enrollment numbers. Last fall, as concerns intensified, she said the university added managers' meetings that included academic department chairs and developed an "extremely inclusive budgeting process" to which faculty and staff members were encouraged to share their ideas for balancing the budget.
"The notion that budgets were not shared … is confusing to me given the backdrop of meetings," she said.
Asked if she had warned employees that a closure was possible during any of those meetings, Rose said, "This institution has been in decline for almost eight years, and these conversations about our future and our ability to find viability and sustainability have been ongoing throughout that entire time. I do think the word 'closure' is jarring, particularly for a community that has seen decline for so long. There can be a surreal sense to it."
But did you tell faculty and staff members before May 9 that Marylhurst could close? a reporter persisted. "I believe I conveyed that possibility," Rose said.
Searching for Explanations
At the core, many faculty and staff members and students doubt university leaders' explanations for why things went south for Marylhurst.
As Rose and the chair of Marylhurst's Board of Trustees, Chip Terhune, tell it, a host of national and local factors contributed to the university's decline. Like many institutions that serve large numbers of adults -- see the enrollment patterns for community colleges and for-profit institutions this decade -- Marylhurst's enrollment boomed during the recession (as jobs disappeared) and fell as it ended.
Not only did some students unenroll (or choose not to enroll at all), Rose said, but others who stayed traded credit hours for work hours as Portland's economy improved. "They slowed down their degree attainment, which threw a hitch in our forecast for the year," she said. "We're 93 percent tuition driven, so the smallest ripple can create a huge wave at an institution like ours."
Marylhurst also suffered from a major decline in its most popular program: its online master's in business administration.
In 2010-11, M.B.A. enrollments accounted for 801 of the university's total for-credit enrollment of 1,917 -- nearly 42 percent. Online M.B.A. students accounted for 70 percent of the total.
By 2014-15, M.B.A. enrollment had been cut in half, to 404, and by this past academic year, it halved again, to 222. Online M.B.A. enrollment fell over the entire period from 566 to 134, a decline of 75 percent. University officials were unable to calculate the revenue hit by publication time for this article, but it has to have been steep, given that M.B.A. students are likelier than many other students to be full payers.
The university was an early mover into online education, building its enrollments at a time when far fewer colleges operated in the space. Like many of those early adopters -- particularly smaller regional ones -- Marylhurst has struggled to keep pace as bigger, better-known and deeper-pocketed players entered the market.
Some of them are local, like Oregon State University, but Marylhurst also has found its lunch increasingly eaten by national players. In 2016-17, the latest year for which data are available, an enrollment database kept by the National Council for State Authorization Reciprocity Agreements shows that 11,930 students from Oregon enrolled online in programs located in other states.
While the data do not show exactly how many of those students might previously have been Marylhurst students, they do show who is gaining ground in Oregon. Three years' worth of statistics from NC-SARA (the most recent of which are preliminary) show:
Arizona State University enrolling 758 students in 2017-18, up from 299 in 2016-17 and 205 in 2015-16;
Grand Canyon University enrolling 711 students in 2017-18, up from 629 in 2016-17 and 557 in 2015-16;
Southern New Hampshire University enrolling 604 students in 2017-18, up from 505 in 2016-17 and 341 in 2015-16; and
Brigham Young University-Idaho enrolling 530 students in 2017-18, up from 476 in 2016-17.
The database contains only one year's worth of data for Western Governors University, but it shows the competency-based institution for adults -- clearly a direct competitor with Marylhurst -- enrolling 1,681 Oregonians in 2016-17.
"While we can't quantify the impact of increased competition in the virtual university world, certainly that competition impacted our enrollment as well," said Terhune, the board chair.
Marylhurst's early advantage in having a vibrant online program eroded. "Everyone caught up to us," Rose said. "It's the institutions with the highest brand recognition that generally are faring well these days, and we are not among that set."
Jesse Stommel, executive director of the division of teaching and learning technologies at the University of Mary Washington and a former professor and digital humanist at Marylhurst, agreed via email that "institutions like Marylhurst can't keep up with … the marketing machine that many online programs have tapped into. The story of Marylhurst was a small one, and I wish more institutions were thinking about how to get online education to work at that scale. Instead of always scaling up, why aren't we also focusing on how to take something small, something focused on humans working together, something like the liberal arts online?
"It's hard for something at such a small (and lovely) scale to compete with the Courseras of the world," Stommel added.
The university's problem was exacerbated, Rose said, by the fact that "millennials are not as keen to get M.B.A.s as the generation before them."
Just as they questioned Marylhurst's explanations for whether and why the university is closing, so too do many professors and alumni question whether the institution has done all it could to find a path forward.
In a letter to trustees on May 16, the day the board voted to close Marylhurst, a faculty group posed a set of questions while acknowledging they "lack the critical information needed to make an informed recommendation." Among their questions: "Can we consider a model that educates 500 students with the commensurate tuition revenue, without assuming debt to operate?" "Might we reconsider the viability of integrating liberal arts-based education and professional studies in fewer degrees, connecting these and creating a unique value proposition that starts with a small number of students and positions us for future growth and innovation?"
After the fact, the rhetoric intensified, with others criticizing the university's "bloated" administration and poor decisions by the institution.
Included among them was a bet Marylhurst placed to try to reinforce its reputation as an ahead-of-the-curve innovator -- participation in the federal program known as Educational Quality through Innovative Partnerships (EQUIP), which the Obama administration designed to try to experiment with the use of federal student aid for boot camps and other providers of nondegree credentials. Marylhurst planned a partnership with a local coding academy known as Epicodus, in which they would jointly offer a 27-week certificate program in web and mobile development that would qualify as college credit. The arrangement was one of eight programs selected for a pilot.
With the program poised for launch early last year, Marylhurst budgeted for $1.2 million in revenue from the program for the 2017-18 academic year, Willamette Week reported. But after getting what Rose called "preliminary" approval from the Education Department in spring 2017, final approval never came (the program has stumbled out of the gate generally, as Inside Higher Ed reported last month).
Michael Kaiser-Nyman, president and founder of Epicodus, said he was "surprised" to learn from the Willamette Week report that Marylhurst had budgeted so much from the program. "It seems like an ambitious target," he said. "For our business, I thought of it as icing on the cake -- I assumed we'd get at least a handful of students."
Terhune, the board chair, said that while the initial budget might have been set that high, university officials "adopted a more realistic lens" as it became clearer that the Epicodus deal would not materialize. "The gap between the promise [of the arrangement] and the reality was massive, and we saw in enough time to pivot in our financial planning," he said. "At the end of the day, Epicodus played a small part in our troubles, but it was just one factor of many."
Epicodus was emblematic of Marylhurst's strategy in one way, Terhune said -- "we were looking under every rock and pebble" for ways to make the university viable for the future.
In the end, they say, they looked at three possible scenarios for remaining open (alongside one that involved a teach-out and closure). One involved becoming a graduate-only institution, closing all undergraduate programs (an option chosen last year by Marygrove University in Michigan); going graduate only except for the undergraduate business major, which has healthy enrollments; or keeping the university's current academic portfolio but further retrenching administratively to try to balance the budget.
Terhune said the university did not have enough cash to finance a teach-out of the undergraduate programs and investments in new graduate faculty to pivot to a graduate-only institution. "The runway was too short," he said.
Rose said the last scenario came closest, but that even it left a "multimillion-dollar deficit" for 2018-19, and that the university's multiyear financial forecasts showed structural deficits extending into the years ahead.
"When you see that deficit unrelenting, that is when the board really turned its attention to what would a closure look like," Rose said.
Administrators and trustees were still weighing options for keeping Marylhurst alive until just before they announced its demise. That fact created yet another dilemma for university officials.
Several critics of Marylhurst's leaders, including a group of instructors from a nearby community college, noted that six days before the announcement, the university held a "launch party" for a new master's of fine arts in creative writing, which was approved last year. "If the school's finances were dire, why did they approve the M.F.A. program? Why did they allow the launch party to be thrown?" one current student said in an email to Inside Higher Ed.
Terhune audibly sighed when asked about the M.F.A. program. "I apologized to the leader of that program in a meeting this week, and to the entire faculty. There were programs that were caught off-guard, and that is tremendously unfortunate," he said.
But with the board exploring whether becoming a graduate-only institution "would actually create a turnaround opportunity" and "no way to predict what the outcome of a side-by-side comparison [between that and closure] was going to be … if we had been having a conversation about closure in that window, we very well could have torpedoed our own best opportunity for a turnaround," Terhune said.
He added, "I've been roundly criticized for closing Marylhurst University too early, and roundly criticized for closing Marylhurst University too late. Truth is, there is no perfect time to close an institution, especially one so beloved."