You have /5 articles left.
Sign up for a free account or log in.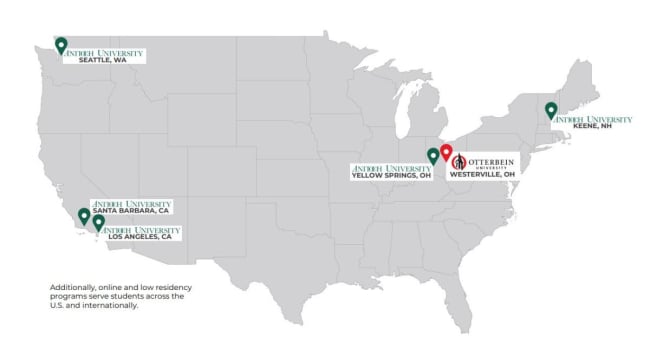 Otterbein University/Antioch University
Otterbein and Antioch Universities are combining forces—but not merging—to create an affiliation that aims to build a national university system focused on graduate education and adult learners.
Mergers and acquisitions across higher education have made national headlines in recent years as colleges make such moves to remain afloat. But the affiliation, announced Thursday, between Otterbein and Antioch offers a different approach, one more comparable to a business alliance.
The two universities hope to officially launch shared programs by fall 2023. But they don't plan to stop there, as leaders for the two institutions tell Inside Higher Ed that they intend to bring more colleges under the affiliation umbrella to make the yet-to-be-named system truly national.
The Plan
Details emerging on the effort at Otterbein and Antioch—which is independent of the better-known Antioch College—are essentially a rough sketch. Officials note they will need approval from their current accreditors, which they anticipate will take about a year. As they wait, leaders intend to sharpen their business plan and develop early programs. Though they've identified areas for collaboration, specific programs haven't been announced.
The focus will be on graduate education, degree completion and workforce development.
Though ideas for the partnership are still taking shape, leaders envision a system where each college maintains its own unique identity, governing board and accreditation while being part of a national system that can offer collaborative programs, shared services and other advantages. Otterbein and other colleges joining the system that have undergraduates will keep their athletics programs separate.
Antioch president William Groves noted that a number of colleges have approached the university—which has multiple campuses across the U.S. and online offerings—in recent years about an affiliation. And while none of those partnerships were workable, it got the ball rolling on the idea, so Antioch brought in a consultant and developed a list of potential partners.
Out of around 60 institutions that were considered, Groves said, Otterbein rose to the top.
"Our goal was to understand the change in the higher education landscape and the consolidation in the marketplace. We wanted to be at the beginning of this cycle, not at the end of it," he said. "We wanted to choose a partner that was right for Antioch, one that was focused on a similar mission and value-based education that Antioch is focused on and has been since its inception. Mission was critical, financial viability was critical and complementary programs were critical."
With the main campuses for both colleges located in Ohio, the partnership makes sense geographically. But more importantly, Groves said, it makes sense from a mission standpoint.
John Comerford, president of Otterbein, noted that calls to develop partnerships began coming during the pandemic. Market challenges, such as a shrinking pool of traditional undergraduate students, also factored into Otterbein's decision to partner with Antioch to expand its offerings.
"When we're primarily reliant on 18- to 22-year-old traditional undergraduates, we understand the challenges of that market. How do you think in new ways about ability to serve new students?" Comerford said.
Joining forces with Antioch offers an immediate expansion to a new market of students. While Otterbein already offers limited graduate options, this will allow the university to develop more.
"It's a way to maintain, at least from Otterbein's seat, the distinctiveness of our traditional undergraduate program, which is not well set up structurally for success in the adult space," Comerford said. "But Antioch is, so we can have the best of both worlds in a model like this."
And while Otterbein and Antioch are seeking additional partners to join the national system they envision, Comerford said they'll be picky. They're seeking a mission fit as well as financial viability, and prospective partners shouldn't view membership as a Hail Mary for failing colleges.
"I would just say that you have to do this from a position of strength," Comerford said. "This is not the way to save a school that's on death's door. That's not what this is about."
The still-developing plan bears some similarities to other formal higher education partnerships involving private nonprofit colleges. (Public colleges and universities, of course, are more naturally found in systems and other groupings.) For example, the three-member National University System brings together National University, City University of Seattle and Northcentral University under one umbrella. Similarly, the TCS Education System, which has five college partners, is another comparative model.
Higher Ed Affiliations
David King, a management professor at Florida State University who studies mergers and acquisitions, said affiliations across higher education have been trending up in recent years. Though such affiliations aren't uncommon, he notes they are seen more in the business world.
Affiliations offer certain advantages, such as jointly managing and marketing programs.
"That can then reduce costs. It's a way of essentially increasing the revenues that both would see, and hopefully, they'll be able to attract more people to it," King said. "Then it lowers their costs, because they have less facilities, instructors, staff and other things."
Some academic programs are ripe for affiliation, such as those that are expensive to offer. King points to FSU's joint engineering program with Florida A&M University as one such example.
But King notes that there can be challenges in addition to benefits.
"The problem is that you no longer have as much control over your brand. You're offering courses that are going to be taught by someone you didn't hire, and the quality of what essentially is delivered is only partially under your control—and that's often where alliances fail," King said.
Some experts note that partnering with established universities to immediately access existing programs is a faster and more affordable way of expanding offerings than building them from scratch. For example, pending approval of its partnership, Otterbein could see a radical expansion of graduate programs in a short period of time rather than building those over years.
"Clearly, institutions are intrigued by the potential benefits of coming together," said John MacIntosh, managing partner of SeaChange Capital Partners, which manages the Transformational Partnerships Fund established by a number of philanthropic foundations to help colleges explore potential collaboration options.
There are also benefits of scale—ways to combine forces across partner campuses to reduce employee workloads in certain areas—but MacIntosh believes those cost savings are less important to colleges than the combined marketing power and visibility that will attract students.
But the big question colleges need to identify when considering partnerships is what's needed.
"Do we need to try to become more effective and efficient in the back office? Do we need to find ways to improve our recruitment and enrollment and retention? Do we need to somehow broaden our academic program to be more consistent with what the students we're serving want? Or do we need all of the above?" MacIntosh said. "I think it's dangerous to sort of look for just one thing in an affiliation, and I think the better question is, how might this address our needs over all?"
MacIntosh also suggested that there is room for optimism around such partnerships. He expects accreditors to be open-minded about new structures given a need for innovation in higher ed.
He believes such partnerships are cause for celebration—particularly when leaders are looking for ways to innovate rather than chasing desperate ideas to keep failing colleges alive.
"Of course, there are lots of questions about how this is going to work," MacIntosh said. "But we should be celebrating these kinds of new ideas, particularly from two institutions that have said—and I believe that it's true—that they're not under any sort of immediate financial pressure."