You have /5 articles left.
Sign up for a free account or log in.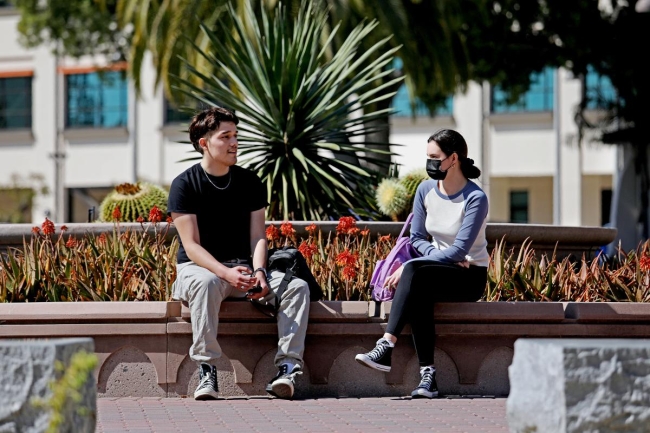 Gary Coronado/Los Angeles Times via Getty Images
On Jan. 5, Tufts University dropped its requirement that students receive the bivalent COVID-19 booster in order to attend classes in person or live on campus. The Somerville, Mass., university had been one of only a few dozen institutions to require the latest booster after it became available in September; students were initially told to upload proof of vaccination by Jan. 1, 2023, but that deadline was pushed back to Jan. 31 just over a month ago before being scrapped altogether.
Dr. Michael Jordan, Tufts' infection-control health director, defended the university's bivalent booster requirement in an email to Inside Higher Ed in November.
"We have students with chronic health conditions who are at increased risk for complications should they become ill with COVID-19," he wrote. "We need to consider everyone in our campus communities and be cognizant of the special considerations of living in a residential campus setting within dense neighborhoods."
Dr. Jordan declined to comment on the recent change in policy. Patrick Collins, Tufts' executive director of media relations, wrote in an email to Inside Higher Ed that while the booster is no longer required, it is still "strongly recommended" and the university will encourage all eligible students to receive it.
"However, it became increasingly clear over the fall semester that, after nearly three years of the pandemic, we needed to try a new strategy," Collins wrote. "Simply put, continuing to mandate the bivalent booster was not having the effect we had hoped it would [on compliance] and, as a result, it increasingly became apparent that fully enforcing a mandate would be impractical."
The reversal is just one example of the ever-shifting COVID response and prevention strategies higher ed institutions are adopting as they enter the sixth full semester of the pandemic. Some universities are holding fast to vaccine mandates, including boosters; others are lifting vaccination requirements altogether. On some campuses masking is rare, a practice of bygone days of panic and high mortality rates; on others masks are required for entering lecture halls and gyms.
Even the American College Health Association, a constant adviser to campus leaders during the pandemic, is changing its approach: its COVID task force, established in 2020, was sunsetted on Dec. 31, according to Anita Barkin, the task force's former co-chair.
Before disbanding, the task force decided not to change its guidelines for college and university leaders, which were last updated in July and still say institutions should "strongly consider" mandating vaccination and encouraging indoor masking. But Barkin, who attributed the changing campus policies to uncertainty about the dangers of new variants as well as the effectiveness of current vaccines, said that as scientific consensus evolves, a new slate of recommendations will likely emerge.
"A lot of things are on the table, and where people land will depend on any change over the next couple of months," she said. "Campus leaders have demonstrated their ability to pivot quickly when needed, and right now the task is to figure out how to move forward."
Vaccine Mandates 'All Over the Board'
Most institutions have kept their requirement that students show proof of having received the primary series of three COVID vaccinations, but they are only recommending the bivalent booster. Some, including Harvard University and the University of California system, are sticking to their bivalent booster mandates.
Fordham University in New York City, which faced public backlash and protests last fall over its bivalent booster requirement, has not budged, either. In addition, Fordham requires all guests on both the Lincoln Center and Rose Hill campuses to show proof of having received the bivalent booster—though enforcement, left up to campus security, has been inconsistent, according to an investigation by The Fordham Observer, one of the student newspapers.
Meanwhile, other institutions—such as the University of Cincinnati and the University of Hawai'i system—have dropped their vaccine requirement entirely, allowing new students on campus without any proof of vaccination for the first time since college-age individuals became eligible for the shots in August 2021. In some cases the reversal is due to changing state recommendations or political barriers; other colleges and universities say they're scrapping requirements because currently available vaccines may not be effective against new variants of the virus.
"There's been talk about whether requiring the booster is necessary; some institutions say, 'We have high compliance on the primary series of vaccines but aren't going to require them for incoming students'; others are waiting and might be in a position to reconsider vaccine requirements in a few months," Barkin said. "It's all over the board."
In accordance with state policy, the University of Illinois system required students to be up-to-date with their vaccinations beginning in 2021, and the system kept the rule in place even after Governor J. B. Pritzker lifted the statewide mandate last July. But on Jan. 5, the system lifted its mandate for all three of its campuses, citing new research.
"Our vaccine requirement was specific to the original vaccine series, which was an important and effective tool," a spokesperson for the UI system wrote in an email to Inside Higher Ed. "We now know that this vaccine is less effective against the emerging sub variants and is not stopping their transmission. That said, we still strongly recommend that people stay up to date with the most recent vaccine or booster available as a barrier to serious illness."
Some institutions planned ahead, predicting the future obsolescence of the current vaccines and enrolling students who might not be up-to-date. Fullerton College announced in September that it would suspend its vaccine requirement starting Jan. 1.
According to a survey from the ACHA published in September, institutional mandates led to significantly higher vaccination rates among college students than others in the same age group—82 percent for college students versus 65 percent for 18- to 24-year-olds nationally. But that data didn't take into account the latest booster, which fewer college-age individuals have received.
In fact, according to the ACHA survey, almost two-thirds of students who were fully vaccinated except for the bivalent booster said they were unlikely to get any more boosters, mostly due to "perceived lack of necessity." A survey from the COVID States Project found that as of last month, only 15 percent of 18- to 24-year-olds had already received the bivalent booster, while 19 percent said they would not get it.
"Colleges and students may be thinking, if the transmissibility of these new variants can skirt vaccine protection, why mandate the booster? Why get it at all?" Barkin said. "So colleges are backing off the booster requirement, partly because the scientific understanding is evolving and partly because those mandates are often not very popular."
But, she added, lifting vaccine mandates or dropping other measures could make it harder for institutions to reintroduce enforcement protocols in the event of future outbreaks or new, more deadly variants.
"This pandemic has thrown a lot of curveballs, and colleges need to be ready to adapt," Barkin said. "Once you take your mitigation strategies off the table, it becomes much harder to put them back on."
Mask On, Mask Off
For some institutions mask mandates may become the preferred prevention method for COVID transmission—even over vaccine requirements, Barkin said, since their effectiveness is proven across variants and they're easier to lift and reinstate at will. Cabrillo College in Aptos, Calif., for example, lifted its vaccine requirement for the spring semester but reinstated an indoor mask mandate.
Despite lifting mask mandates last fall, Stanford University, which requires the primary vaccine series but not the latest booster, and Duke University, which requires all students without an exemption be "up to date" on vaccinations, have both said they will "strongly encourage" masking indoors this semester in light of high community transmission levels. Duke officials wrote in a statement Jan. 9 that if community levels remain high for two weeks, the university would reinstate mandatory masking in classrooms until the levels dropped again.
Some colleges have already restored indoor mask mandates. On Dec. 9, the State University of New York at Purchase announced that masking would be required in all shared indoor spaces due to high community transmission levels; the mandate remained in place as of Wednesday.
"We are continuing to monitor the community transmission levels and will do so again before our students arrive next week," said Betsy Aldredge, assistant director of public relations at SUNY Purchase.
On Dec. 19, San José State University reinstated an indoor mask mandate as well. The requirement remained in place as of Wednesday, but transmission levels for the San José community were down to a "medium" level, which, according to the institution's health advisory webpage, means the requirement will be changed to a "recommendation" if levels don't rise significantly within the next three weeks.
Some mask policies have fluctuated over the course of a few weeks or months; others have flip-flopped within the same day. In December, Nassau County Community College officials reinstated a mask mandate when community transmission levels rose. A few hours later, they dropped it to a recommendation after NCCC's acting president, Maria Conzatti, met with County Executive Bruce Blakeman, who told NBC New York there was "very little value" in mask mandates.
Institutions continue to face new circumstances regarding the virus, Barkin said; with best practices for campus policies up in the air, it's no wonder they're experimenting accordingly.
"The bottom line is that there are still a lot of unanswered questions," she said. "By April or May, I think we'll have a better understanding of things."