You have /5 articles left.
Sign up for a free account or log in.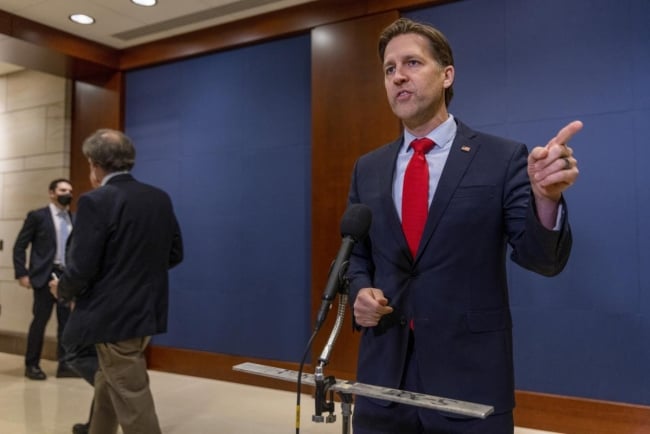 Tasos Katopodis/Getty Images North America
Ben Sasse promised political neutrality as the incoming president of the University of Florida. But that may be impossible for the former Republican senator from Nebraska, given the heated political environment Governor Ron DeSantis has created by introducing reforms to end what he called "woke activism" and which his critics say threaten academic freedom.
Recent rhetoric and actions from the DeSantis administration have sent a clear message to leaders of Florida's public colleges: get in line. And, so far, that's exactly what they've done. Last month 28 presidents signed off on a joint statement denouncing critical race theory, a once-obscure academic concept examining the role of racism embedded in American society that conservatives have turned into a national issue by conflating it with diversity, equity and inclusion efforts.
Sasse—who resigned from the Senate in January after serving for eight years—formally begins his tenure at UF today. He faces organized protests and a list of demands from campus constituents urging him to reject DeSantis's efforts to impose his conservative vision on the state's institutions of higher education.
Lingering Distrust
Sasse's trust deficit on campus largely stems from two issues. The first is the clandestine search process that led to his hire, which broke from prior norms of transparency thanks to a change in Florida law that allowed UF to unveil just a single finalist. Critics have questioned how Sasse emerged as the sole candidate from a pool of hundreds who presumably had more higher ed experience than the former senator, who previously served as a college president at the private Midland University in Nebraska from 2010 to 2014.
In October the UF Faculty Senate overwhelmingly voted no confidence in the search process that produced Sasse, objecting to what it said was a lack of input in the presidential selection.
The second issue for many on campus is Sasse's record on LGBTQ+ rights. He has argued that marriage should be between a man and a woman; when the Supreme Court legalized same-sex marriage in 2015, the then senator released a statement expressing his dismay.
"Today's ruling is a disappointment to Nebraskans who understand that marriage brings a wife and husband together so their children can have a mom and dad. The Supreme Court once again overstepped its Constitutional role by acting as a super-legislature and imposing its own definition of marriage on the American people rather than allowing voters to decide in the states," Sasse's statement said. "As a society, we need to celebrate marriage as the best way to provide stability and opportunity for kids. As President [Barack] Obama has said, there are good people on both sides of the issue. I hope we all can agree that our neighbors deserve the freedom to live out their religious convictions."
Now that Sasse is on campus, detractors have presented a list of demands, including that he stand up for LGBTQ+ students and employees whom they fear the DeSantis administration may target. The governor recently requested details on transgender college students.
According to a press release protest organizers shared last week, they are also demanding that Sasse provide raises for staff, graduate assistants and other workers; publicly disavow attacks from state lawmakers on academic freedom and free speech; commit to "non-compliance with state-imposed list-making activities targeting freedom of political thought, racial equity, and gender-affirming care"; maintain pre-existing DEI commitments, including "providing gender-affirming care and comprehensive reproductive care" as well as working toward climate and sustainability goals; and commit to tenure protections for UF faculty.
The demands come in the wake of DeSantis's push for sweeping legislative reforms—likely to be taken up when state lawmakers convene in March—designed to crack down on DEI initiatives and undermine tenure.
Sasse's Vision for UF
As of publication, Sasse had not responded to the demands put forth by protesters. The University of Florida declined to make the new president available for an interview with Inside Higher Ed. But in a recent interview with NPR, Sasse offered some insights into his approach to the presidency.
He said that his vision for UF would emphasize robust debate as part of a well-rounded educational experience that introduces students to a variety of viewpoints.
"[On] our campuses, we often do the same thing now, which is we try to equate speech that you might differ with as violence. That's fundamentally anti-American. We try to say that we need to create safe spaces for people. No, we don't. We need to create spaces where we respect each other so much and we believe so deeply in human dignity that you want to understand people who have different perspectives than you do," Sasse told NPR in early January.
Sasse largely sidestepped questions about Florida's thorny politics in the NPR interview. But his responses to questions from the UF Board of Trustees during his formal interview in November addressed related issues of concern, including his view of academic freedom, which he promised to defend.
Pressed on protecting LGBTQ+ rights, Sasse told trustees that his record at UF would be "indistinguishable" from that of Kent Fuchs, his predecessor.
During public comments before Sasse's interview with the board, Paul Wassel, president of UF's Graduate Student Council, questioned the search process and said the former senator was not wanted at UF. Now that Sasse has the job, Wassel remains wary.
"Dr. Sasse has definitely made public comments during both his interview with the Board of Trustees and listening sessions that make clear he wants to separate his political life from being president. But, I find it very hard to believe especially in the political climate currently around higher education in the state of Florida," Wassel wrote to Inside Higher Ed in an email, adding that he hopes the incoming president "holds himself to his standards set during his interview process and leads us without major influence from the Governor's office in Tallahassee."
Wassel also noted that the Board of Trustees is responsible for some of the suspicion about Sasse, particularly regarding the lack of transparency in the search process.
UF Faculty Senate president Amanda Phalin, who also sits on UF's Board of Trustees, voted to hire Sasse last fall, despite objections from many of her peers in the professorial ranks. She has defended that decision, arguing that he emerged as the best candidate. Now, as he begins the job, she told Inside Higher Ed by email that she hopes he brings "openness, transparency, effective communication, and accountability" to the presidency as well as "a willingness to listen and engage in meaningful dialogue with faculty." She added that she hopes Sasse will be "a leader who zealously protects our ability to continue and advance academic excellence."
Florida's Political Appointments
Given Sasse's past political record, many critics are doubtful that he will fulfill Phalin's vision. Some fear he will be a loyal lieutenant for DeSantis as the governor aims to impose his legislative will on public colleges and universities.
But what is clear is that Sasse fits a profile that is becoming more common in Florida public education: of former Republican lawmakers assuming key positions at public universities and state agencies. In June, former Republican state representative Manny Diaz Jr. was appointed the state's commissioner of education after stints in Florida's House and Senate.
In September, DeSantis ally Ray Rodrigues was selected as chancellor of the State University System of Florida. He was one of only eight applicants for the job, which pays $400,000 a year.
Richard Corcoran, a former Republican lawmaker and commissioner of education, was recently pegged to become the interim president at New College of Florida, beginning next month. Corcoran was named to the job after DeSantis appointed a cadre of conservative trustees, who terminated NCF's president in an effort to reshape the institution in the image of Hillsdale College, a highly visible private Christian university that DeSantis has described as a model for NCF.
Republican lawmakers have also gotten involved behind the scenes. The Republican-led Florida Board of Governors reportedly interfered with the presidential search at Florida Gulf Coast University, leading to a failed outcome. Trustees at FGCU have released conflicting statements on the matter, with one trustee stating that the Board of Governors was unhappy with the candidate pool that emerged in the search.
Whether Sasse will fall in line as a loyal lieutenant to DeSantis or push back as many at UF hope remains to be seen. But some believe he has other things to worry about. Phalin, the Faculty Senate president, suggested that "the politicization of higher education has very little to do with how we actually work, what we actually accomplish, and the benefits that we provide to the State of Florida and its citizens."
Instead, she said there are important matters the president needs to manage day to day that may not appear in the headlines but are vital to the health of the institution.
"These things are not flashy, but they are critical: improving infrastructure by addressing deferred maintenance; expanding pay, benefits, housing, and support for our graduate students; updating and improving research and grant support and submission protocols; addressing parking and construction issues; increasing financial support for shared governance; and expanding mental health services for students, just to name a few," Phalin said. "I know that Dr. Sasse is aware of these and other priorities, and we are all looking forward to working on them together."
But other UF constituents worry that the politicization of higher education has intensified so dramatically in the state that it will be impossible for Sasse to ignore. They are anxious to see how he will manage student and faculty demands and defend the campus from what they see as the state's intrusion into university autonomy.
"I think political influence is a huge issue that has only become larger since Dr. Sasse was appointed the next president," Wassel wrote. "I hope Dr. Sasse listens to the UF community and what they want instead of making assumptions as to what is great for education based upon his background. If he listens and takes a bottom-up approach to leadership on the UF campus, that will be the key to success because he will see the real issues students and faculty care about."