You have /5 articles left.
Sign up for a free account or log in.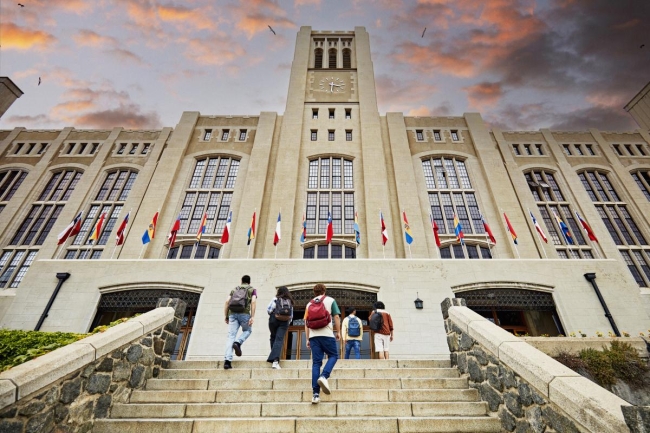 xavierarnau/E+/Getty Images
State fiscal support for public higher education institutions is up 6.6 percent for fiscal year 2023, according to the latest report from the State Higher Education Executive Officers Association, or SHEEO.
It's the second year in a row that overall state funding for higher ed has risen significantly, according to Sophia Laderman, SHEEO's associate vice president, who attributes the trend in part to state budget surpluses and federal stimulus funding.
State support increased in 38 states, jumping by 10 percent or more in 14 states. Funding decreased in just five states and Washington, D.C., according to the report.
Laderman said that because SHEEO's data don't account for inflation, they usually show at least some year-over-year increase in state funding. Still, she said, this year's numbers are "definitely a strong positive," building on a strong fiscal 2022, which already represented some of the largest boosts for state higher ed funding since the 2008 recession.
"I think it's a sign that we're continuing to work towards restoring prior levels of funding for higher education," Laderman said. "I would say it's more positive than we've seen in the last two decades."
For the past two years, SHEEO has also tracked data on the COVID-19 federal stimulus funds that states allocated to higher education. In FY2023, states spent $1.2 billion of federal funding on higher ed.
Laderman said the federal stimulus funding is partly—but not fully—responsible for the overall increase. She thinks states have also responded to concerns about college affordability by granting funding requests attached to promises for a tuition freeze—as state lawmakers did in Tennessee and are contemplating in Texas—or to help with financial aid in general.
"It's definitely in large part due to federal stimulus, both the money that's gone right to higher ed and the federal funding that's flowed to states in general, which has given their budgets a lot more support and made them not have to make difficult decisions that often resulted in cutting higher ed," she said. "It's hard to say how much of this is due to federal stimulus funding versus states prioritizing higher ed. I'd like to optimistically think it's a little bit of both."
Highlights and Lowlights
Some of the states with the most significant growth in state support include Mississippi (26.6 percent), New Mexico (23.5 percent), Tennessee (22.1 percent) and Arizona (19.8 percent).
Laderman said that in some states, like Arizona and Colorado—which saw a 44 percent and 118 percent increase in funding over the past two years, respectively—the boost is making up for a dip in funding since the early days of the pandemic, filling in with state money the gaps that federal aid had covered in 2020 and 2021. In other cases, such as Tennessee and New Mexico, public institutions have been steadily receiving funding boosts for years.
California public institutions received the largest amount of state support, nearly $21.3 billion. Despite a budget deficit last year, Governor Gavin Newsom followed through on his promise to raise the state higher ed budget 5 percent each year if the state systems met certain targets for enrollment and retention.
"We really were breathing a sigh of relief when we saw the governor's January budget proposal for higher education, especially given the size of the budget shortfall," said Jessie Ryan, vice president of the California-based nonprofit advocacy group Campaign for College Opportunity.
Nearly half of all state funding in FY2023 funding went to four-year institutions, while two-year colleges received 22 percent of support; another 13.2 percent went to financial aid and 11.4 percent to research, hospital expansion and medical schools, according to the SHEEO report. California was one of the few states to allocate more support for two-year colleges than four-year institutions—$8.4 billion and $7.8 billion, respectively.
Among the states where overall funding decreased, Connecticut's decline was the most dramatic, down 9.2 percent from the last fiscal year, according to the report. Laderman said it was one troubling mark in an otherwise promising survey.
"Connecticut is the only state I'm really concerned about right now," she said.
But Benjamin Barnes, chief financial officer for the Connecticut State Colleges and Universities system, said the SHEEO data don't reflect the realities in Connecticut. The report lists the state's total funding at $1.28 billion, including $40 million in federal stimulus finding, down from nearly $1.4 billion last year. Barnes said that doesn't take into account a number of additional allocations of federal aid money for higher ed, including several hundred million dollars from the American Rescue Plan Act doled out at the end of 2022 and another $100 million from a labor settlement.
"I don't think this accurately reflects the state's contributions to public higher education," Barnes said. "I think that's probably just an artifact of the Byzantine way the state of Connecticut budgets."
Barnes said Connecticut has "really stepped up" during the pandemic to help its public institutions by doling out short-term infusions of funding. The big question now, he said, is whether it's sustainable after the federal stimulus dries up.
"We are in active discussions with [state lawmakers] about making some of the one-time funding that we've received in the last couple of years permanent," he said. "We need to strengthen the state's long-term commitment to public higher education."
Laderman said that in light of persistent economic uncertainty and rising inflation, the overall upswing in state funding over the past two years has surprised her, even with the influx of federal pandemic aid. She's cautiously hopeful that states will continue the trend.
"What a lot of people, including myself, would have expected for state funding to do in these most recent years is actually to decline," she said. "The fact that it's increasing anyway, I think, is really positive."
One-, Two- and Five-Year Changes in Fiscal Support for Higher Education

| | | | | | | |
| --- | --- | --- | --- | --- | --- | --- |
| State | One-Year Change, State Support Only | One-Year Change, State Support and Federal Stimulus | Two-Year Change, State Support Only | Two-Year Change State Support and Federal Stimulus | Five-Year Change, State Support Only | Five-Year Change, State Support and Federal Stimulus |
| Alabama | 6.5% | 6.5% | 19.3% | 19.3% | 33.0% | 33.0% |
| Alaska | 10.5% | 9.7% | 8.9% | 3.2% | -4.2% | -4.2% |
| Arizona | 19.8% | 19.9% | 44.0% | 27.0% | 59.0% | 59.1% |
| Arkansas | 1.4% | 1.4% | 9.1% | 7.7% | 12.0% | 12.0% |
| California | 6.4% | 5.1% | 25.0% | 24.6% | 48.2% | 48.2% |
| Colorado | 9.6% | 1.0% | 118.6% | 15.5% | 48.5% | 48.5% |
| Connecticut | -9.2% | -7.6% | -8.1% | -5.8% | 1.5% | 4.8% |
| Delaware | 3.8% | -9.1% | 5.0% | -10.5% | 15.8% | 15.8% |
| Florida | 7.0% | 6.6% | 10.5% | 10.0% | 23.4% | 23.4% |
| Georgia | 12.7% | -4.6% | 26.0% | 25.1% | 31.8% | 32.0% |
| Hawaii | 10.1% | 12.0% | 5.5% | 10.7% | 17.8% | 25.1% |
| Idaho | 8.0% | 14.9% | 11.9% | 19.1% | 23.9% | 34.6% |
| Illinois | -0.3% | -0.3% | 8.9% | 8.5% | 28.6% | 29.7% |
| Indiana | 1.5% | 0.2% | 7.4% | 7.3% | 7.8% | 8.4% |
| Iowa | 2.0% | 1.7% | 4.4% | 3.8% | 9.5% | 10.1% |
| Kansas | 9.2% | 10.3% | 19.1% | 6.3% | 29.4% | 30.7% |
| Kentucky | 11.6% | 14.6% | 21.4% | 19.9% | 21.3% | 24.9% |
| Louisiana | 9.0% | 8.2% | 30.1% | 20.1% | 27.8% | 28.3% |
| Maine | 9.4% | 8.9% | 14.1% | 13.3% | 20.4% | 23.1% |
| Maryland | 14.8% | 14.8% | 21.9% | 18.5% | 35.9% | 35.9% |
| Massachusetts | 4.4% | 4.3% | 8.9% | 7.7% | 22.1% | 22.1% |
| Michigan | -4.0% | -0.7% | 13.7% | 16.2% | 23.6% | 27.8% |
| Minnesota | 0.0% | -1.9% | 3.2% | -20.9% | 6.3% | 6.3% |
| Mississippi | 26.6% | 26.2% | 36.0% | 15.3% | 37.4% | 38.1% |
| Missouri | 16.4% | 15.7% | 26.0% | 11.0% | 30.7% | 33.2% |
| Montana | 5.7% | 5.6% | 6.6% | -6.8% | 17.5% | 17.5% |
| Nebraska | 3.1% | 9.7% | 6.2% | 14.4% | 16.3% | 26.5% |
| Nevada | 1.0% | 2.4% | 13.8% | 20.9% | 3.9% | 10.3% |
| New Hampshire | -0.9% | -0.4% | 0.5% | -18.1% | 13.7% | 17.9% |
| New Jersey | 8.1% | 9.1% | 32.6% | 32.0% | 25.2% | 26.4% |
| New Mexico | 23.5% | 25.0% | 34.2% | 35.4% | 45.6% | 47.4% |
| New York | 5.2% | 5.2% | 9.5% | 9.5% | 5.5% | 5.5% |
| North Carolina | 6.8% | 8.0% | 18.4% | 18.7% | 26.5% | 29.4% |
| North Dakota | 0.0% | -0.1% | 3.1% | 2.0% | 9.2% | 9.2% |
| Ohio | 1.4% | 0.8% | 3.3% | -8.1% | 6.8% | 7.2% |
| Oklahoma | 6.4% | 6.4% | 11.0% | 11.0% | 10.6% | 10.6% |
| Oregon | 5.6% | 4.9% | 15.6% | 14.5% | 39.1% | 39.1% |
| Pennsylvania | 7.7% | 12.0% | 7.8% | 7.4% | 15.8% | 26.9% |
| Rhode Island | 3.4% | 3.1% | 14.1% | 0.1% | 14.9% | 14.9% |
| South Carolina | 18.2% | 16.3% | 28.3% | 12.8% | 44.2% | 44.2% |
| South Dakota | 8.6% | 8.6% | 10.0% | 7.1% | 24.4% | 24.4% |
| Tennessee | 22.1% | 22.1% | 20.4% | 19.3% | 47.2% | 47.2% |
| Texas | -0.7% | -2.7% | 5.5% | 5.3% | 16.5% | 20.7% |
| Utah | 13.4% | 13.4% | 24.3% | 25.1% | 47.1% | 48.8% |
| Vermont | 12.5% | -14.3% | 0.4% | -24.1% | 34.8% | 57.5% |
| Virginia | 13.3% | 8.7% | 21.2% | 20.2% | 48.9% | 48.9% |
| Washington | 9.8% | 9.8% | 7.1% | 4.5% | 39.0% | 39.0% |
| West Virginia | 1.5% | -1.3% | 2.1% | 5.1% | 14.4% | 17.8% |
| Wisconsin | 2.0% | -0.2% | 6.9% | 2.4% | 16.5% | 16.5% |
| Wyoming | 2.4% | 5.1% | -8.2% | -27.9% | -5.8% | -2.6% |
| U.S. | 6.6% | 5.3% | 16.4% | 13.2% | 27.5% | 28.9% |
| D.C. | -5.2% | -6.2% | 8.0% | -19.7% | 39.6% | 42.5% |