You have /5 articles left.
Sign up for a free account or log in.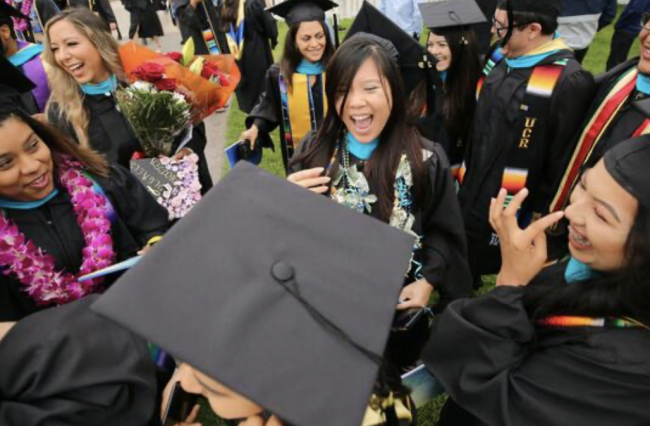 University of California, Riverside
The University Innovation Alliance has been a vocal proponent of student success since its original 11 public member institutions came together in 2014 to innovate based on that goal, with a particular emphasis on scale. Now with 15 members, the alliance—which describes itself as a "multi-campus laboratory for student success innovation"—has produced 118,000 additional graduates as a result of its efforts.
Together, member institutions have increased their numbers of graduates of color by 93 percent annually, and low-income graduates by 50 percent. Some 502,000 undergraduates are currently enrolled at alliance institutions, 154,000 of whom are federal Pell Grant recipients. About 168,000 are students of color.
The alliance uses different tools to develop evidence-based solutions for student success that can be scaled. It then tests those solutions in different campus environments. Interventions include completion grants, college-to-career transitions and proactive academic advising, all three of which the alliance has turned into free "playbooks" for other institutions' use.
Bridget Burns, the alliance's founding CEO, and Kim A. Wilcox, chancellor of the founding member institution University of California, Riverside, both tell Inside Higher Ed that the national conversation about student success has changed significantly—and for the better—in the last nine years.
But there's still room for improvement, they say, as everyone should be talking about student success.
Q: What was the national conversation around student success like a decade ago, when you were forming the UIA?
Burns: It was almost exclusively focused on four-year graduation rates, access and rankings. Access and graduation rates are important but limited measures and oftentimes can fail to acknowledge the additional tools and resources students need to succeed.
Wilcox: There was no conversation at all. You would go to meetings and hear people report, and student success was just not part of the conversation.
Q: How has the conversation changed since that time?
Burns: From our vantage point, the conversation is now focused on student success, eliminating equity gaps, supporting transition from college to career and helping students achieve social mobility.
This is an important narrative shift, where as a community we holistically think about student success as a multidimensional concept—one that provides students with the necessary tools and support to keep them enrolled and stay on track to graduate on time—and also examine how success is tied with outcomes.
Wilcox: People understand what [student success] is now. They're trying to do better at it. Universities are inherently competitive. There's a competition as to who has the better graduation rates and who's eliminated achievement gaps, and these things that were known and acknowledged previously, but there wasn't a lot said or done about. Now, if you look around, there's lots of different groups that have organized themselves around this theme. That's a very different national typography than we had a decade ago.
Q: How does the alliance promote student success?
Burns: Ultimately, our goal is to normalize this kind of behavior: campuses working together rather than going it alone, universities doing the hard but necessary work to transform around student success, making it far more likely that any student will graduate with a meaningful degree that helps them achieve their full potential in life.
Wilcox: Just the formation of the group did a lot. It was the first time a group of major universities joined together in an alliance for something other than athletics. So that alone said something right away. We had people wanting to join us because they, too, individually or institutionally, felt a commitment to this this notion.
We've been really clear from the beginning that we're data-driven. Part of the original group's commitment was a complete sharing of data between us, which is difficult for some institutions. We're very transparent. And we've added some schools with this understanding: in order to join, you have to be willing to share data with the consortium. This allows us to talk about our performance and people to judge our performance from outside—which also sends a message to other institutions that this is important and achievable.
One of our initial original commitments was to not make this just about us, but to try to extract principles, ideas, tactics that could be generalizable.
Q: Why should everyone be talking about student success?
Burns: This should be the most important focus for every institution. Even as research institutions across the UIA that are often pulled in many directions, helping students succeed and become engaged, informed citizens postgraduation is absolutely the crux of what higher education is intended to do.
We aren't suggesting people focus on promotion—we are trying to influence what people spend their time and energy on. People need to do the hard work of improving their institutions based upon the needs of low-income, first-generation and students of color. If they do that hard work, the outcomes for every one of their students will improve.
Wilcox: It's a point of pride on our campus, among our students, that this is a place where students can come and succeed. It's good for the university and the academy's public image, as well.
When we think of change, the UIA is very proud of the fact that we're working at scale. We've already graduated over 100,000 more students than we would have had we not made the commitments we did as a group a decade ago.
And that's that scale. But the real scale is a national scale. We can make a difference, but we can't make the difference that all of us together across the country can make.
Has your college or university partnered with other institutions to share data and enhance student success efforts or results? Tell us about it.
More from The College Experience