You have /5 articles left.
Sign up for a free account or log in.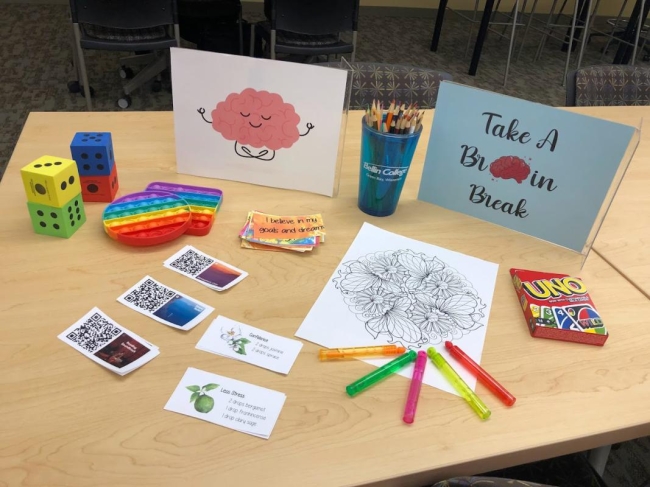 Rows of shelves containing everything from card games to coloring sheets, fidget toys to aromatherapy cards, line the Bellin College Student Success Center, encouraging students, staff and faculty to take a moment and reconnect in the middle of a busy day.
The Wisconsin college's "brain break" space provides tools for pausing and refocusing attention while drawing students closer to academic resources.
Building a collection: Bridgett Lowery, the Student Success Center coordinator at Bellin, noticed students would fiddle with their hands or click pens while working or talking to her. She would offer them something to hold or mess with, often some sea glass she had collected, and found it was an outlet for students.
"It helps people to just have something in their hand," Lowery explains.
Lowery then introduced fidget toys and coloring sheets into the success center, and "from there it expanded," she says. Beyond games and toys, the Student Success Center features music playlists for studying or sleeping, gratitude cards and bubbles.
"Bubbles I kind of get the side-eye on the most, but those are probably my personal favorite brain break," Lowery says. "It's breath work. You can't help but breathe in, breathe out and feel calmer."
Fidget toys are the most popular and, in the summer, students will use chalk to draw on the sidewalk outside.
Making study click: While Lowery preached the importance of breaks, she realized it was just as important to provide outlets for students to practice taking them.
"When you are trying to learn something, those breaks are really important, not just for your physical body but for your mind to process information," Lowery says.
Taking small breaks while studying or in class also reduces stress and information overload.
Not every brain break requires an object. Some researchers point to tongue exercises, meditation, cleaning, dancing, stretching or eating a snack. The value is found in removing a person from their work and jump-starting the brain with something creative or different.
Low effort, high reward: Implementing a brain break station was extremely affordable and easy, Lowery says. Most of the items featured on her center's shelves were free to print or cheap purchases. Lowery used money from her budget to purchase the items, but other institutions could host a drive to collect items, she suggests.
All of the fidget toys can be sanitized, and she keeps a basket for used items to help keep the space clean.
A piece of the puzzle: Making brain break items available is just one strategy Lowery has implemented at Bellin's success center.
The center offers information on skills like time management, organization, stress management and meditation alongside its academic coaching. Lowery renamed the role of "tutor" to "peer academic coach" to reduce the stigma around needing help.
As a result, a student's experience at and perception of the center has shifted. In the past year, visits jumped 94 percent and the number of coaching sessions rose by 155 percent.
"I definitely can tell that, now, the space is seen as a space where you're welcome no matter what you're doing," Lowery says. "It's made the Student Success Center more accessible."
If your student success program has a unique feature or twist that you believe is worth modeling, we'd like to know about it. Click here to submit.
More from Health & Wellness