You have /5 articles left.
Sign up for a free account or log in.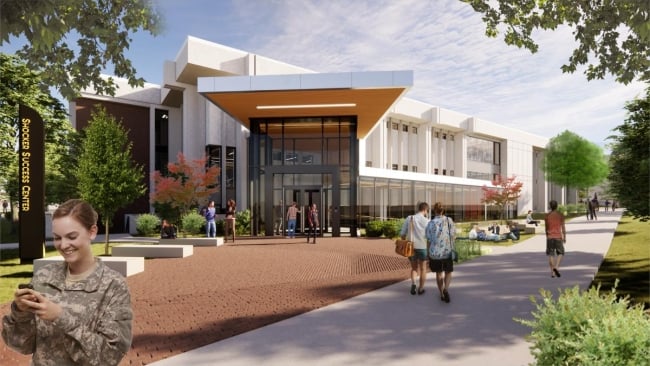 One-stop services are not new to higher education. For decades, colleges have consolidated many of their admissions and enrollment services functions under a single umbrella office—including, but not limited to, the bursar, the registrar, the cashier's office and financial aid.
A more recent trend is consolidating student services related to academics or health and wellness into a larger office or building. Tutoring, library resources, academic advising and career services are smushed together, and counseling, disability services, medical centers and student care teams are sharing space more than ever before.
Student affairs, historically, has included more tertiary departments that aren't "registration critical" but are instead the glue of the student experience, explains Josh Sine, vice president of higher education strategy at Qualtrics, an experience management software company.
"I think that's the next evolution: How do we engage these areas of campus that are the glue and consolidate those services in a way that it's easier to use, easier to find and easier to manage," asks Sine, who spent 15 years as a higher ed administrator.
A 2022 survey conducted by Inside Higher Ed and College Pulse with support from Kaplan found a student's satisfaction with course registration and financial aid office interactions was generally higher if their college had a one-stop shop for student services.
"As the environment [of higher education] becomes more competitive … education has had to sort of pivot to say, 'It's no longer just about accountability, responsibility and training. It's about service-oriented levels of engagement,'" explains Sine.
Why a One-Stop?
Often, departments in higher education work independently from one another, requiring students to navigate themselves through the various offices to find answers, Sine says. This model generates frustration and confusion for students, and the one-stop was a solution to points of friction.
"The one-stop shop was really higher education's way to say … 'Let's find a place where we can, at least around points of pain, consolidate those services to get questions answered more frequently and more regularly,'" Sine says.
One key focus of consolidating student offices is creating greater harmony in the student journey, Sine says.
"On campus, we have [key performance indicators] that we measure around things like yield and retention and graduation," he explains. "That's not always the special sauce that students are measuring in the moments that matter to them, so how are we capturing within those curated touch points?"
Combining offices, and in turn sharing data, means providing the student a clearer journey through the institution's system.
"As a student, you view that relationship with the institution as one relationship," Sine explains. "It doesn't matter if admissions owns orientation or financial aid owns XYZ—to me, as a student, that doesn't matter."
Accessibility and Visibility in the Shop
Creating a one-stop shop eliminates barriers of access for students looking for help from their institution.
"We know that students, for them to be successful … [they] need to be able to take advantage of all the resources available to them," Wichita State University provost Shirley Lefever says.
Students only have a limited amount of time on campus, so creating ease of use should be a top priority for administrators, Sine adds.
A secondary element, once the resource is established, involves making the one-stop visible to the student and utilized.
Wichita State University is broadening the one-stop concept by consolidating 17 of its student-focused offices into the Shocker Success Center, set to open in fall 2024.
WSU is remodeling its old Barton School of Business building, Clinton Hall, moving features like the food pantry, career closet, tech support, military and veterans' services and the care team to make what Teri Hall, the university's vice president of student affairs, calls "a place of service serendipity."
In designing the Shocker Success Center, WSU officials are aiming for a warm and inviting environment, so students will choose to spend time there, rather than just stopping by when they need help.
"It starts with—they have to know that it exists," Lefever says. "So everything we're trying to do is just welcome them into the space and make it easy to get the resource."
WSU has had a "one-stop" office for about five years now, and this office will serve as a hub in the Shocker Success Center, directing students to the buffet of offices available.
Data in the Digital Shop
Beyond creating a physical space for services to live together, establishing a digital one-stop can further involve university stakeholders.
"'Data' is such a buzzword on campuses: 'data driven,' 'data informed,'" Sine says. "And the challenge really is [that] campuses have more data than they know what to do with. The challenge is that data is siloed across campus."
Because students do not make a distinction between the individual offices at an institution, it's critical the college or university builds out its own data of the student experience to create a more seamless experience. This could be sharing forms from one office to another or tracking the services a student uses to avoid repeated questions.
In theory, Sine says, "what one-stop shops allow us to do is connect those data points and those touch points across that journey as a means of providing a higher level of service, a more personalized experience for students."
Seeking student success program stories from campus leaders, faculty members and staff. Share here.