You have /5 articles left.
Sign up for a free account or log in.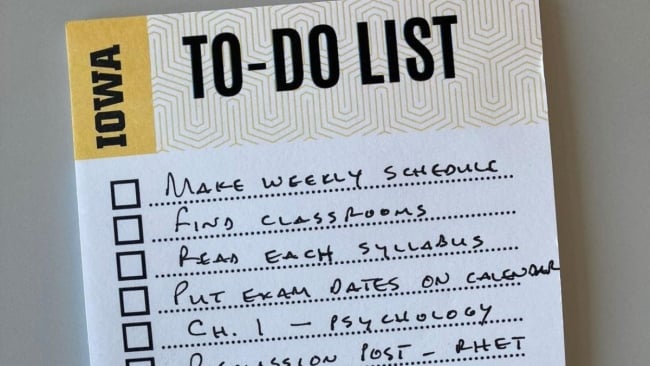 For a significant number of students, the first year of higher education serves as a wake-up call about study habits.
"Most students have not received any guidance on how to learn," says Shaun Vecera, a University of Iowa professor of psychological and brain sciences and the director of the University Honors Program. "This lack of guidance affects students' grades, their retention and their time to graduation, and these impacts are often more pronounced for first-generation and historically underrepresented students."
The University of Iowa hopes to set its new students up for success with the Learning at Iowa program, creating effective ways for its student population to learn and equipping the entire campus to support them.
What it is: Learning at Iowa launched in 2022 after a pilot the year prior to support students directly with learning habits from an institutional level.
Students first encounter the program during orientation in a faculty-led session on the expectations of college coursework. Then, a few weeks later, students complete an asynchronous "onboarding" course called [email protected], which introduces students to the university, its campus and its resources, among other topics like personal development.
"These messages are reinforced through meetings with academic advisers, who use the same principles and recommendations that students have heard previously," Vecera adds.
Introductory courses, such as College Algebra, also use the Learning at Iowa resources to support the new models of learning.
How it works: Learning at Iowa has three pillars in its model for effective learning: mind-set, metacognition and memory.
Mind-set refers to student's perception of their own learning capabilities; Iowa pushes students to work from a growth mind-set and understand that they can change or develop.
Metacognition, or thinking about thinking, helps students realize if they are taking steps toward learning or if they are stuck on a task.
Memory targets evidence-based memory strategies for test-taking and studying, rather than cramming or using other ineffective techniques.
Learning at Iowa creates resources for staff, instructors and students to use the three M's in their work, including self-assessments, handouts and videos.
In total, 25 departments—both academic and administrative—partner with Learning at Iowa to promote the three M's in student learning.
To measure the program's impact, Vecera and Learning at Iowa measure the number of campus presentations delivered to community members and will analyze qualitative student and adviser feedback on materials and the program's usefulness.
Looking forward: Next, Learning at Iowa is partnering with residence education in the student life division to train resident assistants in the three M's and how they can support their residents' academics.
"We also hope that Learning at Iowa will be included in the regularly scheduled 'Hawk Talks' that RAs have with each resident every semester," Vecera adds.
Ultimately, Vecera would like to see the effort move beyond student affairs and other student-facing offices to collaborate more with instructors.
How does your institution incorporate self-assessments into its student success efforts?