You have /5 articles left.
Sign up for a free account or log in.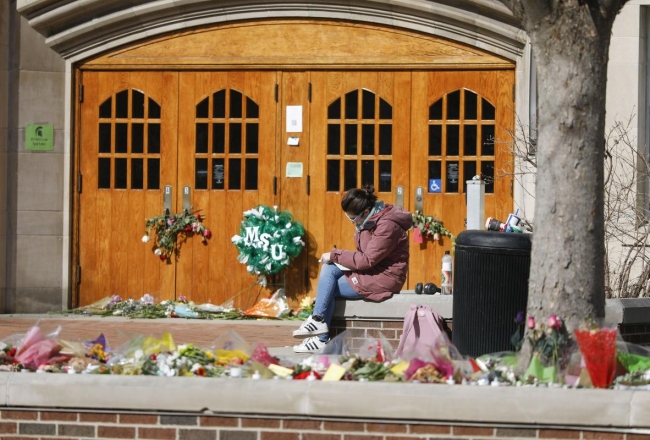 Bill Pugliano/Getty Images
After a gunman killed three students and seriously injured five more at Michigan State University on Feb. 13, university officials canceled classes for a week. Students needed time to process and grieve, they said. But after that, everyone was expected to return to their academic routines.
Many students were upset by this decision. A petition started by junior Kameron Cone asking MSU administrators to move to hybrid or online classes for the rest of the semester had garnered over 25,000 signatures as of Thursday night. During the week of canceled classes, MSU's student newspaper published an editorial assertively titled, "We're not going to class on Monday."
"We need more time to process without a class to worry about," the authors wrote. "MSU must extend the pause they've given us so we can decide how we need to proceed to feel safe and secure."
The university decided to move forward with its planned reopening anyway, welcoming students back on Feb. 20. MSU deputy spokesperson Daniel Olsen said university officials ultimately decided that a familiar routine would help the community recover from the traumatic disruption of the shooting.
"Delaying re-entry after mass violence events can lead to avoidance and disrupt recovery," he wrote in an email to Inside Higher Ed. "We also talked with other schools who had been through similar tragedies, and they experienced something similar to what we did—that is that many students were feeling strongly that they wanted to come back."
At the same time, faculty members say officials have granted them significant flexibility in running their classes and have encouraged leniency in grading and workload. On the Friday before classes resumed, interim provost Thomas Jeitschko asked professors in an email to "extend as much grace and flexibility as you are able."
Becca Smith, president of the American College Counseling Association, said that in the wake of a campuswide tragedy, institutions shouldn't wait too long to reintroduce academic life. At the same time, it's vital that they don't move on too quickly and force students back into situations that could be retraumatizing.
"That routine does help give a sense of, 'We're going to be OK.' But it's also important to take time to sit with the fear and grief and not avoid that and pretend like everything is normal," she said. "It's a struggle to find that balance."
'Cool Heads, Warm Hearts'
Dhriti Marri, an MSU sophomore, lives in a dorm across the street from the Student Union building, a popular hub of student activity with a food court and classrooms, and one of two buildings where the shootings took place. She usually goes there every night to get food, but she had eaten elsewhere that evening. From her dorm room window, she saw students rushing away from the building.
"I thought, something has got to be wrong," she said. "I'd never seen people run like that."
She and her roommate spent the next four hours barricaded in the room; at one point a SWAT team swept through their hall. Once the lockdown was over, Marri went home to her family, who live about an hour away, to recover for a few days—a period she says she barely remembers. Returning to campus, she noticed a pervasive sense of unease.
"Going back into a classroom is very weird," she said. "I'm so hyperaware of little things—noises, like a door slamming, make me jump. I always make sure I know where the exits are."
MSU officials didn't want to make students revisit the sites of the shootings: the Student Union and Berkey Hall, where the three killings took place, have been shut down for the remainder of the semester. Hundreds of classes normally scheduled in those buildings have been relocated, some to rooms that are not traditionally used for classes.
But many students balked at the idea of returning to learning in any building. The trepidation and backlash MSU unleashed with its decision to resume classes after a week illuminates a difficult question that U.S. universities are increasingly being forced to answer: After a campus shooting, how much time off is enough?
Different institutions have reached different conclusions. Students at the University of Virginia, for example, returned to in-person classes just two days after a campus shooting last November in which three students were killed and two injured, all members of the UVA football team. But at the University of North Carolina at Charlotte, after a shooting left two students dead in May 2019, university leaders canceled all classes for the remainder of the semester, as well as any final exams.
Smith said there's no ideal amount of time to give students off after a campus shooting; the answer varies depending on the size of the institution, the timing of the semester and the advice of each institution's mental health experts. But whatever the situation, she said, a return to campus can't be delayed indefinitely.
"You can delay classes for a week or two, but eventually you start running into other problems: graduation, jobs, internships, all of that is affected … the world outside keeps moving, and students are part of that world," she said. "The mental health side is important, but there's also academic integrity to take into account, so it's complex."
Of course, Smith added, the fact that so many campuses have had to grapple with this question in the first place reflects the uniquely American problem of gun violence and mass shootings, and their impact on the country's youth. There's a sense of helplessness, she said, in being called on to mediate student reactions to such tragedies rather than address their cause.
"Since the Virginia Tech shooting and what happened at Northern Illinois University back in 2007 and 2008, I think higher ed has done a really good job trying to improve threat assessment and shooting response at the campus level," she said. "But a lot of these campuses, whether they're in urban or rural areas, are open, accessible spaces, like malls or movie theaters, and I don't know what more we can do on our level, because ultimately, it comes down to politics and the concerns around gun accessibility that keep coming up after every shooting."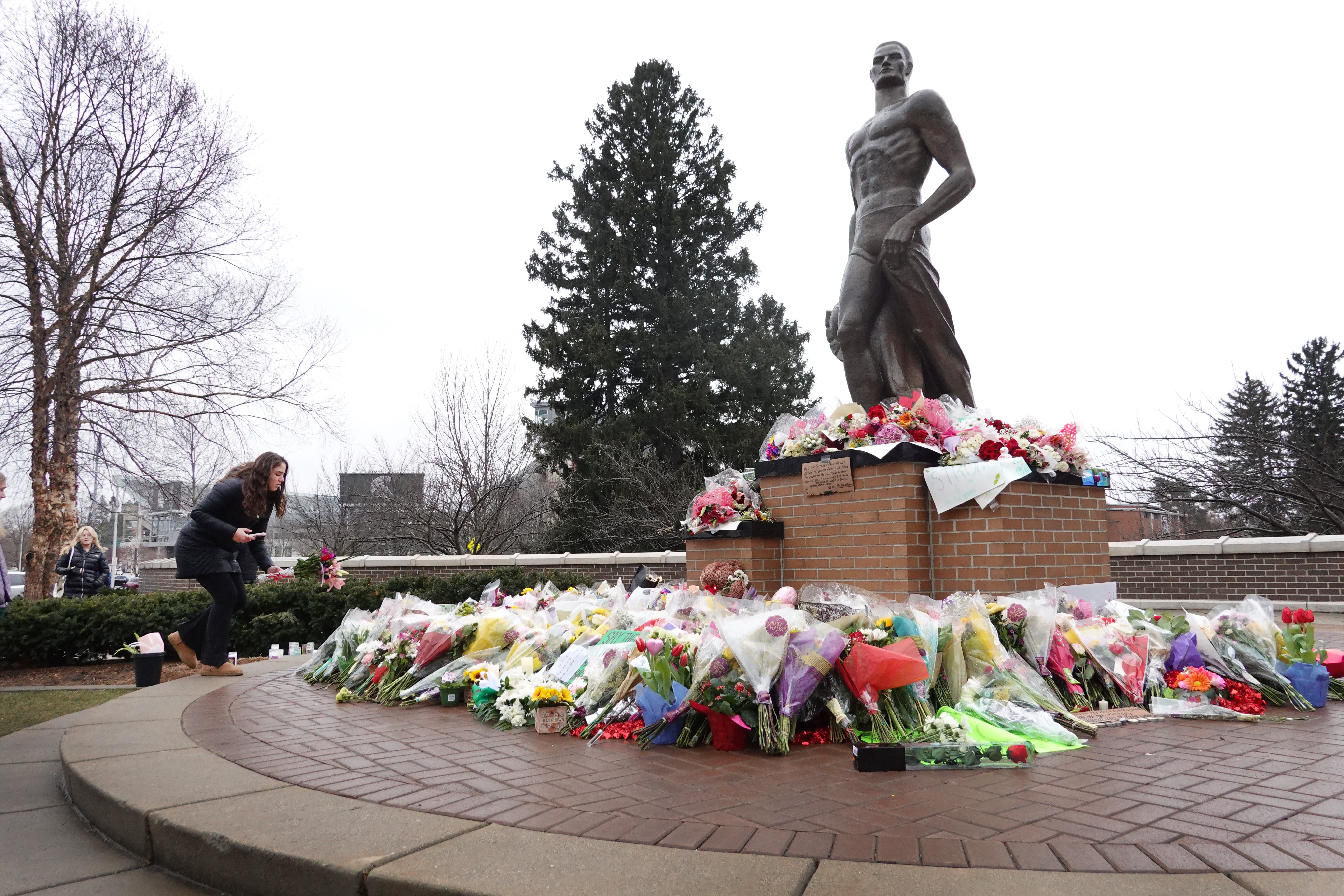 Officials at MSU have undertaken a number of efforts to address the mental health needs of the nearly 50,000 enrolled students as they pour back onto campus, including hosting therapy dogs and organizing vigils and memorials for the victims.
Olsen said that in the two weeks following the shootings, MSU counselors and the community mental health providers who volunteered to help meet the overwhelming need for student support had 3,000 "touch points" with students and 2,300 with employees. Those touch points included individual consultations, group counseling sessions and outreach events on campus.
Melanie Bennett, senior risk management counsel at the insurance company United Educators, said they recommend their members be "clear and consistent" in messaging and policies after a campus shooting or other traumatic event. But most important, she said, institutions should balance clear-eyed decision-making with empathy and openness toward student needs.
"Our policy here is 'cool heads, warm hearts,'" she said. "It basically means while you're supporting the community, you're also taking a broad look at procedures and policies on campus to make sure everything is in place that should be."
Marri said that while returning to campus so soon was difficult, she was ultimately relieved to be back in the place she considers a second home, where many of her peers can relate to her experience.
"I did need that week off to process and just get used to whatever my new normal was going to be," she said. "But I think I did need to go back and be around people that went through the same thing, who share that grief. That was really helpful."
Hybrid Learning and Academic Flexibility
At a Feb. 17 press conference, Jeitschko, the provost, said faculty would rework their syllabi for the rest of the semester, lightening the course load and postponing upcoming exams.
"I'd like to emphasize that no one thinks that we're coming back to a normal week," Jeitschko said at the press conference. "In fact, this semester is not going to be normal."
Marri said that most of her professors offered flexibility and understanding. Only one of her classes required students to attend in person, and the vast majority of her exams and assignments were postponed.
All MSU students were also given a credit/no-credit option for any class, allowing them to complete courses for credit without low grades affecting their overall GPA. Olsen wrote the decision was meant to "give survivors choice and control over their recovery process" and enshrine the flexibility they were asking of faculty "at the institutional level."
"Students will have the entire semester to make that decision," he added.
Smith, who is also the director of counseling at Berry College in Georgia, said the online and hybrid learning options many institutions developed during the COVID-19 pandemic have made it easier to comply with student and faculty requests for flexibility after a tragedy like the MSU shooting.
"At the start of the pandemic, universities were really scrambling to get online, but now we know institutions and faculty can move to an online or hybrid system smoothly," she said. "That really allows you to be more flexible and meet student needs on a case-by-case basis."
Phillip Warsaw, a professor in MSU's College of Agriculture and Natural Resources, has taken advantage of that flexibility. He said that while there was "very little appetite" among MSU faculty members, himself included, to return to mandatory hybrid and online learning, it's a helpful short-term option in this case. About half of his students are taking his classes remotely, he said; he also moved all deadlines back until after spring break, which ends today.
"There was a clear sense that coming back fully in person the following week was just not going to be viable," he said. "Having that flexibility was something all of my students indicated they needed."
Smith noted that institutions shouldn't underestimate how drastically mental duress can impact learning.
"Your brain changes through trauma and that acute stress. I mean, it's so hard to focus, to pay attention and learn," she said. "Huge institutions thrive on their rigidity; they aren't used to being flexible. But I think in these situations, you really have to be."