You have /5 articles left.
Sign up for a free account or log in.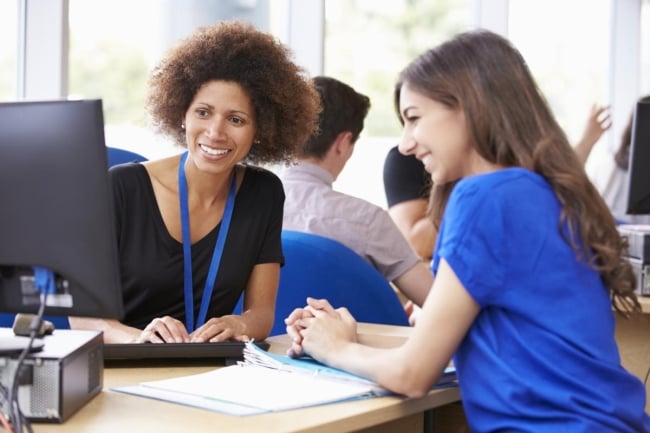 monkeybusinessimages/iStock/Getty Images Plus
Campus climate work affects all members of an institution's community—but also requires a buy-in and intentional effort from all parties.
Officials at Oxford College of Emory University, one of the university's two liberal arts colleges, in 2019 identified a need for a more positive campus climate. With the introduction of their Oxford principles, leaders have created a new vocabulary for the campus community to address student needs.
How it works: A group of colleagues representing campus life and academic affairs developed the six principles to oppose "toxic behaviors and norms on campus," says Ami Hernandez, assistant director of career services.
"We were observing widespread anxiety and depression manifesting itself in a variety of ways, including a low tolerance for uncertainty; an increasingly transactional approach to learning, college and relationships; and a lack of perceived alternatives," she adds.
The six principles—belonging, care, accountability, learning, presence and identity—were designed to be a paradigm shift. The conversations centered around aligning one's choices, values and behaviors instead of holding a negative mentality.
Faculty, staff and students provided input to develop definitions of each principle, with the initial focus as a student-facing initiative. Over time, other stakeholders recognized themselves in the messaging, Hernandez explains, and since its conception four years ago, it has involved parties campuswide.
Nailing it down: The Oxford principles have proven useful in more than just improving campus culture. In the Career Center, students are able to name and engage challenges they face when encountering an uncertain future.
As one example, a student who would prefer to be told what their next step in life should be rather than decide themselves can be reminded of the principle of accountability, which encourages students to lean into feeling uncomfortable in the unknown.
"It changes the way that we frame exploration of and engagement with transferable skills that our students can leverage in their professional futures," Hernandez adds.
Scaling up: Campus partners were eager to jump on board, Hernandez says. "Ultimately, what began as an effort to develop capacity and community at the student level became an intervention at the community level."
"Our colleagues in the Advising Support Center were early adopters of this initiative and have steadily integrated the language of the principles into various applications of their work in response to an increasingly busy and grade-obsessed student body," Hernandez says.
Training materials at the ACS for faculty advisers feature the principles and emphasize support and resources for students. The Peer Advising Network, an ACS-sponsored, student-led program of second-years who design and deliver program for incoming students, also introduces and outlines the principles in its work.
The counseling office, similarly, borrows language from the initiative to talk about student stressors.
"Inviting our students to lean into their identities as learners—who have chosen to attend college in order to grow, develop and be changed, and to do so in a community that embraces exploration and discovery as part of its liberal arts mission—has given our counselors just one more tool to use in their clinical and educative roles," Hernandez adds.
Looking ahead: Hernandez describes the current stage of the process as the second iteration, as it moves from students to the college community.
"In our current exploration and development of this initiative, we are leaning heavily into the questions when we consider programming opportunities with students and engagement opportunities for campus educators," Hernandez says.
Over the years, the team at Oxford College has had to embrace change and a little chaos to pull the project off. While students and staff enjoyed a grassroots approach to the rollout, faculty wanted a more top-down look.
While there's still much to learn, two concepts have risen to the top.
First, capacity-building for students must start with educators. "We're not equipped to create conditions that support capacity-building on our campus until we tend to those same needs within ourselves," Hernandez says.
Second, a willingness and commitment to collaborate across disciplines and departments is key. "As educators, our own capacity-building has been supported by the relationships that we have cultivated and the commitment we have made to learning and growing together," she adds.
Seeking stories from campus leaders, faculty members and staff for our new Student Success focus. Share here.