Privatization Push Prompts 'Union Busting' Charges
UMass Amherst plans to "transfer" over 100 advancement jobs to its private foundation. Officials say they're protecting employee pensions; the staff union is crying foul.
(Samm Smith)
More than 100 employees in the University of Massachusetts Amherst's Advancement Office may soon not technically be working for the university at all.
UMass officials announced last month that the vast majority of advancement positions would be transferred to the University of Massachusetts Amherst Foundation, a private nonprofit affiliated with the university.
Massachusetts law allows public sector employees to spend up to 25 percent of their time on work for private foundations, a carve-out created specifically for public higher education institutions. UMass officials were concerned employees might be spending too much time assisting the foundation, putting them at risk of violating that law; moving them, they reasoned, would pre-empt a possible audit by the Massachusetts State Retirement Board.
Search over 40,000 Career Opportunities in Higher Education
We have helped more than 2,000 institutions hire the best higher education talent.
Browse all job openings »
In a Feb. 18 letter to advancement office employees, Arwen Duffy, UMass's vice chancellor for advancement, said that in order to ensure compliance with state law, almost every position in the office would be "moved" to the UMass Foundation.
"The University will submit a plan that necessitates ensuring that the UMass Amherst Foundation, not UMass Amherst, performs most of the advancement and fundraising work to maintain legal compliance moving forward," Duffy wrote.
Advancement employees, some of whom have been at the university for decades, were shocked and upset.
"I certainly feel like I was blindsided," said Jen Strong, who joined the advancement office four years ago. "This has all been really concerning and disruptive."
Private foundations at public institutions are usually responsible for stewarding especially large gifts and maintaining relationships with the most generous donors, while the advancement office most commonly deals with small and medium-size fundraising, as well as alumni relations.
Some UMass advancement employees are worried their positions won't survive the move to the foundation, though the university has promised no jobs are at risk. Others are anxious about losing their union protections and public sector benefits; some with serious health conditions said being taken off their current health and life insurance would destabilize their families. Many simply resent being forced into the private sector.
Edward Blaguszewski, executive director of strategic communications at UMass, said in an email to Inside Higher Ed that positions would not be eliminated and staff wouldn't need to reapply for their relocated jobs. He also said the university would help facilitate internal movement for any employee who wished to continue working for the university in a capacity outside of fundraising work.
Beyond individual employee concerns, some fear this is a test case for broader privatization efforts.
"If I had to speculate, I'd say what this is really about is [UMass] wanting to make everyone at-will employees," said Andrew Gorry, co-chair of the Professional Staff Union, which represents UMass advancement office staff. "If UMass gets away with this, it could set a dangerous precedent for public universities across the country."
Pension Protection or 'Union Busting'?
Last June, UMass officials approached the two unions representing advancement employees—the PSU and the United Staff Association (USA)—with concerns that employees' pensions could be in jeopardy because they were spending more than the allowed 25 percent of their time on foundation work.
According to Blaguszewski, the university and its lawyers jumped into action and conducted an internal review, including an analysis of foundation documents and personnel records that the retirement board would likely examine when determining an employee's pension eligibility. In the end, they determined that the vast majority of the advancement positions had "compliance issues that put employees' pension and retirement eligibility at risk."
Gorry said the university entered into negotiations with the unions in the fall with a promise to "work together to preserve employees' pensions." He said the university initially came to the PSU with three options labeled A, B and C, all of which involved privatizing at least some advancement jobs.
The union agreed to negotiate over option C, which included the fewest employee transfers—"a little less than half," Gorry said. Meanwhile, it launched an investigation of its own, which came to a very different conclusion than the university's: it found that only a handful of employees were at risk of noncompliance, and there was no need to disrupt everyone else's jobs.
The university disagreed, and the two sides reached a stalemate. In February, university leaders stopped negotiating and decided to move ahead with their plan to move nearly all advancement positions to the foundation—which Gorry said was the most extreme of the options presented in October.
In a Feb. 20 letter to the MSRB, university lawyer Elissa Flynn-Poppey wrote that while most staff were likely under the legal limit for foundation work, UMass had determined "restructuring" was necessary to "ensure meticulous compliance." The reorganization would be completed, she wrote, "within the next few months."
When Duffy announced the plan, she maintained that the university's "greatest concern"—and "the driving factor" for privatization—was protecting employees' retirement contributions.
Jason Johnson, an advancement employee of seven years who helps produce the alumni magazine and website, doesn't buy it.
"It is truly baffling to me. I can't make sense of the rationale other than union busting," he said. "All of the unions here see this as a litmus test for privatizing public jobs."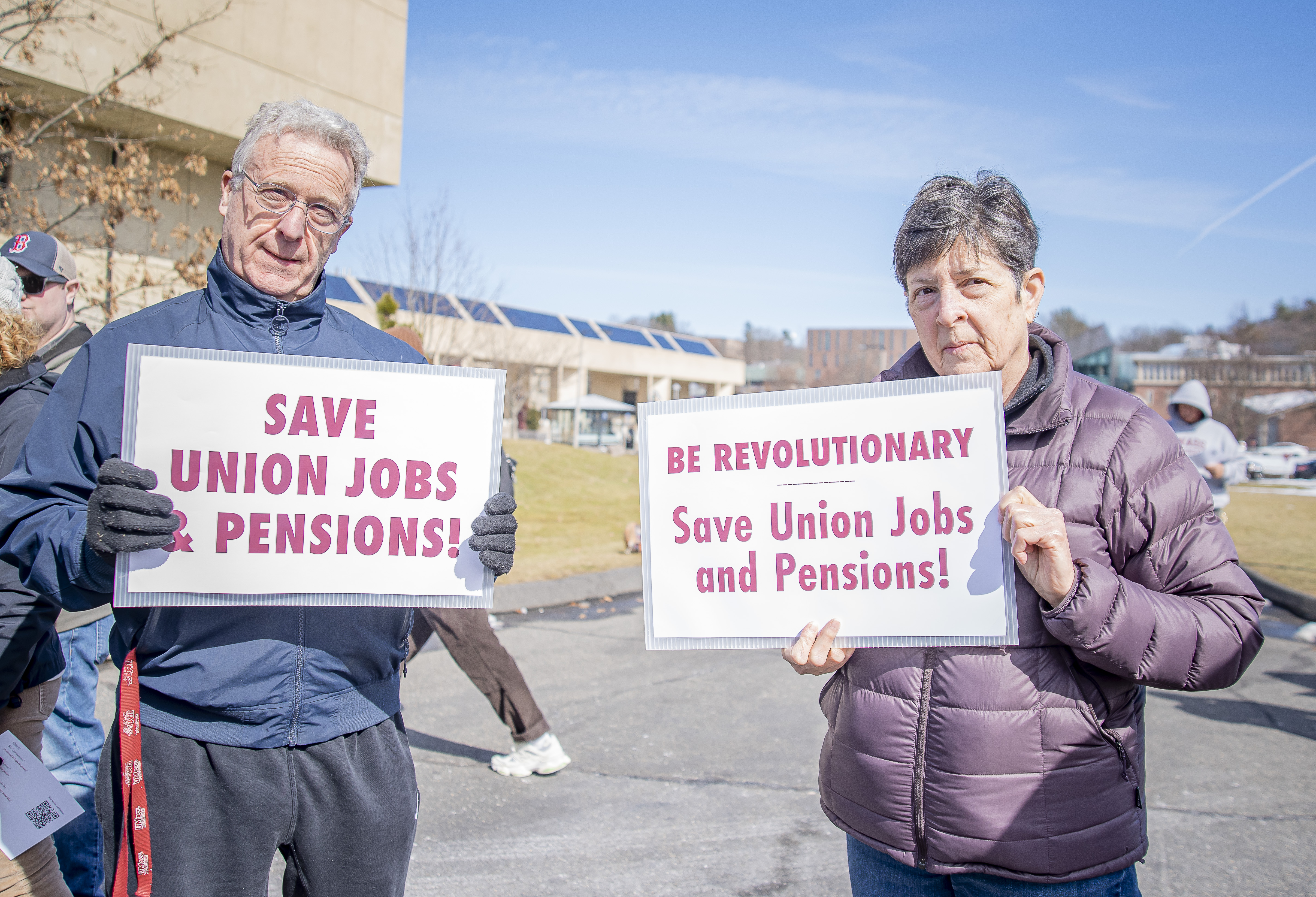 The case has energized unions within and outside UMass. Over 300 people, many of them part of the PSU and the USA but also some from local unions like Trader Joe's United, gathered on March 6 in front of the Whitmore Building, where university administrators are housed, to demand they return to the bargaining table.
UMass's departure from that table also prompted the PSU to file a complaint with the state Department of Labor. The complaint, which was shared with Inside Higher Ed, alleged that officials were not bargaining in good faith and had attempted to "coerce" union employees to agree to the restructuring by "threatening them with the loss of their pensions."
It was the second such complaint filed in the last four years over attempts to privatize advancement jobs. In 2019, the university attempted to move a dozen positions to the foundation, citing the same concerns about MSRB compliance, prompting the union to file a grievance with the state DoL.
In the end, UMass and the PSU reached an agreement in 2020 that lays out specific circumstances in which university advancement staff can or should be moved to the foundation. Gorry said UMass's plan to move 100-plus employees is in direct violation of the agreement.
Blaguszewski did not respond to specific questions from Inside Higher Ed about the 2019 complaint or the agreement reached in 2020.
"They're trying to achieve what they couldn't win at the bargaining table three years ago," Johnson said. "What they're doing now is 10 times more egregious. But that's really the throughline in this story: the foundation is creeping up to swallow more of our people."
Private Foundations at Public Universities
The UMass foundation was created in 2003, making it fairly young compared to foundations affiliated with other large public institutions.
Charlie Eaton, a sociology professor at the University of California, Merced, and the author of Bankers in the Ivory Tower (University of Chicago Press, 2022), said private foundations at public institutions were well established in some states and brand-new in others. Some public institutions, like the University of Michigan and the University of Virginia, established their foundations in the early to mid-1900s to help compensate for waning state investments; that phenomenon didn't occur in Massachusetts until much later.
Matthew Lambert, the author of Privatization and the Public Good (Harvard Education Press, 2014), said privatizing certain elements of a public institution is not necessarily a bad thing, especially when it comes to donor relations.
Lambert is the vice president for university advancement at the College of William & Mary, a public institution in Virginia; he is also the CEO of the W&M Foundation. Virginia law, unlike Massachusetts's, does not impose any limits on the work he does for the latter.
"Given that I hold both roles, I understand the value of that duality," Lambert said. "Certain elements, like fundraising, should be public; it's a lot harder for a president, whose primary job is arguably fundraising nowadays, if the fundraisers don't technically work for her. But other elements, like managing gift agreements with large donors, are better off as private, foundation work."
Critics of separating the two argue that private foundations are exempt from the Freedom of Information Act and other transparency laws, shielding the large donations they typically steward from public scrutiny. It's an issue that has set off debates over foundations affiliated with the State University of New York's campuses, among others.
This dynamic isn't set in legal stone. Some state courts, like Virginia's in 2019, have reaffirmed the exemption of private foundations from public records law; others have challenged it. Last August, a Kentucky judge ruled that the Kentucky State University Foundation should be subject to FOIA laws since it "has no other reason for existence" than to support the public university.
For the most part, advancement experts say privacy is an important guarantee for large donors and a key reason for the existence of foundations at public universities.
"I would not underestimate FOIA as a motivating factor here," Lambert said. "Most universities have plenty of donors who give quietly or anonymously, for a variety of authentic reasons … There's a real chilling effect if they think they can't make a gift without ending up on the front page of Inside Higher Ed."
Johnson said he understands the need for foundations like UMass's, but he fears they are unnecessarily swallowing up large areas of university work.
"I fully support the existence of the foundation," he said. "But a lot of us do things only tangentially related to fundraising, like hold alumni events and produce the magazine or the website … That's public work, and it should remain so."
Strong, a UMass graduate and current M.B.A. student, doesn't want to stop working at her alma mater, even on a technicality.
"I love UMass Amherst, and I take a real pride in working for the honors college," she said. "That's something I feel would be lost in the transition [to the foundation]. I don't think I'm alone in feeling that sense of loss."
You may also be interested in...
Today's News from Inside Higher Ed
Inside Higher Ed's Quick Takes