You have /5 articles left.
Sign up for a free account or log in.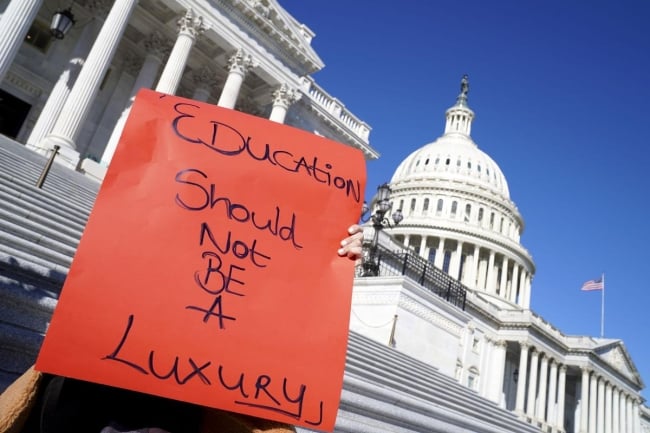 Leigh Vogel/Getty Images for Rise
The Biden administration's $90 billion plan to provide free community college likely won't make it through Congress, but supporters of the effort say the request shows it's a priority for the administration and helps to continue the national conversation about the policy.
The plan, which calls for the $90 billion to be spread out over 10 years, was part of the administration's fiscal year 2024 budget proposal to Congress released last week. Free community college has been part of President Biden's agenda since the 2020 campaign, but funding for the program was scrapped from the social spending package that eventually became the Inflation Reduction Act. The administration did not propose a free community college plan in its previous budget proposal for the current fiscal year.
In addition to the $90 billion item, the administration's plan to make college more affordable includes an $820 increase to the maximum Pell Grant award; $30 billion for tuition stipends for eligible students at four-year historically Black colleges and universities, tribal colleges and universities, or minority-serving institutions; and $500 million to lay the groundwork for the larger free community college program.
Supporters of free community college were pleased to see the return of the budget item, but they think the smaller, $500 million request might have some chance of making it through this divided Congress.
North Carolina representative Virginia Foxx, the Republican who chairs the House Committee on Education and the Workforce, criticized Biden's budget proposal as a "free college fantasy."
Jessica Thompson, vice president of the Institute for College Access and Success, said she doesn't see an "immediate policy window for a very large spend like [the $90 billion] to happen in the near future," but she thinks the $500 million request could be more politically viable. Although the smaller ask wouldn't "move mountains," Thompson said it would be a step and could help to build support for free community college programs.
"We're still laying the groundwork; we're not past the point of no return," she said.
Similar to previous free community college proposals, the administration is requesting $90 billion over 10 years, to start in fiscal year 2025, to fund partnerships with states and tribes to eliminate tuition and fees at community colleges for students who are attending at least half-time and making satisfactory academic progress.
"The COVID-19 crisis has led to a steep college enrollment decline, particularly for low-income students and students of color," officials wrote in budget documents. "From 2019 to 2021, public 2-year community colleges saw a 16.5 percent decline in enrollment. But even before the COVID-19 pandemic, cost was a barrier to attending and completing community college for many Americans."
Thompson said asking again for $90 billion for free community college can help to normalize the idea.
"Opportunities for big changes tend to tend to happen really fast, and having a conversation from scratch is very rarely how any of the changes that get adopted work," she said. "What's really important is just that we don't lose sight of the fact that this is a potential game changer in how we actually finance public higher ed, and then the federal government needs to think about a change ultimately in the structure of how the federal government is helping fund public higher education."
The $500 million in discretionary funding is a new ask for the administration. Officials said the money would be used to create a competitive grant program that community colleges or states can apply for to make certain community college programs tuition-free. Eligible programs would be those that lead to a four-year degree for students who transfer or offer training for good-paying jobs in high-demand industries.
The administration expects to provide about 100 grants—$5 million each—helping about 90,000 students annually, according to budget documents.
"The Bipartisan Infrastructure Law, the CHIPS and Science Act, and the Inflation Reduction Act have created new demands for workers with critical skills in sectors such as manufacturing, infrastructure, and clean energy," officials wrote in budget documents. "Community colleges are equipped to meet this demand, serving as engines of economic development and connecting workers to high-quality jobs that improve economic mobility, meet future workforce needs, and improve the nation's global competitiveness."
David Baime, senior vice president for governmental relations at the American Association of Community Colleges, said the inclusion of the $90 billion program was "a positive development" for community colleges and that the $500 million proposal was intriguing.
"It reflects many of the same provisions as they're embodied in the larger legislation, but it would be implemented in a more targeted, more focused fashion with states or institutions or consortium institutions working on establishing free community college," he said.
Baime thinks that Congress might be interested in the $500 million request, given the emphasis on workforce needs and recently adopted laws such as the CHIPS and Science Act.
"Establishing a large, new mandatory-spending program is going to be a challenge, to put it mildly, in the current political environment," he said.
Still, he said the $90 billion proposal has value.
"It underscores the importance of establishing free community college in our country," he said.
Ryan Morgan, CEO of the Campaign for Free College Tuition, said momentum for free community college has increased at the state level, with about 31 having some form of a tuition-free program, although some of the programs don't involve all students and programs. Many state programs are "last-dollar," meaning the government covers remaining tuition and fees after the student has used other forms of aid like the federal Pell Grant. The Biden administration's plan, however, is "first-dollar," meaning it applies before those other forms of aid. Students who qualify for the Pell Grant, in a first-dollar free college program, could use that federal aid to pay for expenses not covered by the free college program, such as childcare or living expenses.
"I think [the $500 million] would go a long way towards starting programs in states that don't have them, and expanding programs in states that do," Morgan said.
The policy also is popular with Republicans, Democrats and Independents, Morgan said, citing the campaign's recent polling in which 93 percent of Democrats, 68 percent of Republicans and 73 percent of Independents supported the idea of providing free tuition at public universities or colleges.
Morgan said he's holding out some hope for the free community college plan in the current Congress.
"This push is very bold, and it's not a line item in a speech," he said. "It's several components of a cohesive plan. Is it likely that it gets passed? No, it's not. You start with the Cadillac, and you negotiate and you work your way down to something that's doable."
He noted that the latest spending plan is a campaign budget.
"I think that focusing on the community college component is smart, because it's not targeting folks who go to $50,000-a-year private schools—it's targeting the working class, which I think is a smart political move," he said.