You have /5 articles left.
Sign up for a free account or log in.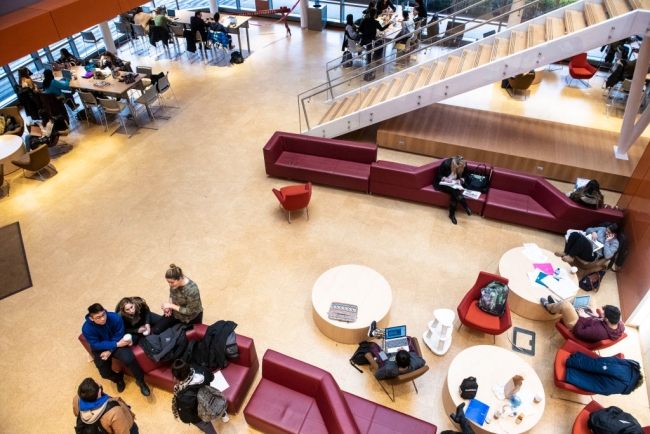 Students who enter college with undeclared majors are considered a high-risk group. In addition, many decide on a major and then have doubts about their choice. An estimated 61 percent of college grads would change their undergraduate majors if they could go back, according to a 2022 survey from BestColleges.
Adelphi University in New York supports its undeclared-major students in the classroom with its interdisciplinary learning curriculum, which fosters exploration of various academic areas and can establish a student's career aspirations.
The inspiration: The 360 course concept was born in fall 2019 from a desire to increase visibility of and access to interdisciplinary studies on campus, explains Lauren M. Rosenblum, general studies professor and head of the 360 courses.
"We are showing them that, actually, interdisciplinary work is quite natural and a part of academics and part of what their careers will likely be," Rosenblum says. "There are always ways in which we are using other disciplines to further explore our work and research and our interests."
The term "360" comes from the idea that the subject is covered from all angles, giving it a 360-degree view of the subject matter.
Faculty were also eager to demonstrate their interdisciplinary work, which made it natural to launch the courses. Students enrolled quickly and spoke highly of their experiences, which also prompted growth, Rosenblum shares.
"It's certainly had a kind of momentum that sometimes we don't see as much because things are remaining within their disciplines. But this one had a contagious momentum that was really unique," Rosenblum explains.
What it is: The 360 seminar is an interdisciplinary course focused on a single theme, featuring guest lectures and atypical assessments.
One faculty member serves as the "faculty of record" and establishes the syllabus for a 360 course, selecting which other topics will be evaluated under the singular theme. During the term, faculty members will invite between seven and 10 guest lecturers, who speak once or twice each to provide a different lens on the subject. Many guests are other Adelphi faculty members, but they can also be from outside the university, Rosenblum explains.
The program launched in fall 2019, and the initial course focused on food. The concept quickly became a hit among students and faculty and has continued since, with two courses being offered in spring 2022.
Past courses have ranged from the study of parties (Party 360: Why We Party) to disabilities (Disability 360: Embodied Politics) to race (360 Race) and cities (The Global Metropolis: Inventing Human Life).
Why it works: The courses fulfill general education course requirements and are an asset to undeclared students, who are particularly encouraged to take a 360 course.
Between fall 2019 and fall 2022, Adelphi's undeclared student population decreased 21 percent, from 285 students to 224 students, which the university credits to 360 seminars and other academic programs.
The 360 concept "really does give them an idea of how disciplines work and an introduction to different majors," Rosenblum explains. "It also gives an introduction to interdisciplinary majors or minors, if that's something they want to do as well."
Rarely does a student do a full 360 pivot from their prior career or major interests following a 360 course, Rosenblum says, but instead the experience often reaffirms what they already suspected they enjoyed.
"If they were tentative or unsure or hesitant before, this really helps them say, 'OK, I got it,'" Rosenblum shares.
The exposure to non-Adelphi instructors also expands a student's understanding of how their academics can result in a career.
In the future, Adelphi officials plan to expand some of its interdisciplinary learning into first-year seminars, capturing students earlier in their undergraduate careers.
Do you have an academic program that might help encourage student success? Tell us about it.
This article has been updated to correct the spelling of Lauren Rosenblum's name.