You have /5 articles left.
Sign up for a free account or log in.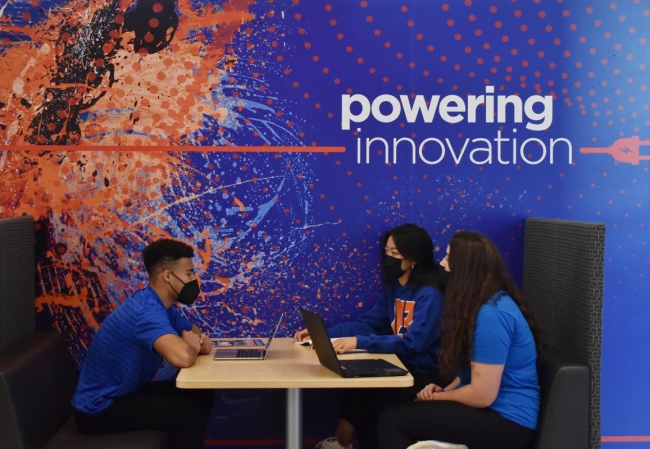 Boise State University opened its Micron Student Success Center earlier this year and will formally induct the space in April, offering a consolidation of resources for its engineering students to promote a sense of belonging and create a resource center.
The success center will centralize internship, mentoring and advising services, in addition to creating a shared space for current, new and transfer students to engage with one another.
What is the center? The 1,300-square-foot center will be housed in the College of Engineering building, using former adviser offices to create a centralized space for student support and community. The space is currently open for student use but will reopen later this spring as the college incorporates student feedback on their ideas for the center.
Staff toured other student success centers at other universities and will also engage current students to establish a vision for the space, shares Diana Garza, senior assistant dean for student affairs at Boise's College of Engineering.
The university hired Adriana Facundo as the inaugural director of the center, and she started in February, working alongside longtime engineering staff member and now career success coach Leandra Abursa-Lete.
Facundo's goal is for the center to be student informed. She's partnered with students working as College of Engineering ambassadors and other campus partners to understand their feelings of belonging at Boise State and, specifically, at the College of Engineering.
Show me the money: The Micron Student Success Center is funded by a $585,000 gift given by Idaho-headquartered semiconductor manufacturing company Micron in 2022. The gift, which will be dispersed over three years, includes $150,000 for student stipends and scholarships.
Micron has given money to the University of Idaho, as well, for a similar student success center for its engineering school, allocating over $1 million between the two institutions.
What's the need: Boise State recognized a need for career connection, not only for students to identify their goals after graduation, but to strengthen first-year persistence.
"It's thinking about, 'What do you want to do?' Not 'Who do you want to be?'" explains JoAnn Lighty, dean of the College of Engineering.
Staff wanted to dispel the misconception that students who know their major also know their career trajectory, because that's often untrue, particularly among first-gen students, Garza adds.
"What we're doing with the Student Success Center is showing them the rest of [the picture]," Garza says. "What does [a major] mean and really given them an opportunity to experience more of the career versus just the classes?"
A second goal for the center is to equip students with soft skills like leadership, emotional intelligence and mindfulness to round out their academics, Lighty shares.
Employer interest: Micron, for its part, is looking to grow and diversify its workforce. The investment is part of the company's diversity, equity and inclusion efforts to increase representation in addition to supporting academics in the region.
Boise State's engineering cohort is about 20 percent female, on par with national data from the Society of Women Engineers, which places women as occupying around 16 percent of architecture and engineering jobs.
Around a quarter of Boise's engineering students are transfers, and the university is looking to enhance its connection with local community colleges, too, to further diversify its student population.
If your student success program has a unique feature or twist that you believe is worth modeling, we'd like to know about it. Click here to submit.