You have /5 articles left.
Sign up for a free account or log in.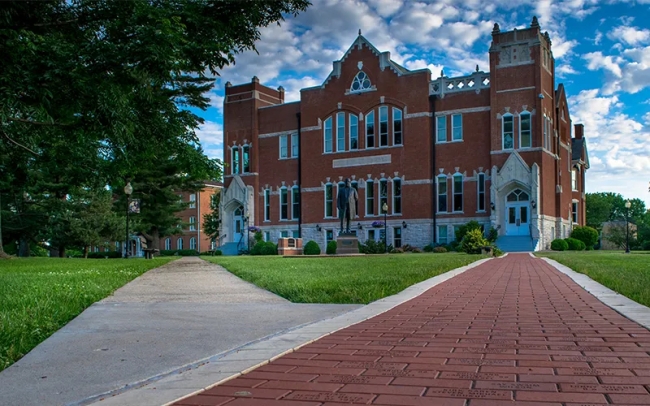 Iowa Wesleyan University is closing, citing rising costs, shifting enrollment trends, declining fundraising and the governor's rejection of a proposal for federal COVID-19 relief funds.
The 181-year-old private university made the announcement Tuesday, following a unanimous vote by the Board of Trustees to cease operations at the end of the current academic year. Though a university press release noted the challenging "headwinds" facing many institutions, IWU officials have suggested the closure could have been avoided if Governor Kim Reynolds had approved the university's request for $12 million from the funds given to the state as part of the federal American Rescue Plan Act.
The governor's office responded in a press statement that Reynolds "made the difficult decision to not pursue the university's funding request" following an independent assessment of IWU's finances that revealed "systemic financial issues" that would not be solved by a cash infusion.
Now, as university officials and the governor trade blame, the college is set to close in May.
The Decision to Close
Iowa Wesleyan hit many of the notes common in recent college closure announcements, referencing inflationary pressures that have driven up costs, the declining pool of high school graduates nationwide and a slump in fundraising that exacerbated the financial squeeze.
The closure comes even as IWU has experienced an uptick in enrollment, which currently stands at 858—up from roughly 800 in fall 2019, according to data from the Department of Education's Integrated Postsecondary Education Data System. Now many of those students will need to look elsewhere as IWU—which was founded before Iowa was even a state—prepares to close its doors.
In February, Iowa Wesleyan—along with Graceland University, Upper Iowa University and William Penn University—each requested $12 million from the state in American Rescue Plan Act funds. (The other three colleges all told Inside Higher Ed they are not at risk of closing.) The governor's office then initiated a review by an outside accounting firm to gauge IWU's fiscal viability. The governor's office did not respond to a request for more information, though officials from the other colleges have said their funding requests are still under review.
"To better understand their request and the financial health of the university, my office engaged an independent, third-party accounting firm to conduct due diligence. The firm reported that Iowa Wesleyan had a $26.1 million loan from the USDA, using their campus as collateral, that could be recalled in full as early as November 2023," Reynolds said in a statement. "Additionally, Iowa Wesleyan's auditor cited ongoing concerns about the university's fiscal health, stating 'significant operating losses and reduced liquidity raise substantial doubt about its ability to continue as a going concern.' The firm also highlighted that while enrollment at Iowa Wesleyan has grown over the past three years, their financial health has continued to deteriorate over the same period."
(In accordance with the terms of the USDA loan, the agency will take over the physical campus in May.)
The governor's office ultimately concluded that, based on the accounting firm's analysis, "federal funds would not solve the systemic financial issues plaguing the university." Reynolds added that if the state had "provided the federal funding as requested and it was used to finance debt or other impermissible uses according to US Treasury guidelines, the state and taxpayers could have been liable for potential repayment to the federal government."
Outside observers have criticized IWU for placing blame on the governor's office.
Gary Steinke, president of the Iowa Association of Independent Colleges and Universities, questioned the notion of going to the governor with a last-minute request for funds to stay viable. Steinke suggested IWU has used Reynolds as a scapegoat to minimize blame for the closure.
IWU officials noted in a media briefing Tuesday afternoon that they had entered this academic year with cautious optimism, aware that the university was in a difficult financial situation and ultimately hoping for a lifeline from a major donor or from federal coronavirus relief funds. But when neither hope materialized, the board made the hard decision to shutter the university.
Robert Miller, chair of the IWU Board of Trustees, said in the briefing that the board had pledged not to "start a semester if we did not have the funds to complete it," prompting the closure ahead of the next academic year.
IWU has announced teach-out agreements with William Penn University, Upper Iowa University, the University of Dubuque and Culver-Stockton College, with others possibly to be added later.
Five Years on the Brink
Iowa Wesleyan has survived similar scares in the past. It faced the threat of closure in 2018 and warned students and employees that it might not be able to continue. Yet the university managed to hang on by securing philanthropic gifts and a USDA loan. It also sought a partnership with Saint Leo University, an idea that was ultimately dismissed in 2020 due to various issues, including IWU's debt load.
Now, five years later, Iowa Wesleyan is falling to the market forces it temporarily fended off.
Christine Plunkett, who joined IWU as an interim vice president in 2015 and became president in 2019, said that one key difference between 2018 and today is that the college wasn't in as dire financial need back then, requiring only about $1 million.
With the pending closure of Iowa Wesleyan, Plunkett will have led two colleges that shut down. She was president of Burlington College in Vermont from 2012 to 2014, serving as vice president of administration and finance for almost five years before ascending to the top executive post.
Plunkett resigned abruptly from Burlington in 2014 while being confronted by student protesters who questioned her leadership at the financially struggling college. As students encircled her car, Plunkett said, "OK, I resign; happy?" in an incident captured on video.
Burlington College closed in 2016, largely due to financial issues.
Asked Tuesday about how Iowa Wesleyan's closure compared to that of Burlington College, Plunkett noted that "the landscape for higher ed is drastically different than it was even that decade ago" and noted that both institutions struggled with enrollment challenges and significant debt. Plunkett also pointed to other recent closures as examples of the challenging forces plaguing higher education, including Lincoln College, Presentation College and Finlandia University.
Though more institutions are almost certain to shut down across the U.S. before the end of the year, Steinke said Iowa's private colleges are mostly strong and he doesn't anticipate additional closures, despite demographic challenges and other issues affecting higher education.