You have /5 articles left.
Sign up for a free account or log in.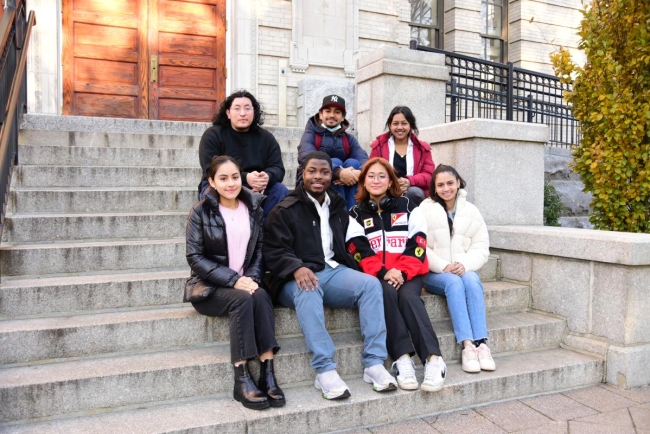 Residential students benefit from on-campus resources and connection opportunities in a way their peers who commute do not. Through the Fordham Housing Fund, selected upper-level commuter students at the university have the chance to experience on-campus living—for free.
What's the need: The Fordham Housing Fund is specifically for students in the Collegiate Science and Technology Entry Program (CSTEP). The program is funded by the New York State Education Department and supports underrepresented students pursuing careers in health sciences and STEM, Fordham's CSTEP director, Mike Molina, explains.
CSTEP has existed at Fordham for 37 years and provides participants with academic support, enrichment and a pre–freshman year summer program, among other services, Molina says.
Many of Fordham's CSTEP students commute to campus, impeding their ability to stay engaged on campus and improve academically.
"An opportunity to live on campus completely reconfigures an entire student's experience," CSTEP associate director Renaldo Alba explains. "It begins to change how someone thinks about their academic career, how they take on leadership opportunities on campus and how they take on relationships with other students."
When students travel to and from campus for classes, they worry about commute times, rush hour, weather conditions, Alba adds. Many students take public transportation as well, which can be unreliable.
Eliminating those factors allows for more socializing with peers, leadership experiences, faculty mentorship and academic excellence.
What it is: The Fordham Housing Fund began in 2011 as a gift from Fordham graduates Kathy and Brian MacLean. The couple created a $350,000 endowment initially, enough to support two commuter students' on-campus room and board costs for two years. Through additional donor gifts, the fund has grown and now supports nine students annually.
Housing at Fordham for upperclassmen costs between $14,000 and $23,000 for the year, depending on the campus and a student's occupancy selection. Meal plans run between $3,500 and $4,000 on top of that.
The housing fund also provides students with a move-in care package with some additional goodies, including twin XL sheets to fit the dorm bed.
All of Fordham's eligible commuter students can receive a renewable $10,000 metro grant to support their travel, and Housing Fund recipients don't lose that money when they move on-campus.
How it works: Each year, rising juniors in CSTEP apply for a scholarship from the fund. Between 30 and 40 students complete applications, Molina says.
The application asks students why they would benefit from on-campus living and about their current housing situation. Some students are sharing a room with multiple family members at home or commuting for hours to attend classes at Fordham, Alba explains.
Around half of the applicants move on to an interview round, during which students meet with CSTEP staff to discuss their goals and hopes for residential living. After, CSTEP staff select the nine scholarship recipients for the upcoming academic year.
Those recipients are placed in the Martyrs' Court Jogues Residential College in the Science Integrated Learning Community at Fordham's Rose Hill campus. The learning community has three live-in tutors from the prehealth or science programs.
The impact: The housing fund has directly contributed to student retention, persistence and stress reduction, Alba says.
Students who move on campus because of the fund are more involved in campus activities, utilize more campus facilities like the library and more often take on leadership roles in student organizations.
"The spirit of the scholarship is to enrich the student experience," Alba says. "It just so happens that a lot of them become student leaders."
Students create deeper relationships with their peers as a result, as well.
"We know that college is not just academics," Molina says. "With the availability and with the time, students will find their tribe."
The fund also diversifies the demographic of who's living in the dorms. The majority of Fordham's residential students are white, and the scholarships create diversity in experience, culture and ideas throughout the residence halls, which is a critical part of the college experience, Molina says.
On a practical level, the fund addresses basic needs like housing and food insecurity, which can also be a detriment to a student's academic life.
Both Molina and Alba would love to provide more students with on-campus housing opportunities—the primary challenge is funding.
What is a creative way your institution is helping students with basic needs challenges? Tell us about it.
More from The College Experience