You have /5 articles left.
Sign up for a free account or log in.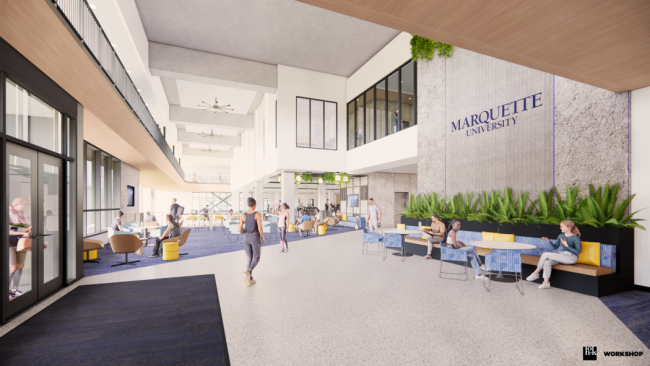 Marquette University will open its new wellness and recreation center in January 2025, joining a growing number of higher ed institutions that have combined mental and physical health within a single facility. The $80 million project involves renovating the Helfaer Tennis Stadium and Recreation Center, built in the 1970s, for a new, updated version including health resources like counseling services and a medical clinic.
A 2021 study found students returned to campus after remote instruction due to COVID-19 because they could participate safely in recreation center activities, interact with their peers and create a network of friends.
What's the need: Students at Marquette have expressed a need for expanded recreation and fitness facilities for years, says Lora Strigens, vice president for planning and facilities management at Marquette. The concept for an integrated wellness and recreation center, however, began with the university's master plan in 2016 and began to make progress as a priority for being a healthy campus grew.
"We recognize—as many institutions do—that caring for the entirety of a student is not just their academic success, but their mind, their body and, for our institution, their spirit," Strigens says. "I find it hard to separate the idea of students' success from the idea of wellness, especially post-pandemic."
In addition to the health and wellness services the new facility will offer, it will be a space for programming to increase community and a sense of belonging, Strigens says.
What it is: The new space will be 180,000 square feet, doubling the wellness, counseling and medical space on campus and increasing fitness and recreation capacity by 25 percent.
A three-story, 30,000-square-foot wellness tower in the facility's center will house the medical clinic and counseling center, as well as space for the alcohol and drug recovery program, sexual violence prevention programming, and meeting spaces. On the recreation front, the facility will have two multipurpose courts, four tennis courts, four basketball courts, a 25-yard swimming pool, two group fitness studios and a cycling studio.
Marquette authorities chose to renovate the Helfaer center rather than create an entirely new structure.
"In addition to it being really great programmatic projects … it's also a very interesting building project, I think, keeping the two large volumes of space that house our tennis courts and basketball courts," Strigens says. "It's a sustainable decision by the university, both financially and environmentally, and then it gives us the opportunity to really create this marquee facility on the site."
Moving all health and recreation resources into one building also consolidates touch points for students to engage in wellness. "The goal is for us to make it as easy as possible for students to access the services and the support that they need," Strigens explains.
The top two floors of the wellness center will be known as the Lovell Center for Student Wellbeing, named after Marquette's president Michael Lovell and his family, due to his commitment to student wellness and mental health.
The facility is funded by donor gifts, the institution and a student wellness fee, which has been in place since 2016.
Feedback and input: When designing the space, the project team received feedback from a variety of stakeholders, including student affairs, the medical clinic, counseling programs, recreation and fitness experts and, of course, students.
The recreation and fitness space, for example, is designed to be used by all students spanning all levels of experience, comfort and engagement. The result is a variety of flexible spaces and different programming.
As the project continues, Marquette will continue to solicit student input on furniture and branding.
"We want them to feel represented in the space, and we want it to feel, as campus is their home away from home, that it's a space that they feel comfortable and welcome in," Strigens says.
Does your institution have a new wellness and recreation facility that is contributing to student retention? Tell us about it