You have /5 articles left.
Sign up for a free account or log in.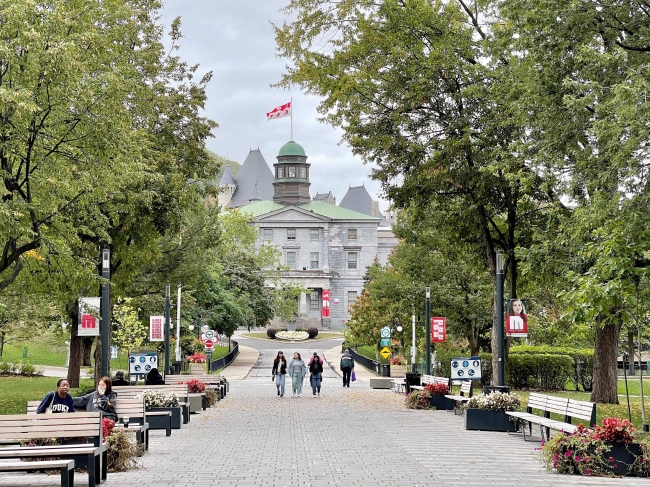 Daniel Slim/AFP via Getty Images
Battered by market headwinds and struggling with stagnant enrollment, numerous colleges and universities have cut jobs and academic programs in recent months. Cuts have become so common that Inside Higher Ed is changing its approach to covering them. Going forward, we plan to provide regular roundups of the institutions trimming back rather than covering each independently. Exceptions will be made in certain circumstances where the cuts are deep and significantly reshape an institution—such as at West Virginia University—or where internal politics or other factors are as much a force as financial issues. This represents the first in our series of round-up stories covering the changing landscape of higher education, where many institutions are slimming down to stay healthy.
In this roundup, a prominent Canadian university is feeling the squeeze of changes to a provincial tuition structure, public universities across the Midwest are struggling with budget issues and others are beginning review processes that will likely culminate in coming job cuts.
Here's the latest.
McGill University
McGill University, one of Canada's most prominent institutions, has announced that changes to the tuition structure imposed by the government of Quebec could lead to as many as 700 job cuts.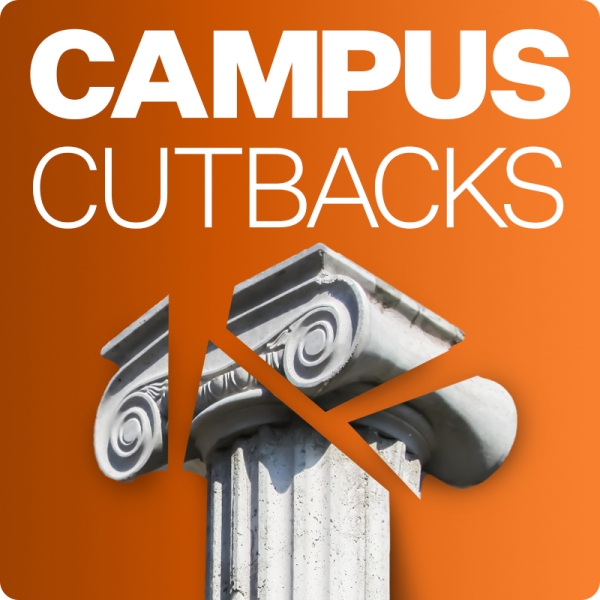 McGill is located in Montreal, in the French-speaking province of Quebec, which is seeking to nearly double the tuition price for students from other provinces who enroll at English-language universities. That change, intended to protect the French language, is expected to prompt a hiring freeze and job reductions at McGill. The university anticipates those reductions "could reach between 650 and 700," The Montreal Gazette reported.
Tuition is expected to rise from around $9,000 to $17,000 per year for students from outside Quebec, starting in fall 2024, according to the CBC. International students are expected to pay a minimum of $20,000.
University of Wisconsin at Platteville
The University of Wisconsin at Platteville announced last month that it will cut 111 jobs, or approximately 12 percent of its workforce, according to Spectrum News 1. The cuts are part of an effort by campus officials to fix a $9 million structural deficit for fiscal year 2025.
Of those reductions, UW Platteville officials said they have permanently cut 31 vacant positions; another 32 employees opted to take early-retirement packages. The professoriate appears to have been mostly spared, with 11 faculty members retiring early and none reportedly cut.
The cuts come amid big changes for the Universities of Wisconsin, a 13-member state system. Earlier this year the University of Wisconsin at Oshkosh announced plans to cut 200 jobs to close an $18 million deficit. Last month system leadership announced plans to close UW Platteville Richland and transition UW Milwaukee at Washington County and UW Oshkosh, Fond du Lac, to an online-only format amid continued enrollment struggles across the state.
Bradley University
At Bradley University in Illinois, 17 academic programs are on the chopping block, 25 News Now reported. Another five majors may also be eliminated, but classes in those subjects—economics, French, mathematics, philosophy and physics—will remain among the university's offerings.
As part of the cuts, 47 current faculty positions are expected to be eliminated, while another 21 faculty jobs will be lost through attrition, according to the local news outlet. The cuts are part of an effort to trim $13 million from Bradley's budget amid ongoing financial challenges.
Newman University
Newman University in Kansas has announced the elimination of eight academic programs, KWCH reported: English, finance, history, marketing, math, philosophy, social work and theater.
"This decision follows a comprehensive review process involving faculty, administrative personnel, board members and external educational consultants," Newman officials stated in a news release announcing the programmatic changes. "Despite the rich history and contributions of these programs, the realignment is essential to maintain a commitment to academic excellence and to ensure the sustainability and relevance of Newman's academic portfolio."
It was not immediately clear how many faculty jobs will be affected.
University of Nebraska at Kearney
Cuts have not been announced but are on the horizon for the University of Nebraska at Kearney, where leaders are considering the elimination of certain academic programs and faculty jobs.
Cuts are expected to make up for a $5 million budget shortfall, The Kearney Hub Reported.
UNK's administration has proposed cutting up to 30 faculty positions across 14 departments and eliminating the geography, philosophy and theater departments, as well as 13 majors, according to details from UNK's faculty union, which has raised concerns about the cuts.
A formal plan will be submitted to the University of Nebraska Board of Regents on Dec. 1.
UNC Greensboro
An academic portfolio review is underway at the University of North Carolina at Greensboro.
Though no job cuts have been announced, many faculty members expect reductions to come after the program review is complete. Chancellor Franklin D. Gilliam Jr. has stated that "any changes to the University's academic offerings will be decided in early 2024 and will take years to implement," pushing back on what he has described as rumors circulating on social media.
Faculty members have raised questions and concerns about the process, and the UNC Greensboro chapter of the American Association of University Professors has commissioned its own report, which disputes the need to eliminate programs or classes. (Gilliam has questioned the veracity of that report, arguing it contains various inaccuracies.)
Gilliam has said the program review is necessary due to enrollment woes and challenging market headwinds as well as changes to the funding formula for UNC system institutions.
University of Arizona
Though it hasn't announced job cuts, the University of Arizona is considering a hiring freeze.
The move is driven by a lack of cash on hand, according to The Arizona Daily Star, based on a report by campus officials to the Arizona Board of Regents. The university only has 97 days of cash on hand—the lowest amount since 2013, the newspaper reported earlier this week.
Officials have reallocated 2 percent of the budget—which they acknowledged at the meeting amounts to a budget cut—because of concerns about the limited cash on hand. UA officials must submit a plan to the board by Dec. 15 on restoring cash liquidity levels.