You have /5 articles left.
Sign up for a free account or log in.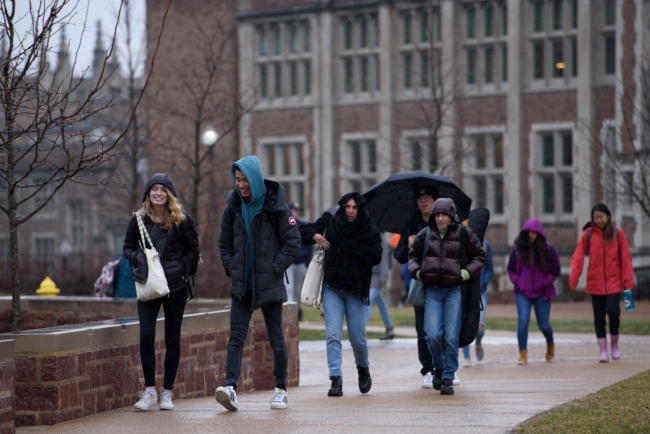 Nick Schnelle for The Washington Post via Getty Images
Ten years ago, Washington University in St. Louis was among the least economically diverse selective colleges in the U.S. Only about 6 percent of first-year students were recipients of the Pell Grant, a federal, income-based form of financial aid.
"I mean, we were the worst in the country," Andrew D. Martin, current chancellor of the university, told Inside Higher Ed.
So university leaders decided they needed to make a change.
"My predecessor and his leadership team, along with the Board of Trustees, decided that this was something that we were going to work on very intentionally," said Martin. "A university's budget, in many respects, is a statement of its values and priorities, and so we began investing significant amounts of our own resources into financial aid."
The investment has paid off. Today, the proportion of low- and moderate-income first-year students at the midsize private research institution is up 10 percentage points, to 16 percent, according to The New York Times' College Access Index, which the newspaper released Thursday.
Washington University is not the only college paying more attention to the socioeconomic status of its students. For several decades, higher education institutions have felt immense pressure to increase the racial and ethnic diversity of their student bodies, with socioeconomic diversity often taking a backseat. But recent legal and political considerations may be changing that.
"In lieu of the recent Supreme Court ruling banning affirmative action, many institutions, rightfully so, are looking for other ways to increase and maintain the diversity within their student bodies," said Michael Itzkowitz, founder and president of the HEA Group, an education research and consulting agency focused on college access and success. "Looking at low- and moderate-income students is one avenue."
But it's not just the court's decision that is shifting institutions' focus to economic status.
"Over the past five years or so, we've seen much more attention paid to economic mobility," Itzkowitz said. "If institutions are only enrolling a wealthy population, they're essentially providing no economic movement whatsoever. It takes a more diverse body of students to lift this generation up."
The latest edition of the Times' database (last published in 2017) tracks the changes in socioeconomic diversity among the nation's most selective colleges. Analyzing 286 institutions across the country—small and large, public and private—it documents the gains and losses in the proportion of first-year students eligible for Pell Grants from 2011 to 2021.
And while the data show that most of America's most selective institutions have become more diverse, many still enroll a disproportionate share of affluent students. According to the Times' analysis, about 120 institutions saw an increase in the share of low- and moderate-income students from 2011 to 2021. The rest either stayed the same or decreased.
"Institutions are still enrolling a very low percentage of low- or moderate-income students, especially at selective institutions," Itzkowitz said. "There are some institutions that have made progress … but there is still a lot of room for improvement in terms of admitting and enrolling an economically diverse student body."
Inside Higher Ed reached out to officials from several institutions that have made significant progress as well as those that have lost ground or stagnated. The institutions that have gained ground were much more responsive.
'Intentional' Investments
Successful financial investments were a key contributor to Wash U's success in moving the needle.
"We had a once-in-a-lifetime endowment return. Our endowment was up 65 percent in one year," Martin said. "So we took a billion dollars of our own capital and deployed it for financial aid."
That allowed the college to begin practicing need-blind admissions in 2021; starting in 2024, it will also exclude loans from financial aid packages.
The university has also invested in economic diversity by changing how it recruits students.
"We're not just going to college fairs at suburban high schools," Martin said.
This year, officials began a new project called the Heartland Initiative, designed to reach prospective students in rural communities across Missouri. "We brought those students and their families to campus for a week this summer, not only to get a taste of what it's like to live in an urban campus … but to help educate them about how it would be financially feasible."
Socioeconomic diversity hasn't come at the cost of academic prowess, Martin added. In fact, he believes the Heartland Initiative and similar programs (such as the WashU Pledge) have made the university even more competitive, enticing "more of those talented students to stay here in the region," he said. "Talent lives everywhere in our society. Our job is to find the most talented individuals who can thrive here, and then give them an opportunity to do so."
An 'Institutional Project'
Johns Hopkins University also saw growth in socioeconomic diversity, with the share of freshman Pell Grant recipients jumping from 12 percent in 2011 to 20 percent in 2021. David Phillips, vice provost for admissions and financial aid, said that the administration made it an "institutional project" to achieve such a shift.
"It started with a goal of having our class mirror the socioeconomics of the country better than higher education has historically been doing," Phillips said. "We need to be serving students from all backgrounds, no matter what their station in life."
At first, Hopkins made "incremental progress," but it was the donation of $1.8 billion from alum Michael Bloomberg that Phillips said "really set us on a path to be able to make large jumps."
From there, the university prioritized expanding its "footprint."
"The cost of a private education is generally higher than the median income in the country," Phillips said. "So it's about getting the word out and going to the places where the students are … because it's hard for a lot of people to believe that a private school education can be affordable."
Phillips noted that expanding socioeconomic diversity had knock-on benefits.
"With this move, we've also increased the proportion of first-generation students in our student body," he said. "If you think about that population … it's also about building programs to support students to onboard to the university and succeed."
'Running a Tight Ship'
Some of the largest increases in socioeconomic diversity are happening at universities that don't boast multibillion-dollar endowments.
Franklin & Marshall College, which had an endowment market valued at $352.1 million in 2018, according to the National Association of College and University Business Officers, jumped from 13 percent of students who were Pell eligible in 2011 to 25 percent in 2021. Unlike Hopkins and Wash U, F&M is not need blind in admissions.
Similarly, Beloit, a liberal arts college in Wisconsin, has a smaller endowment than more competitive institutions, yet it boasted a 13-percentage-point increase in first-year Pell Grant recipients over the 10-year-period the Times covered, meaning over a third of the class is Pell Grant eligible.
"It means running a tight ship and paying attention to what it is that actually fills these students with the knowledge, skills and capacities that will generate lifelong success—and not doing other things," said Eric Boynton, the president of Beloit College. "We're not looking for luxury, we're looking for transformation, and so paying attention to where we invest in our students is crucial."
In place of a financial investment, Boynton said Beloit has focused on enticing low-income students to come by meeting their academic needs. He cited the college's Advanced Mentoring Program, which guarantees students are connected with a faculty adviser within 72 hours of putting down their deposit, as an example.
"Wind is put in their sails even before they arrive on campus," he said.
Declines for Many
While some universities saw growth, many others actually saw a decrease in socioeconomic diversity. The University of California, San Diego, for example, saw a 23 percent decrease in the proportion of Pell-eligible students, and the University of South Florida saw a 13 percent decline.
Kettering University, in Flint, Mich., saw its share drop from 34 percent in 2011 to 17 percent in 2021, a change that President Robert K. McMahan attributed to "post-COVID economic pressures" that prevented many low-income students from pursuing higher education.
Brian Clark, a spokesperson for Brown University, which saw a 3 percent drop, said, "Pell Grant eligibility remains one indicator of progress." But he added that increasing socioeconomic diversity on campus is still a top priority.
"We've introduced additional recruiting, financial aid and support measures," Clark said via email. "Our commitment to making Brown accessible to a wide range of students, including and especially those from low-income backgrounds, is unwavering."