You have /5 articles left.
Sign up for a free account or log in.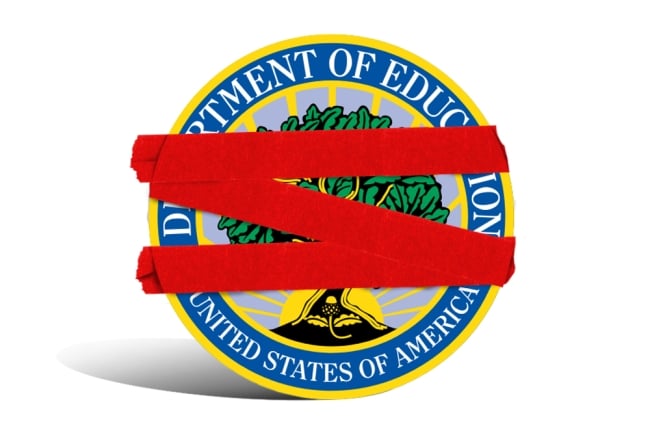 Photo illustration by Justin Morrison/Inside Higher Ed | Fry1989/Public Domain via Wikimedia Commons
After years of discussions over whether college accreditors should have bright-line metrics to gauge college performance, a federal advisory committee declined to pick a side in a new report that makes several recommendations on how to clean up or improve accreditation rules.
The members of the subcommittee of the National Advisory Committee on Institutional Quality and Integrity (NACIQI) who wrote the report said the rules are a "mess," allow accreditors to set flexible standards or none at all, and lead to inconsistent expectations in terms of student achievement.
"Not only does this latitude risk accountability, it creates an unhealthy and dangerous variety and inconsistency of expectations regarding student achievement across institutions," the report says.
Accreditors are charged with monitoring the quality of higher education institutions and holding them accountable, and NACIQI plays a key role in the oversight of federally recognized accreditors.
The report recommends that Congress dig deeper into the rules to fix the issue, though it doesn't offer a specific solution. The subcommittee also wants the department to "clarify what it means for an agency to have a standard (or standards) that 'assess' an institution's success with regard to student achievement." Some experts said that NACIQI's recommendations could lead accreditors to focus more on student outcomes.
The subcommittee wrote that in its view accreditors should have standards that they set to assess student achievement. Additionally, agencies should show NACIQI and the Education Department their own assessment of their institutions by providing "some form of summary information regarding its results," per the report.
NACIQI and department staff have created dashboards for individual accreditors looking at the graduation rates for the agency's portfolio of institutions and other data points. The subcommittee recommended that agencies should at least comment on these data as part of the review process.
"We are not suggesting Congress establish or impose the student achievement standards and measures for accreditation purposes," the report says. "We are suggesting that the accreditors be required more firmly to establish standards and that the department and NACIQI have a stronger role in determining whether accrediting agencies are indeed robustly establishing these standards and also reviewing, evaluating and judging their institutions' performance in a way that ensures institutional quality."
Institution representatives on the committee and some experts worry that even discussing changing the law could lead to "bright-line" standards, which would be akin to "unleashing Pandora's box," said Michael Lindsay, president of Gordon College and a member of NACIQI, at the committee's recent meeting.
'Status Quo Isn't Good Enough'
The subcommittee's 19-page report, which the full group unanimously approved, highlights concerns and offers recommendations to address a range of topics under the accreditation umbrella, from how the agencies handle complaints about institutions to the requirement that agencies should have public members on their boards. (A public member is considered someone who is not an employee or connected to an institution the agency oversees or a member of any related trade association.)
The Education Department is planning to update its accreditation regulations, and the committee's policy recommendations could inform that effort. NACIQI rarely issues reports like this, so experts say it's an important document that could also add to the broader conversation about how to improve accreditation—one of the gatekeepers to federal student aid.
Consumer protection advocates and others have wanted NACIQI to get tougher on accreditation agencies, which they say have failed at times in their oversight of institutions.
"I think what they've put together here would go a long way toward pushing accrediting agencies to take seriously the question of student outcomes, even if it's not quite far enough to fully mandate that accreditors take it seriously," said Clare McCann, a higher education fellow at Arnold Ventures, a philanthropy, who previously worked in the Education Department during the current administration.
The subcommittee didn't reach consensus on all the recommendations but did on which topics to include.
If it were easy to create lines, accreditors would not be needed. Accreditors exist because there are judgments that need to be made.

—Jamienne Studley, president of the Western Association of Schools and Colleges Senior College and University Commission
The bulk of the discussion at the committee's summer meeting last week focused on the report's student achievement section. Federal law currently prohibits the U.S. education secretary from setting any criteria or prescribing standards that accrediting agencies would have to use to assess any institution's success with respect to student achievement.
Roslyn Clark Artis, president of Benedict College and another member of the accrediting panel, said she had "serious trepidation" about modifying the current restriction.
"To remove the handcuffs and allow, potentially, havoc to be wrecked on diverse institutions and/or agencies who are trying to assess very different kinds of institutions contextually is incredibly dangerous," she said.
Jennifer Blum, a higher education lawyer and one of the report's authors, said the report is focused on a more basic problem than benchmarks or metrics for student accountability.
"I think agencies are all over the map on what standards for student achievement they have," she said. "I fear and worry that we have agencies that aren't clear to their own institutions about their expectations or letting institutions set expectations for themselves."
Blum said the report shows that there's a consensus the current laws and regulations are a problem and need attention.
"The status quo isn't good enough," she said. "We can get to a middle ground. It's not as impossible as we all want to think it is."
Michael Poliakoff, president of the American Council of Trustees and Alumni, said accreditation currently doesn't protect the public or ensure quality. He'd like to see an emphasis on nationally normed findings that show how students are learning.
"I'm all for nuance, but I would like to see guardrails that tell us what actually is happening, at least in the aggregate," he said.
Reactions to the Report
Jamienne Studley, president of the Western Association of Schools and Colleges Senior College and University Commission, said the committee's conversation mirrored the ongoing debate over whether and how to set standards and benchmarks for student achievement.
"President Artis did a wonderful job of conveying the dangers of overreliance on just numbers and the importance of having subtlety in the analysis," she said. "If it were easy to create lines, accreditors would not be needed. Accreditors exist because there are judgments that need to be made."
Studley added that the conversation about using data to identify institutions' strengths and weaknesses is far from over.
"I appreciated what appeared to be broad but not universal agreement that there should not be bright lines and that there are serious dangers to being too by-the-numbers for such a complicated analysis," she said.
Studley chaired NACIQI in 2012 when the panel released a similar report. She said this latest report provides a shared starting point for individuals to dig deeper into the issues.
"I welcome the evolution of some of these important conversations and the constructive tone that everybody seems to bring to it," she said.
Similarly, McCann said the report will add to the broader public conversation about how to improve accreditation.
"What's nice about this is NACIQI put together some really actionable ideas here, with language in some cases," she said. "These are things that the department can really work with and that Congress can really work with in terms of making some improvements, even if they're somewhat modest."
McCann said the committee's recommendations do seem responsive to issues raised recently about accreditors such as that the agencies don't focus enough on student outcomes.
"They've done a pretty good job of pulling together some of the key things that we've let slide over the last decade or so," she said. "We've really let accreditors run the show on a lot of things."
If enacted, the recommendations could lead to "real, serious improvement" from the accreditors, she said.
"The big picture of what they're getting at is they're not trying to get the department to set a number and to hold the accrediting agencies to it," she said. "They're trying to get accrediting agencies to step up."
She said that NACIQI seems to want accreditors to bring data to the table and show more information about how they work with institutions identified as falling short on student achievement.
Over all, she said she thought the subcommittee struck a good balance on student achievement and other issues with which the committee has been grappling.
"They see these issues popping up with institutions," she said. "They see problems concentrated within certain accreditors. They want to address them, and the accreditors are just simply not responsive enough to those concerns."
Michael Brickman, an adjunct fellow at the American Enterprise Institute, said he wants to see a focus on accountability but doesn't want to see a No Child Left Behind for higher education. The 2001 law for K-12 schools held schools accountable for student outcomes.
"There have been discussions at NACIQI and elsewhere around imposing a certain view of what student achievement accountability should look like," he said. "But I think it's pretty clear the Department of Education does not have the authority to do that, and that NACIQI, which is an advisory committee, has no authority there."
Brickman, who helped to update the accreditation regulations in 2019 during the Trump administration, said he supports publishing more data to increase transparency but gets more concerned when attaching stakes to the data.
"I understand we can look at graduation rates and very basic metrics like that, but I think it's very hard to tell the story based on some very simple metrics like that," he said.