You have /5 articles left.
Sign up for a free account or log in.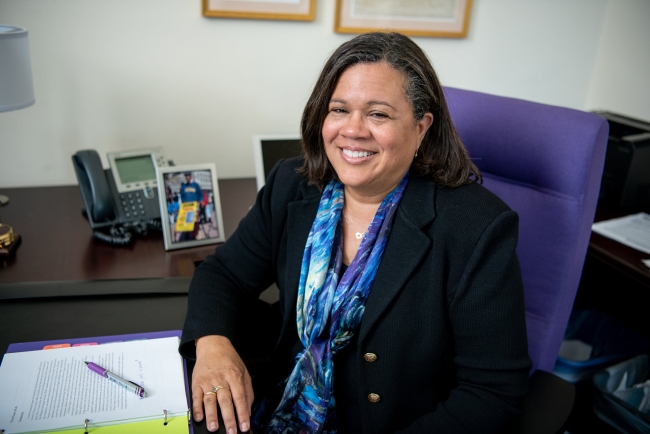 Whittier College/Facebook
When Whittier College president Linda Oubré announced her resignation last week, it ended a long standoff between Oubré and outside groups who have long called for her ouster.
Concerned by the state of affairs at Whittier, where enrollment has plummeted during Oubré's tenure, a group called Save Whittier College, made up of alumni and others, has pressured the president to resign—or the Board of Trustees to force her out. Now, without addressing the controversy around her leadership, Oubré will step down next month.
Oubré's departure after a five-year run marks one of several recent resignations in higher education where presidents have stepped down under pressure from constituents—whether current students or alumni—demanding an institution change course.
Clashes With Constituents
Like many liberal arts colleges across the U.S., Whittier has struggled with enrollment in recent years. In 2018, when Oubré arrived, Whittier's fall enrollment was 1,852, according to the Department of Education's Integrated Postsecondary Education Data System. But by fall 2021, the last year for which data is available, enrollment stood at 1,387, a drop of nearly 500 students.
Recent application numbers have also shrunk, according to the college's Common Data Set. While 5,301 students applied to Whittier for the fall 2020 class, only 3,062 applied for fall 2022.
To make up for lost tuition revenue, Whittier College cut athletic programs—including the Poets' football team, on which Richard Nixon played offensive line in the 1930s. Those cuts have since been questioned by students, employees and alumni alike, who allege a lack of transparency in the process, which they believe will lead to an even greater decline in enrollment.
Faculty members have also alleged that shared governance has eroded under Oubré.
In addition, the Board of Trustees has seen significant turnover; multiple trustees have stepped down or been pushed out, though Oubré previously told Inside Higher Ed the college intentionally shrank its governing board to a more manageable size. And some former board members and ex-employees have alleged the college has attempted to stifle their criticism of Oubré through legal threats from the college aimed at silencing them.
Oubré has said that she has received threats herself, though in the past she has declined to discuss those, telling Inside Higher Ed that an investigation was ongoing. However, local law enforcement has told various media outlets that they received no report of such threats.
Fed up with Oubré's leadership, the Save Whittier College group launched a campaign to oust her that included an unusual approach to fundraising. Dubbed "Poets' Pledge," the campaign raised $539,830 in pledged donations to be paid if the president resigned or was removed by the Board of Trustees by May 1. Once the deadline passed, however, the group noted in a May 2 email to supporters that "there is no obligation to fulfill your pledge," though it did encourage "a gift to support the rebuilding of the College" if the Board of Trustees took "appropriate action" at its May 12 meeting to remove the president.
But when Oubré's resignation officially landed on Friday, she didn't mention the fundraising campaign or even nod to the criticisms heaped on her in recent months. Instead, the announcement flicked only lightly at the challenges Whittier College has faced.
"We have worked to embrace the markets of students we serve today and into the future. And we have made the tough decision to realign our resources with our mission. We have faced hard challenges and headwinds due to the shifting context for higher education. And we have thrived and are well positioned for the future," Oubré wrote in her resignation letter to campus.
A letter from the board announcing Oubré's resignation was mostly effusive, ignoring the tension around the embattled president.
"In her five years, Linda has worked diligently to transform the College and build a sustainable foundation for the future. With an unending focus on our mission of student success, Linda has accomplished many things. In fundraising, she attracted the largest gift in the history of the College, a $12 million unrestricted gift from philanthropist Mac Kenzie [sic] Scott," the board wrote.
Trustees also nodded to Oubré's role in leading Whittier through the coronavirus pandemic, guiding it through a reaccreditation process and improving diversity, equity and inclusion efforts.
In a separate statement sent to Inside Higher Ed Monday, the Board of Trustees likewise sidestepped constituent concerns.
"A hallmark of a Whittier College education is a constant desire to question and engage. The deep passion and commitment of our alumni is what will propel us to a future that reflects our past, while bridging our necessary evolution into the future," the statement read in part.
Oubré, who formally departs late next month, will leave Whittier with president emerita status. In the meantime, the college will be led by interim president sal johnston—who prefers his name spelled in lowercase—while a national search begins to find the next leader for Whittier College.
Whittier College did not provide additional comment to Inside Higher Ed.
Other Conflicts
Oubré's outgoing statement gave no indication that the rising volume of constituent complaints factored into her decision to step down.
But Armand Alacbay, chief of staff and senior vice president of strategy at the American Council of Trustees and Alumni, noted that constituent groups, including alumni, wield significant influence. And when it comes to those groups, he said trustees should be "receptive to all but beholden to none" and only consider engaging on issues related to the institutional mission.
As far as Whittier's alumni are concerned, he suggested they were withholding donations for what they saw as the greater good, despite possible short-term harm.
"It's perfectly reasonable for alumni who are financially supporting their institution to say, 'Our hearts are open but our wallets are closed.' Withholding donations is not necessarily inconsistent with having the best interests of the institutional mission in mind," Alacbay said.
Still, he noted that "raising almost $600,000 to push out the president is highly unusual."
Sometimes calls for a president's resignation are triggered by a single incident that sets off a domino effect of concerns. For example, Connecticut College president Katherine Bergeron stepped down in March following a controversy over a fundraiser scheduled to be held at a historically discriminatory venue. That prompted the resignation of a diversity, equity and inclusion dean, who alleged Bergeron exhibited bullying and toxic behavior, which had simmered quietly before the incident.
Major mistakes can also resurface old questions about leadership, such as when Purdue University Northwest chancellor Thomas L. Keon mocked Asian languages in an impromptu moment at a commencement ceremony. In that instance, faculty members demanded his resignation for the remarks but also revisited concerns about his leadership regarding declining enrollment and a difficult merger. Despite intense scrutiny, however, Keon has stayed on as chancellor.
Oftentimes, regardless of swirling criticism, presidents leave for reasons that are never explained. At Alcorn State University, President Felecia Nave had faced protests from students and questions from alumni in recent months over an alleged lack of communication and inadequate resources. Now Nave is gone, as of last month, with no clear explanation for her exit.
Similarly, at Jackson State University, President Thomas K. Hudson received a no-confidence vote in January over allegations of a lack of shared governance. He was placed on paid administrative leave in early March for unclear reasons; by the middle of the month, he was out.
Alumni Pressure
Oubré is far from the only college president to come under alumni pressure to resign in recent months. At Tougaloo College, alumni have called for the resignation of Carmen J. Walters over declining enrollment, employee retention and other issues, launching an online petition to gather signatures for her removal.
Walters has responded, in part, by calling the group's claims false and emphasizing that the alumni seeking her resignation are not part of the official Tougaloo College Alumni Association.
However, in a statement to Inside Higher Ed, Walters struck a more collegial tone.
"We all share a common goal: the sustainability and success of Tougaloo now and into the future, supporting our students and adapting to this new chapter in our history," she wrote. "We have already held several meetings with our beloved alumni and are working to open up the lines of communication between the college and the greater campus community even further. I aim to collaborate with all of my college family to ensure Tougaloo stands strong in its next chapter."
Alacbay noted that it's rarely one group that drives a president out but rather a multipronged attack. And presidents, he suggested, would be wise to listen to and engage with their critics before the anger reaches a fever pitch and leads to efforts to oust them.
"Presidents should project some level of receptivity to the critique. It will vary according to what those critiques actually are, but part of being an institutional leader is being that face to all constituents: alumni, lawmakers, students, prospective students. You're an ambassador to all these folks, and sometimes that means you have to act with extreme diplomacy," Alacbay said.