You have /5 articles left.
Sign up for a free account or log in.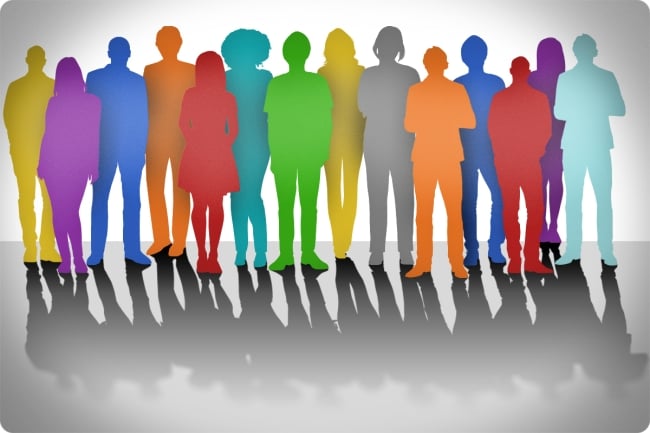 Photo illustration by Justin Morrison/Inside Higher Ed | Rawpixel
Governing boards of colleges and universities wield tremendous power, including the authority to appoint presidents, set tuition rates and vote on policy changes. But emerging research is questioning the relationship between the diversity of board members and student success. It comes at a time when the rising political influence of some governing boards is increasingly shaping student and faculty experiences.
"American colleges and universities care deeply—or at least claim to care—about the diversity of their student bodies … But does concern about diversity extend to the boards of trustees that govern colleges and universities?" a new report that analyzed board compositions at 100 institutions asks. "Do governing boards, whether for a single institution, multiple campuses, or an entire state system, practice what they preach?"
The report, published by Washington Monthly this week, found that institutions with well-aligned boards, "more often than poorly aligned boards, are associated with institutions that have favorable outcomes and ratings." About one-fifth of the boards it examined achieved the well-aligned status, but as the report notes, the findings are preliminary and more "research and time will be required to see whether—and, if so, how—board and student alignment impacts institutional performance and culture."
Despite a flurry of colleges pledging to prioritize diversity in the wake of George Floyd's murder in 2020, research shows that college and university boards don't typically reflect the diversity of the student bodies they serve.
Nearly 80 percent of trustees at private colleges were white and nearly two-thirds were male in 2020, according to a 2021 report by the Association of Governing Boards of Universities and Colleges that showed that while boards were diversifying, they were doing so very slowly.
In 2022, the American Association of Colleges and Universities used those findings to support its perspective that any pursuit of diversity, equity and inclusion initiatives on college campuses "must include trustees."
That report also found shortcomings at public institutions, where about 65 percent of trustees were white and 63 percent were male. Members of racial or ethnic minority groups accounted for about one-third of public board members and 17 percent of private board members. Women held 37 percent of seats on public boards and 36 percent of seats on private boards, a 12 percent increase since 1969.
Mary Papazian, executive vice president of AGB, said the organization doesn't tell governing boards how to run their institutions, but it is committed to relaying the values of diversity "for good governance, outcomes with regard to student success, and ensuring that a diverse set of perspectives are at the table where decisions are being made."
And as the college student population continues to become more diverse in terms of race, ethnicity and gender, she said, board diversity is also important in "avoiding groupthink."
In an effort to suss out any possible correlations between student success and board diversity, the team of higher education researchers who wrote the Washington Monthly report sampled 100 institutions from the top, bottom and middle of the publication's 2022 College Ranking List.
The ranking criteria, according to Washington Monthly editors, give points "to those that help non-wealthy students earn remunerative degrees, encourage students to vote and serve their country, and produce the scholars and scholarship that drive economic growth and human betterment."
While the researchers relied on federal data to break down each institution's student body demographics by race and gender, "not one of the 100 institutions we surveyed had the demographics of their board displayed on their website or readily available in any other way," said Richard Chait, one of the study's co-authors and a professor emeritus of higher education at the Harvard Graduate School of Education. "That strikes me as a very significant omission."
Washington Monthly's research team examined the pictures and biographies of each voting member on 100 board websites and fleshed out their inquiries through exhaustive web searches in order to nail down the race and gender of board members.
'Sense of Belonging'
Among the institutions examined in the report, 19 of the boards were considered "well-aligned," meaning the "match between the demographics of the board and the students had to be within 10 percent of one another on both gender and race." Some of those well-aligned institutions included institutions with the biggest endowments in the country, such as Harvard University, Princeton University and the Massachusetts Institute of Technology. Seventeen of those 19 institutions were also highly ranked by Washington Monthly's metrics.
"The most favorably aligned institutions are by and large top-tier institutions," Chait said. "So, the argument that's often made that you can't have diversity and philanthropy seems to be at least questioned by the data that we collected … It's possible to be a wealthy institution and have a diverse board at the same time."
Fifty-eight institutions had "somewhat aligned" boards (having a match between 50 and 90 percent), and 23 had "poorly aligned" boards with a match of less than 50 percent. None of the lowest-ranked schools had well-aligned boards.
While 16 of the 19 well-aligned boards had six-year graduation rates higher than the national average, nine of the 23 poorly aligned boards had graduation rates below the national average.
Although the report did not establish a direct link between more diverse governing boards and higher graduation rates, Tyrone Howard, a professor of education at the University of California, Los Angeles, said it is well documented that "one of the most significant factors in students graduating is a sense of belonging."
That sense of belonging is tied to student questions such as "Am I the only one? Is there a critical mass of people who come from backgrounds like mine? Do I see faculty and other personnel on the campus who look like me?" Howard said. "That starts from having a governing board that recognizes, 'We can't just say we value diversity. We need to have those diverse voices on our board.'"
Bringing more diverse board members to college campuses could start with widening the scope of what kind of person would make a valuable trustee, said Demetri L. Morgan, one of the report's co-authors and an associate professor of higher education at Loyola University Chicago.
"If there's a narrow understanding that 'trustee' only equates to 'donor' or 'philanthropist,' then all of the other fiduciary responsibilities about safeguarding and upholding the institution [get] subsumed," Morgan said. "We see governance crises every year where the oversight, accountability and good governance practices are not perpetuated by the board."
That responsibility to the long-term health of an institution is a top priority for Shirley Malcom, a longtime board member at Morgan State University and the California Institute of Technology.
Malcom said that as a board member she's concerned with all the usual governance issues such as deferred maintenance, business arrangements and institutional reputation. But she also brings up "issues that may be more visible to women such as leadership or issues of how institutions are handling harassment." And "as a Black person, I might be bringing up issues that relate to the robustness of recruitment strategies so you have racial and ethnic diversity."
Political Influence
Since governors typically appoint members of public college and university boards, the report also examined the political climate in the state where each institution is based. It found that colleges in "reliably Democratic" states have boards that are more reflective of their student bodies than colleges in "reliably Republican" states. It found a similar trend among private colleges, which typically have self-appointed boards.
Malcom, who has been appointed and reappointed to the public board at Morgan State by both Republican and Democratic governors in Maryland, said she hasn't personally experienced pressure to acquiesce to political whims, but she is "not necessarily seeing that in other states right now."
"The attention really needs to go to the long-term health, survival and thriving of an institution, independent of who is sitting in the statehouse and the Legislature," Malcom said. She questioned if many of the board members politicians are appointing today are operating with that long-term interest of their institutions in mind, "or is there an expectation that people will affirm the positions of the people that may have appointed them?"
Recent instances of boards exerting political and ideological control at institutions have received widespread media coverage, especially in Republican-dominated states such as North Carolina, Texas and Florida. For example, this summer the president of Texas A&M University resigned after it was revealed that she privately spoke with board members before the botched hiring of a journalism professor they perceived as holding liberal political views. According to the Washington Monthly report, Texas A&M's board fell into the poorly aligned category.
The University of North Carolina at Chapel Hill also has a poorly aligned board, according to the report. The university made national news in 2021 after its board sidelined a tenure vote for Nikole Hannah-Jones. Critics, including faculty and students, suggested the board's decision was about politics. Jones is a Black journalist who created The New York Times Magazine's "1619 Project," which focused on the role of slavery in the founding of the United States.
Controversial moves by board members don't come without backlash. Over the years, student and faculty protesters have shown up at board meetings across the country to voice discontent with a wide range of decisions.
Raquel M. Rall, a co-author of the Washington Monthly report and an associate professor and faculty chair at the University of California, Riverside, School of Education, said it's unlikely that the manner in which board members are appointed—some are appointed without term limits—will change "unless there's something" like a scandal or new regulations "to compel it."
The 'Gendered' Academy
What is compelling, however, is that the boards are no longer serving the same student demographics as they were decades ago, when racial segregation and gender discrimination were common.
"Primarily, higher education was for white men. That's not what we have today, and if boards are supposed to keep pace with what's happening, then they're behind the times," Rall said. As campus conversations increasingly center on race, gender and sexual orientation, "we need to think about the ways in which we equip our boards to be better able to answer those calls."
Women—who now make up 57 percent of enrolled college students—have seen the biggest gains in accessing higher education in the past 50 years. However, the Washington Monthly report showed that only 20 of the 100 boards surveyed were well-aligned on gender.
Cathy Trower, who is president of a consulting firm that helps boards across all industries, including higher education, improve their performance, said that as corporations have started to add more women to their boards, stock prices have jumped.
"Women ask more thoughtful questions. They stimulate more debate through the questions they ask rather than acting like they know things," Trower said. Despite this known benefit of adding gender diversity to leadership, the much slower embrace of women on college and university boards "tells us just how gendered the academy really is."