You have /5 articles left.
Sign up for a free account or log in.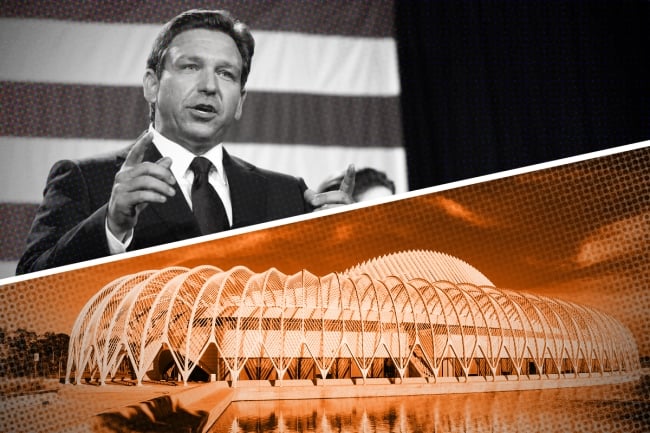 Photo illustration by Justin Morrison/Inside Higher Ed | Getty Images
The latest round of university trustee appointments from Governor Ron DeSantis of Florida includes two notable critics of diversity, equity and inclusion practices in higher education who are joining Florida Polytechnic University's board, part of the state's ongoing quest to eliminate DEI practices in public institutions.
On Tuesday, the governor announced the appointment of Ilya Shapiro, Dorian Abbot, David Clark, Sidney Theis and Clifford Otto to Florida Polytechnic's Board of Trustees.
Among that group, Shapiro, a current Manhattan Institute fellow, and Abbot, a professor in the University of Chicago's department of geophysical sciences , are the most well-known. Both have courted controversy with their opposition to college DEI practices, which led students to protest and in some cases disrupt or cancel the speakers' campus talks. Of the five appointees, only two—Clark and Otto—appear to live in Florida.
The appointments—at one of the smallest institutions in the State University System of Florida, with an enrollment of around 1,600 students—come amid a presidential search at Florida Poly and less than a year after the Republican governor appointed a slew of trustees to lead a conservative makeover of New College of Florida, which DeSantis has accused of going "woke."
Critics worry Florida Poly is in store for a similar transformation.
The New Trustees
Shapiro is perhaps best known for his whirlwind stint at Georgetown University Law School, where he was placed on administrative leave in January 2022—before he even started—over a tweet in which he questioned a looming Supreme Court appointment. Shapiro suggested at the time that President Joe Biden would appoint a "lesser black woman" and referenced affirmative action.
While suspended, Shapiro was shouted down at the University of California Law San Francisco (then known as UC Hastings) in March 2022 while speaking at a Federalist Society event about Supreme Court appointments. Shapiro was unable to offer more than a few words amid chants and name-calling from students who disrupted the event and made reference to his January 2022 tweets.
Georgetown ultimately decided not to punish Shapiro, but he abruptly resigned days after his suspension was lifted and soon re-emerged as a senior fellow and director of constitutional studies at the conservative-leaning Manhattan Institute. In that role he co-wrote model legislation to help states defund DEI initiatives at public universities, which DeSantis appears to have taken as inspiration as the state has sought to prohibit state spending on such efforts. A New College trustee, Chris Rufo, was co-author of the model legislation.
In an emailed statement to Inside Higher Ed, Shapiro said he aims as a trustee to emphasize the pursuit of "academic rigor and scientific innovation while maintaining what should be the core values of any higher-ed institution: truth-seeking, open inquiry, and civil discourse."
He also said via email that he had not been given directives for a New College–style conservative makeover.
"I haven't been given any marching orders whatsoever," he said. "I'm aware that there's a presidential search and I'm sure the governor would like the new president to align with his vision for higher education, but nobody asked me to make any sorts of commitments. Beyond that, I've only started learning about Florida Poly's programs and governance, so it would be premature to comment about whether or how much of a 'makeover' is necessary or desirable."
Abbot made national headlines in 2021 when his scheduled lecture at the Massachusetts Institute of Technology was canceled amid an outcry over views he expressed in a Newsweek opinion piece; he and a co-author argued that an emphasis on DEI "compromises the university's mission." Abbot also referenced Nazism, writing, "Ninety years ago Germany had the best universities in the world. Then an ideological regime obsessed with race came to power and drove many of the best scholars out, gutting the faculties and leading to sustained decay that German universities never fully recovered from. We should view this as a warning of the consequences of viewing group membership as more important than merit, and correct our course before it is too late."
In a brief statement, Abbot pointed to his lengthy résumé, which includes time serving in various faculty governance roles and as a member of an advisory board at the University of Austin, a nascent conservative institution founded to push back on censorship in higher education.
"My hope is to help provide oversight to ensure that the students of Florida Polytechnic University get a rigorous scientific education that prepares them for success in their careers and puts them in a position to give back to their communities," Abbot told Inside Higher Ed by email.
Among the other appointments, Otto has served on the board since 2016, despite his term expiring in 2019, a college spokesperson confirmed. Otto is a retired businessman who has frequently donated to conservative causes and is currently the chair of the Florida Poly board.
Theis is also a retired businessman who has donated to Republican candidates such as Donald Trump and former Georgia Senate candidate Herschel Walker and is a new appointee to the Texas A&M University at Galveston Board of Visitors. Theis began his term on Texas A&M Galveston's board earlier this month.
Clark is a technology entrepreneur who worked as deputy chief of staff for DeSantis from September 2019 to August 2020. Of those three appointees, only Clark responded to a request for comment.
In a brief interview with Inside Higher Ed, Clark said that state officials cited his background in technology when recruiting him for the board position. Clark said he was given no specific directives on what the governor wanted him to accomplish as a trustee other than to grow and raise the profile of the small state institution. He cited a conversation with state officials about the desire to elevate Florida Polytechnic to a status akin to "the MIT of the South."
Florida Poly spokesperson Lydia Guzman noted that DeSantis has the authority to appoint six of 13 trustees. Five others are appointed by the Florida Board of Governors, which oversees the State University System. The remaining two seats are allotted to a student and faculty member.
Guzman noted that three seats on the board were vacant prior to the governor's recent round of appointments. Board members' terms began on the day of the appointment, Guzman said by email.
Though the appointments require confirmation from the Florida Senate, trustees can begin serving immediately, before that process is completed. Earlier this year, DeSantis appointed trustee Eddie Speir to serve on the New College of Florida Board of Trustees, but the Florida Senate refused to confirm his appointment, prompting a replacement. In his brief time as a New College trustee, Speir voted to oust then president Patricia Okker and deny tenure to five professors. He had also raised the idea, in his personal newsletter, of firing all of the college's employees.
The DeSantis Higher Ed Agenda
DeSantis has used both legislative action and board appointments to reshape higher education in the Sunshine State this year. The governor has taken aim at what he has described as "woke activism" in public institutions, which he has cast as promoting "ideological conformity" at the expense of learning.
Legislative actions have included bills to defund DEI efforts, weaken tenure and impose restrictions on teaching certain subjects, largely focused on topics such as race and gender. More recently Florida has sought to restrict student speech, with the governor and State University System chancellor Ray Rodrigues—another DeSantis ally and former GOP lawmaker tapped for a prominent higher education role in Florida—ordering public universities to ban campus chapters of Students for Justice in Palestine amid the war between Israel and Hamas.
(The DeSantis press office did not respond to a request for comment from Inside Higher Ed.)
The sudden changes at New College catapulted an institution with fewer than 1,000 students into the national spotlight. In less than a year, new trustees have introduced sweeping change alongside new NCF president Richard Corcoran, a former GOP lawmaker and DeSantis ally, who now makes nearly $1 million a year more than his predecessor after signing a new contract.
Corcoran isn't the only DeSantis ally tapped for a presidential post. Earlier this year, Fred Hawkins—a former Republican legislator—was hired to lead South Florida State College after a failed search. A trustee told The Tampa Bay Times, following the failed search, that "the governor doesn't appoint all Republican trustees and expect us to select a Democrat."
Though not linked to DeSantis, the University of Florida hired then U.S. Senator Ben Sasse as president in late 2022, marking a trend of Republican politicians emerging as candidates.
Other presidential hiring processes have featured near misses for Republican lawmakers.
DeSantis publicly advocated for Republican state representative Randy Fine as the president of Florida Atlantic University. But Fine was not among the finalists named in July. Now the FAU presidential search is on hold and the state is investigating alleged anomalies in the process. (Earlier this week, DeSantis said on a radio show that Fine will not be FAU's next president.)
DeSantis ally Henry Mack III has nearly been a Florida college president twice. Mack, a former chancellor of the Florida Department of Education, narrowly missed out on the Florida Gulf Coast University presidency when trustees selected an internal candidate by one vote. Mack was then tapped as interim president of Broward College last month—a job that opened up after then president Greg Haile resigned amid a clash with a trustee who has ties to the governor—only to back out after accepting the role due to a disagreement over the proposed six-month contract.
The retirement of Florida Polytechnic president Randy Avent is the end of an era for the university that opened in 2014—Avent was the only president in the university's short history. The addition of new trustees with conservative bona fides has already raised questions about the ongoing leadership search and what will come next at the small university in central Florida.
"Here we go again—Governor Ron DeSantis has appointed FIVE new members to the Board of Trustees at @FLPolyU, including a person from the Manhattan Institute, same conservative think tank that Chris Rufo calls home," Democratic state representative Anna V. Eskamani wrote in a post on X about the trustee appointments. "Another erosion of higher education."
Liz Leininger, a former New College professor who decamped for St. Mary's College of Maryland in August and remains a vocal critic of the college's administration, offered a similar warning on X, expressing concern for the university following the recent appointments.
"Florida Poly, brace [yourselves] for the New College of Florida playbook on your campus," Leininger wrote.