You have /5 articles left.
Sign up for a free account or log in.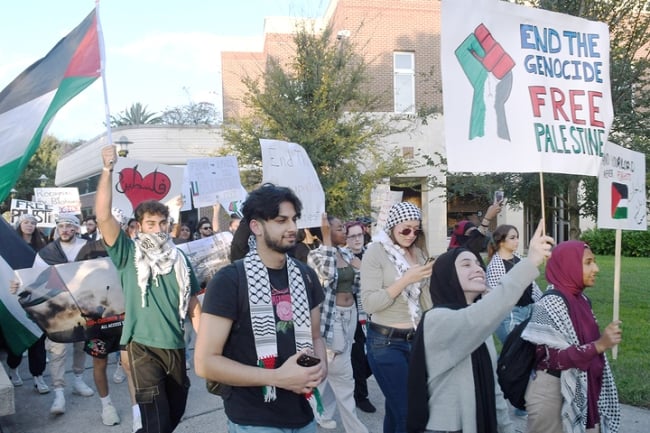 Paul Hennessy/Anadolu via Getty Images
The head of Florida's State University System has ordered the campus chapters of Students for Justice in Palestine to shut down, according to an Oct. 24 letter to the system's presidents from Chancellor Ray Rodrigues. The directive, he wrote, was issued "in consultation with Governor DeSantis."
The letter said it is a felony under Florida law to "knowingly provide material support … to a designated foreign terrorist organization," noting that the national SJP "has affirmatively identified" with Hamas's Oct. 7 terrorist attack on Israel.
Rodrigues cited SJP's Day of Resistance Toolkit, a document outlining advice and tips for campus chapters planning to host protests in support of Palestinians. The tool kit describes Hamas's attack on Israel as "the resistance" and, in a section advising SJP chapters on how to frame discussions about the conflict, states, "We as Palestinian students in exile are PART of this movement, not in solidarity with this movement."
The United States identifies Hamas as a terrorist organization.
"Based on the National SJP's support of terrorism … the student chapters must be deactivated," Rodrigues wrote in the letter.
The statute he quoted describes "material support" as property, financial services, lodging, training, advice, safe houses, false documents, weapons, communications equipment, personnel and transportation, among other things. It does not include "medicine or religious materials."
According to Rodrigues, two institutions in the SUS system have SJP chapters. Based on databases of student organizations, they appear to be the University of Florida and the University of South Florida; some other campuses may have chapters that are not recognized as official student organizations.
UF and USF did not respond to requests for comment.
Rodrigues's letter advised the universities to allow students in the SJP to form new groups that comply "with Florida state statutes and university policies" and to "grant these two chapters a waiver for the fall deadlines, should reapplication take place."
A spokesperson for the university system did not respond to a question regarding how the ban would be enforced.
Organizations Respond
UF's SJP chapter condemned the state's attempted ban as "disgraceful."
"Governor DeSantis continues to disrespect American values such as freedom of speech to extend his political power. To bend the law in this manner shows the utmost disrespect not only to any pro-Palestinian organization, but also to anyone who truly cares for political freedom and freedom of speech," group members wrote in a statement, arguing that the shutdown would set a precedent for DeSantis to shutter any student group with which he disagrees.
The national SJP organization did not respond to a request for comment.
The Foundation for Individual Rights and Expression, a free speech nonprofit, echoed UF SJP's sentiments in a statement released Wednesday.
"There's no indication from the chancellor's letter that any action from Florida's Students for Justice in Palestine groups went beyond expression fully protected by the First Amendment," it read. "This directive is a dangerous—and unconstitutional—threat to free speech. If it goes unchallenged, no one's political beliefs will be safe from government suppression."
"FIRE believes higher education can only fulfill its important mission when students can speak their minds," the statement continued. "And we'll defend the rights of all Florida's students—and all Americans—to speak freely."
The Florida chapter of the Council on American-Islamic Relations criticized Rodrigues's letter on Instagram for "equating non-violent American students, specifically SJP members, with terrorists." It also encouraged students to get in touch if their campus is attempting to suppress their right to free speech.
USF's SJP chapter neither released a statement nor responded to Inside Higher Ed's request for comment, but it shared reactions in posts to its Instagram story—posts that disappear after 24 hours—including one that stated the university's chapter "isn't going anywhere."
However, Jonathan Greenblatt, CEO of the Anti-Defamation League, a nonprofit that combats antisemitism, said that while he couldn't speak specifically to Florida's SJP chapters, he thinks the statements and actions of many chapters around the country have gone beyond what is permitted by the First Amendment.
"Let's make no mistake," he said in an interview with Inside Higher Ed. "This full-blown support for terrorist organizations, and that kind of rhetoric and those kinds of threats are clearly antisemitic. They are violative of every norm of decency."
He said that universities that allow such speech could be in violation of Title VI of the Civil Rights Act of 1964, which outlaws discrimination based on race, color or national origin. He encouraged universities to investigate their campus organizations to ensure they are not putting the institution at risk of such a violation.
Rodrigues's letter came more than two weeks into the war between Israel and Hamas, which the Associated Press reports as of Wednesday has resulted in 1,400 Israeli and at least 6,456 Palestinian deaths. Since the beginning, the war has been a hot-button issue on college campuses, starting with controversy over the statements many pro-Palestinian student groups made about the Oct. 7 attack, which many viewed as insensitive to the Israeli citizens who were killed. Since then, tensions have run high between Palestine and Israel supporters, with some universities attempting to bridge the gap.
While many university presidents have declined to take a position on the conflict, some leaders in Florida have been especially vocal in their support of Israel. University of Florida president Ben Sasse sent an email addressed to the university's Jewish alumni condemning Hamas's initial attack on Israel and warning that the university "will absolutely be ready to act" in the event that anti-Israel protests on campus turn violent.
Thus far, rallies on State University System of Florida campuses in support of both Israelis and Palestinians have been peaceful, though a vigil at UF resulted in injuries after an individual fainted and the subsequent calls for 911 were misinterpreted as a sign of danger, leading attendees to rush from the area en masse.
The campus's SJP chapter has taken issue with Sasse's seeming lack of concern for the well-being of the institution's Palestinian population.
"We hope that the University of Florida will extend their sympathies to everyone along with condemning all violence, antisemitism, Islamophobia, Palestinian erasure, and anti-Palestinian sentiment," members wrote in a statement on Oct. 16.