You have /5 articles left.
Sign up for a free account or log in.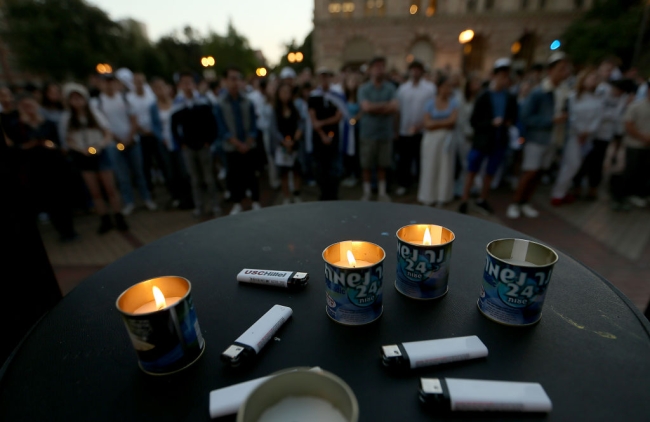 Luis Sinco/Los Angeles Times/Getty Images
As a Muslim woman working in a Jewish center at a Catholic institution, Mehnaz Afridi, director of the Holocaust, Genocide & Interfaith Education Center at Manhattan College, sees campus conflict over the ongoing war between Israel and Hamas through a different lens than most.
While the violence has reignited long-standing tensions between pro-Palestinian and pro-Israeli groups on campus, Afridi hopes to create spaces where students "can actually talk about their feelings, and I can help them navigate [without] demonizing people because of their religion," she said. "I believe that conflict is about land, it's about politics. Of course, it has a historical religious lens for Jews as well as Palestinians."
"Even in the most volatile situations of war and conflict, one must not forget the human reality of other people and other faiths," she added.
But in the nearly two weeks since the war began, it has become clear that many colleges are struggling to navigate campus tensions, let alone turn competing protests into any sort of constructive dialogue. Students, faculty and administrators on all sides of the conflict have faced serious backlash for sharing their stances, or for reacting too forcefully—or not forcefully enough.
The tensions raise familiar questions about free speech versus hate speech on campus, including whether—and how—faculty and administrators can facilitate peaceful, open-minded discussions among students with impassioned but opposing views. While some universities seem content to let student groups engage on their own through dueling protests and social media posts, others are seeking to create platforms for students to come together in solidarity while still respecting their individual perspectives, grievances and beliefs.
They are arranging vigils and prayer services, academic panels and teach-ins to encourage students to listen, learn and express their views with compassion and respect. The institutions best prepared to tackle the issue seem to have some sort of pre-existing structure in place designed to foster a sense of community in tough times.
"This is a deeply divisive topic," said Mylien Duong, senior director of research at the Constructive Dialogue Institute, a nonprofit that helps facilitate conversations about difficult and polarizing subjects. "It's hard to just jump into this if you're not already used to doing this kind of dialogue."
Rebecca Russo, senior director of higher education strategy at Interfaith America, agreed.
"When many students are deep in grief and discourse is highly polarized, it is a difficult time to begin new dialogue and campus communities may need to prioritize compassion and care," she said. "Yet we have heard from campus leaders that in places where strong interfaith relationships existed already among students, staff, and faculty, dialogue has continued and people have been able to show care for each other across divides. Dialogue that invites the sharing of—and deep listening to— personal stories and experiences is particularly effective when political tensions are high."
At Manhattan College, the Interfaith Education Center is hosting a prayer event on Tuesday in partnership with the Tanenbaum Center for Interreligious Understanding, also located in New York City, that aims to foster conversations on peace building. Afridi said she anticipates participation from the campus ministry department, the Muslim Student Association and a local rabbi representing the surrounding Jewish community.
"Right now, we can't afford to break our bridges that we've spent years forming as Jews, as Muslims, as Christians around the country," she said.
While Afridi believes in religious freedom and students' First Amendment right to protest, she said it is important not to do so in a spirit of hatred.
For those who do demonstrate, she said, it's important to do so thoughtfully, "rather than be aggressive or emotional at a time like this, where it could hurt each other."
Potential for Dialogue
Although the war between Israel and Hamas has led to heightened tension among student advocacy groups, Lara Schwartz, director of American University's Project on Civic Dialogue, does not believe Middle East relations deserves more specialized or intensive attention than other topics that typically incense college students, such as abortion, transgender rights or gun control. But it is a subject that—in contrast to other world events—many college students feel a deep connection to.
"I hesitate to say that this issue … is different, totally, in kind from other issues, only because what I've found across my time doing dialogue work and dialogue-across-difference work is almost anything you can be talking about is of strong import for some members of the community," she said.
At the urging of students, Schwartz plans to hold a student-led dialogue on the Israel-Hamas war at some point in the future. But it will follow the same protocols the Project on Civic Dialogue has established for all discussions: a student facilitator will prompt other students to come up with an answer to a specific question about the situation, with the goal of helping them better understand their own opinions as well as their peers'—where those views come from, why they hold them and whether they understand the situation well enough to think that way.
But just because students with opposing viewpoints are invited to share their thoughts and feelings doesn't mean they will.
Leaders at Fordham University sought to bring together different religious groups for an event much like the one Manhattan College planned, and while all groups acknowledged the invitation, not everyone accepted.
On Oct. 11, staff from Fordham's Department of Campus Ministry helped organize an interfaith prayer service at the university's Lincoln Center campus. Though initiated by the department, the event was student driven, said Erin Hoffman, director of campus ministry for Lincoln Center. All the university's faith organizations—the Jewish Student Organization, Muslim Student Association, Catholic Student Fellowship, Lighthouse Christian Fellowship, Orthodox Christian Fellowship and a South Asian student group that represents many Hindu and Sikh students—were invited to participate in some form.
Students from some organizations joined in person, while others submitted a selection of readings or prayers. However, the campus's Muslim Student Association elected not to participate as a symbol of solidarity with Palestinians, noting that the vigil was taking place after the Hamas attack and Palestinians have not had peace for 75 years, yet no vigil has been held for them.
Hoffman said she works with the Muslim Student Association regularly and has a lot of respect for the students and their decision, describing their response as "incredibly mature and respectful."
She added that when the prayer service invitation first went out, "perhaps there were some assumptions" that it would be done "with certain slant," but the plan was always to maintain inclusivity "as much as possible." Hoffman believes that the event turned out to be "in some ways" what the MSA would have wanted, but she acknowledged that they only had 24 hours to decide whether to participate, and that may not have been enough time.
"I would have loved to have had more of their input to better represent where they were coming from," she said. "But one of the things that we tried to convey in response to them was to say, 'We completely respect that position and want you to do what you feel is right.'"
Though the MSA wasn't present, the service included readings from the Quran, selected by one of Hoffman's colleagues, as well as the Janazah, a Muslim funeral prayer.
"[My colleague] and I agreed, and I asked for her guidance, that it was better to include them and to have somebody else read them than to not have that representation be part of the prayer service at all," she said.
Other prayers and readings included the Mourner's Kaddish, a Jewish prayer; an Orthodox Christian prayer for the departed and afflicted; a psalm; and a selection from the Hindu Upanishads. The students lit electronic candles and were invited to pray and reflect throughout.
"I think we brought all of that together and realized that, in addition to desiring peace, a lot of the pastoral need in our community at the time was also to provide a space for grieving. And grieving not just the immediate attacks that had occurred, but really the complexity and the nuance of the history that's led to this moment," Hoffman said. "It's not just about this moment, but like, the whole entirety of the conflict, the fear, injustice, et cetera. Everybody had their own kind of perspective on that."
Seeing Conflict in a 'Human Light'
Elsewhere, institutions are deploying an academic rather than spiritual approach to grappling with the war.
Centre College, a small liberal arts institution in Kentucky, held an "introductory" conversation on the Palestinian-Israeli conflict on Thursday evening. Sami Sweis, an assistant professor of Arabic and history and one of the panelists, saw the event not as an interfaith response, but a human one.
"I don't necessarily think the interfaith perspective is actually useful in this conflict … by emphasizing interfaith, then our fear is that it creates a religious rationale to the violence," Sweis said. "Part of our strategy of having this event was wanting to pre-empt those types of impressions. And to really see this in a much more academic but human light, as opposed to framing it as a Muslim-versus-Jew dichotomy."
Sweis said it was important for such events to be led by faculty.
"A topic like this, particularly just how controversial it can be, it's very fraught for students to navigate that on their own," he said. "We want to give them the space in which we can model for them how to balance the complexity of the history, the politics, but also the complexity of emotions that different groups might be feeling."
"That's why we're calling it an introductory conversation," he said.
Sweis was joined by Molly Paul, a rabbinic intern, and Matthew Pierce, an associate professor of religion who specializes in Islamic studies. About 150 students listened while they discussed the Hamas attack on Israel; a brief history of the long, complicated Israeli-Palestinian conflict; the various perspectives of political and religious groups; and the emotional responses of supporters on both sides.
"I was very pleased by the students' engagement," Sweis wrote in an email to Inside Higher Ed after the event. "They were attentive and focused."
During a Q&A at the end, students asked challenging questions "about the history and nature of the conflict," he wrote, as well as the future prospects for the region.
"Despite the fraught nature of the topic, I found everyone very respectful," he added. "In the small residential college setting, our students tend to remain very cordial and open to each other's perspectives. It's a sign that we were able to create a community of learners."